Anyone who has ever renovated a room will tell you that no matter how precisely you plan and no matter how detailed your design, sometimes it's impossible to picture the room and yourself in it until it's complete.
Gardiner Haskins Interiors Bristol is solving this problem and giving customers extra peace of mind that their design is right for them by allowing them to experience their brand-new bathroom before it has even been built! New for 2019, the introduction of 360 Virtual Reality Technology to the Bathroom Planning and Design service means customers can see their prospective bathroom design come to life in super realistic 4D – literally adding an extra dimension to the experience.
In a totally new buying experience, customers can work on their bespoke bathroom design with their own designated planner before testing the space for themselves. With a VR headset in place, the software transports you in to your own bathroom – but in its new design!
The VR system from Virtual World positions you in your bathroom design, giving you a 360 degree, 4D view of the room, the space and its features. Cupboards, cabinets, windows and doors can be opened with the power of a stare – showing you just how your bathroom will function and the space available.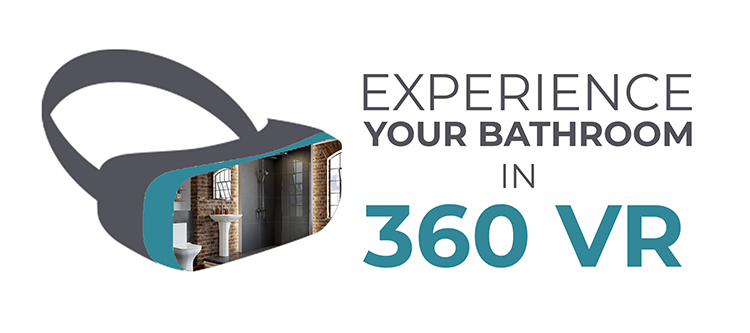 Gardiner Haskins Interiors Bathroom Expert David Rodgers explains how this service is making a huge difference to the bathroom buying experience.
"Virtual reality is the future of design and peace of mind. With a try before you buy approach, 4D Is fast becoming the only way to buy, extending a showroom display tenfold. This allows a client to view a wide range of our branded products in real time at a high render view point. With the ability to stand in the room and rotate 360, this allows you to physically see how much room there is between 2 points.

Different colour schemes and patterned tiles can also be viewed, allowing for a better understanding of what will work well and more importantly, what doesn't. Regret can be a heavy burden when investing in a new bathroom project. Having the ability to view your bathroom in a virtual reality scenario is the closest thing to building multiple bathrooms and selecting one that you love. This is the aim of every bathroom designer - to create a room that is both functional and pleasing to use, whether its Hotel style ultra-modern bathroom or a classic shaker traditional bathroom layout. 4D can cater for all needs."
Want to experience your new bathroom design in 360, 4D? Book your Free Planning & Design consultation at Gardiner Haskins Interiors online or call 0117 929 2288