Following government guidance our Cirencester Store remains OPEN as an essential business. Our Bristol Showrooms have closed their doors but the same expert help is available by calling 01179292288
**Please don't come into the stores if you have a high temperature or a new and persistent cough**
*UPDATED 25th January 2021
We are working hard to protect our customers and employees to reduce the risk of spread of infection. Below are examples of some of the measures you may experience when you come to visit us:
we're limiting the number of customers in store at any one time
our staff will be wearing face masks following Government advice. All customers will need to do the same (unless exempt)
we've put a social distancing queueing system in place which will be managed by a member of staff when needed
we've put enhanced cleaning in place across the store
we encourage all customers to use card or contactless to avoid handling cash
contactless payments have been increased to £45
sanitising stations in the store
navigation signage around our Cirencester store to maintain social distancing
if you forget your mask please let us know, we have disposable masks you can take.
Watch our video to see the measures we have in place to help you shop safely:
We've put together comprehensive risk assessments for our stores. You can find a copy of our risk assessment here.
WHAT TO EXPECT IN STORE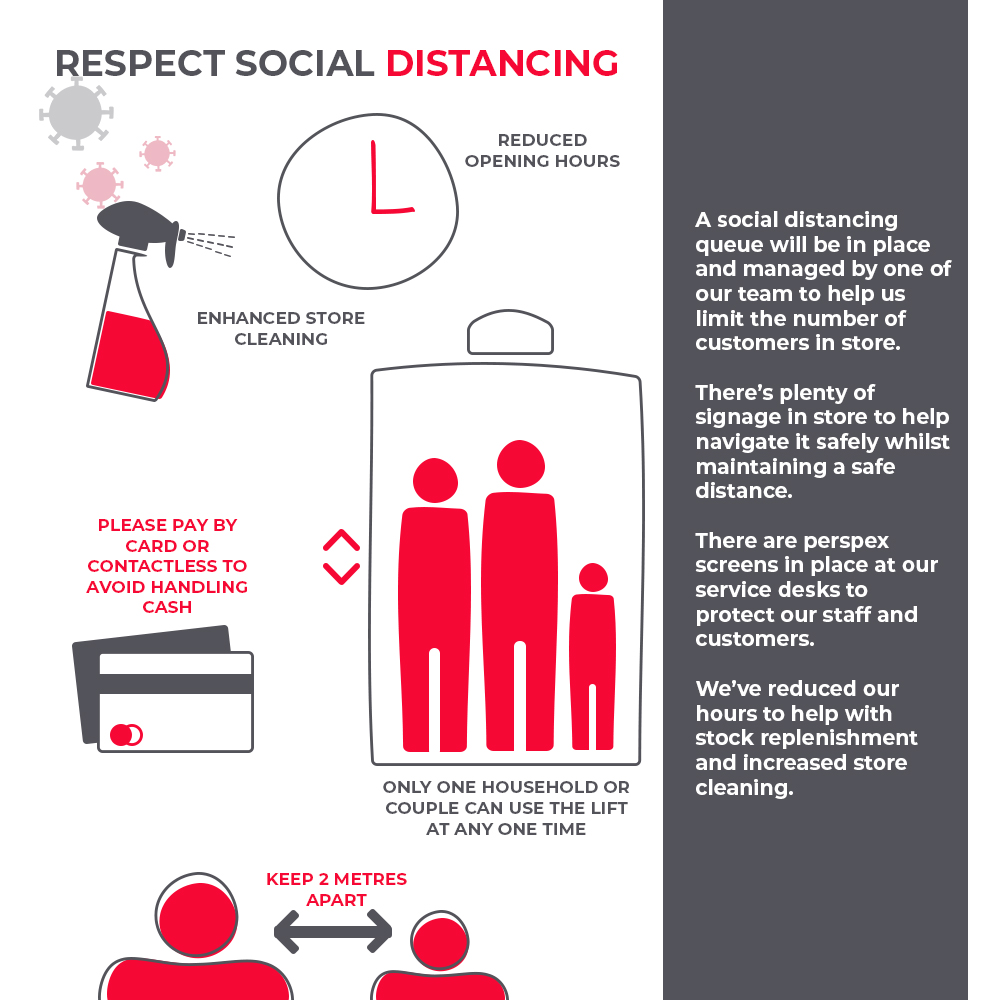 ---
BRISTOL STORE INFO - The showrooms may not be open to walk around but we are here. Contact us for help and advice with your kitchen and bathroom designs or beds and made-to-measure enquiries. You can contact us on 01179 292288 or email us web.desk@gardinerhaskins.co.uk. We are providing a delivery service during the second lockdown - see delivery info below.
Monday to Friday: 9am - 6pm
Saturday: 9am - 5pm
Sunday: CLOSED
We are limiting the number of customers in store so if it is busy you may find a queue outside managed by one of our team. Inside you'll find hand sanitising stations throughout to help yourself, social distancing markers at customer services and our designer desks and notices of which displays have been recently cleaned.

Are you still delivering?
Yes, goods are still being delivered to customers in Bristol and surrounding areas. We use a third party logistics partner.
Our logistics partner will arrange a delivery to either a garage, conservatory, or outbuilding. In the absence of one of these options being available, they will deliver to the hallway or room closest to your front or back door.
What is the lead time for delivery?
Our lead times vary across departments depending on supplier delivery times. Speak to our sales assistants when choosing your products and they can advise of current lead times and any potential delays with the suppliers.
How are you keeping your team and customers safe?
We have put lots of measures in place both in store and when carrying out deliveries to ensure the safety of our customers and team. Here are some of the things you can expect to see when Gardiner Haskins deliver to you:
Strict social distancing of 2 metres
Goods will not be handed directly to you to ensure a 2 metre distance
For smaller goods we will agree a drop off point with you which can be arranged at the time of sale or when arranging delivery with us.
We will ask you to notify us if anyone in your household is shielding, in self-isolation or has any Covid-19 symptoms in advance of your delivery. In this instance, we will rearrange delivery for another date.
The delivery team will knock on the door/ring the doorbell and stand back.
The delivery team will regularly sanitise their hands and wear gloves and a mask whilst completing your delivery. This PPE will be disposed of after each delivery.
The delivery team will sign the paperwork on your behalf for a no contact delivery.
Once delivered the team will photograph the goods at your property as proof of delivery.
If the team are delivering goods into your home then they will maintain a minimum of 2 metres distance from you and may request you wait in another room to allow for this.
Can you take away my old mattress?
UPDATE - NOT AT PRESENT DURING LOCKDOWN 2. Yes, in exceptional circumstances we can take away your old mattress Your old mattress must be prewrapped in a mattress bag which we will provide you with at the point of sale. Mattresses must be located downstairs, securely bagged and left untouched for at least 72 hours prior to removal. Delivery teams are not permitted under any circumstances to come into contact with unwrapped goods for return.
---
CIRENCESTER STORE INFO
updated opening hours: open from 12pm, Friday 12th June

Monday: 9am - 5pm
Tuesday: 9am - 5pm
Wednesday: CLOSED
Thursday: 9am - 5pm
Friday: 9am - 5pm
Saturday: 9am - 6pm
Sunday: CLOSED
You will find a socially distanced queueing system outside managed by one of our team, we are limiting the number of customers in store. Inside you'll find directional signage throughout the store, hand sanitising stations and perspex screen guards at the tills. Our team are also wearing face coverings and we ask that all customers do unless exempt.