Definition of Evolution
A process of gradual, peaceful, progressive change or development.
A motion incomplete in itself, but combining with co-ordinated motions to produce a single action.
Furniture has changed, developed and modernised over time. Or has it? Yes, it has changed and developed but you see some contemporary furniture that harks back to styles that were exceptional in the day – an evolution. Think of the innovative 1970's Parker Knoll Statesman Chair. This opulent ochre yellow shade has now been trending for a few years.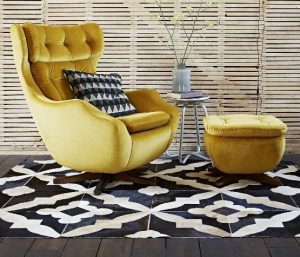 Here at Gardiner Haskins Homecentre, we have stocked Parker Knoll furniture for many years and now our Parker Knoll showroom features their latest, brand new collection Evolution. Parker Knoll have developed their latest furniture collection, Evolution, with modern contemporary thinking combined with an added technological twist. Each of the Evolution furniture ranges look stylish, modern and comfortable whilst at the same time having the option of motion (reclining furniture). Comfort and good looks are at the top of most people's wish list and Parker Knoll have delivered this by featuring reclining furniture with adjustable headrests through effortlessly smooth motion technology. In one swift movement chairs and sofas recline from upright to full reclining positions ensuring your comfort throughout.
The Evolution collection blends motion technology and style in abundance combining different designs and fabrics. Leather or fabric options on accent chairs, matching sofas and armchairs with swivel rock bases or co-ordinating footstools, the choice is superb. Refined handmade stitching detail, luxurious comfort and sleek classy curves throughout makes the Evolution collection really stand out.

Featuring a number of designs, the collection offers armchairs, large generous two seater sofas with beech or oak beech legs in the design 1701 coupled with adjustable headrests and one motion movement when reclining. Design 1702 concentrates on ergonomic design, supporting the body with added comfort on the adjustable headrest for the head and neck.

Design 1703 looks gorgeous with its modern update on a classic with curves in all the right places and the iconic tulip base does not look out of date all those years after it was first designed. Design 1704 features the same iconic curvy tulip base with clean lines on a squarer design chair combining an on trend, geometric abstract grey and white fabric. Just one of many choices of fabric or luxurious leather to match your décor.

And the best thing… a first for Parker Knoll, the brushed chrome 2 button power recline control also houses a convenient USB port for connecting your devices. This is handy for anyone who has forgotten to charge their phone and is already stood up suddenly scrabbling around for a charger before the battery runs out. A USB port within easy reach sounds bliss when you are in relaxed mode on a comfy sofa or chair.
---
Parker Knoll From Humble Beginnings
Furniture home grown and designed by British craftsman, Parker Knoll began from humble beginnings well over a hundred years ago in 1869. Frederick Parker was a skilled furniture maker learning his skills from his father and passing down his furniture craft to his sons. The sons continued to develop the business and partnered up with Willi Knoll who had developed the revolutionary coiled steel wire spring which modernised furniture design.
The British company is still going strong as a leading furniture design brand some 148 years later.