What to Consider when Choosing your Basin
Basins and sinks come in different sizes to suit different rooms. So, choose the best style to suit your space. In small or awkward places, a corner or cloakroom basin may be the best option. For larger rooms, consider a pedestal basin or a vanity unit that can also offer extra storage.
Most basins and sinks are pre-drilled with tap holes but you should always check your chosen basin is suitable for your needs. Some will have an option of one or two tap holes while some may only accommodate one. If you've already purchased your brass-ware, be sure they are compatible with the basin before you order.
Be sure to check your water pressure before you purchase taps as different kinds of taps only work with certain water pressures. Read our Tap Buyer Guide for more information.
TYPES OF BASIN
Washbasin: This is a very popular styled basin. It is fixed to the wall using basin bolts and is usually supplied with one or two tapholes. These basins can be used with a pedestal or semi pedestal. Hand basins are also available for small areas, such as a cloakroom bathroom.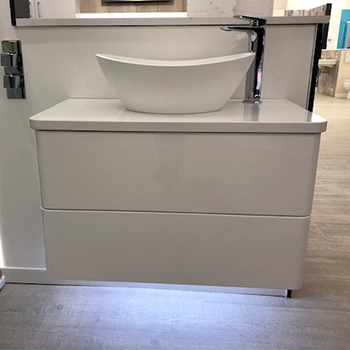 Console or furniture basin: Designed to sit on top of a worktop, furniture cabinet or shelf. This basin only has its base in contact with the worktop. They are available with many tap hole options and are usually built with an overflow. Some basins are referred to as 'grinded' when the base is smoothed to allow a flush fit.
Semi-Counter Basins: These sit on top of a worktop and are partially sunk into the worktop. They are typically supplied with tap holes and fixed to the countertop.
Vanity/Inset Basins: These are entirely inset into a worktop. Some designs require taps to be mounted in the worktop.
Need more advice and expertise on your bathroom designs? Visit our Bristol Bathroom Showroom where our experts can help you create your new bespoke bathroom with our Planning & Design Service