Most of us have thoughts in our head about how we would like our bathroom to look in terms of the style. If you have already decided on the bathroom suite style and colour, read on for tiling advice and inspiration to complement your bathroom suite.

Which are the best tiles for a small bathroom?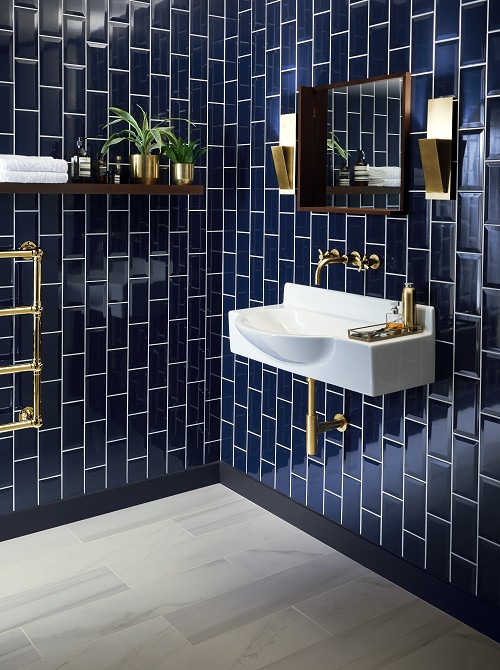 Wall and floor tiles can complement or contrast each other. Decide whether you like separate bathroom tiles for the floor and walls. The old adage "don't use dark colours in small spaces as it will make the room look smaller" no longer fits with the current style trends. Nowadays, dark and dramatic can make a real statement in a small space, without it feeling too small and enclosed. Think about tiles laid alternative ways e.g. the herringbone effect.
Do small tiles make a room look bigger or smaller?
Small tiles in a small bathroom actually make the room look even smaller because of the visible grouting lines. Use very small tiles sparingly, for example on a splashback. Alternatively, cover your shower area for maximum impact.
What is the best type of tile to use in a shower?
Any type of tile that is suitable for very wet areas. Ceramic and porcelain are the most commonly used tiles and come in many different sizes.

Bathroom Panels as an alternative?
Here is another idea to throw into the design mix. Large, single sheet bathroom panels, plastic or acrylic are a popular alternative to tiles. Choose from different sizes and designs. Some companies offer custom print designs. One of the biggest advantages of bathroom panels is that they are easy and quick to install compared to tiling, depending on the size of tiles. Plus, there is no grout.

How high should a bathroom splashback be?
The standard height recommended by most contractors is 4 inches. This height provides sufficient protection from moisture. Make a feature of your splashback around the sink with those expensive tiles you longed for and use less expensive tiles elsewhere.
What kind of tiles are best for small bathroom floors?
Waterproof flooring is the first thing you need to think about when choosing your bathroom flooring. Most of the water used in the house comes from this room.
Porcelain and ceramic tiles are both waterproof and cost-effective. Choose plain coloured tiles to give the illusion of a larger space. Smaller, patterned tiles will give the illusion of a smaller space. Remember, wall tiles in a contrasting pattern can add the drama you are looking for whilst the floor tiles still keep a sense of space.
Simple and geometric patterns work well in neutral colours. Buy a myriad of effects for your flooring including wood, marble and stone. Porcelain tiles that look like wood are so realistic and durable enough for small bathroom floors, yet they retain the characteristics of wood grains and knots.

Of course, other types of flooring can be used in small bathrooms but that is another blog post!