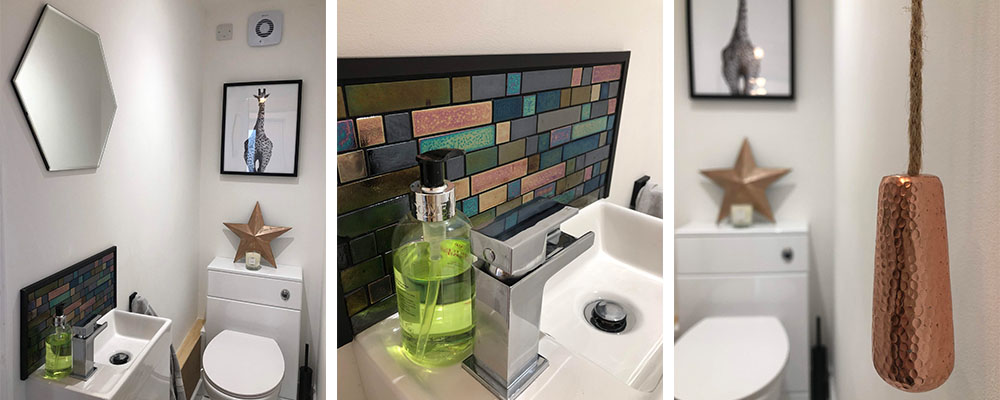 If you are lucky enough to have more than one toilet in the house, great! For others, it is likely to be near to the top of the home improvement wish list but probably near to the bottom for tackling. It doesn't need to be an afterthought and once completed; you will wonder why you didn't do it sooner. Furthermore, it is an excellent way to futureproof your home and add value.
Read on and find out how to easily tackle adding a downstairs toilet.
Ideas
Firstly, DO collect ideas and inspiration. Visit bathroom showrooms and research online. Social media and especially Pinterest is a friend and a foe. Gather fantastic ideas and inspiration and save into a pinboard. The danger is collecting so many that you have a wash of ideas floating in your brain confusing matters! Collate a few ideas rather than masses.
Planning
Where are you planning to position the downstairs toilet? Under the stairs or perhaps converting a coat cupboard? The area you decide to convert will need lots of planning even though it is a small space. There are many factors to be considered:
Space for a sink and toilet unit

Space to open the door outwards with no obstructions
Position of drainage and sewage pipes

Air ducting

Lighting

Flooring

Decoration
Budget
How much do you have to spend on fitting a downstairs cloakroom toilet? Consider basic units e.g. toilet and sink then splash out on accessories such as a copper light pull or more expensive splashback.
Design
The Toilet
Is the overall space large enough to fit a downstairs cloakroom toilet? The space could be a cupboard under the stairs or perhaps a small storage cupboard used for coats and shoes. You need to decide if the space you are considering for a downstairs toilet contains sufficient room to house a toilet, sink, pipework, drainage and an air duct to ensure ventilation. Can you move or create a larger space taking a wall or space from another room?
Think about enough space for you to sit down on the toilet without knocking your knees on the sink unit (this may sound odd, but you need to be practical!). Consider width and depth of the toilet from the wall it will hang from. Ideally, choose a smaller depth slimline unit to house the cistern and maximise leg room space between the toilet and the sink. You can buy slim toilets especially for smaller spaces that are back to wall - where the cistern is housed either within a wall or concealed in a unit behind. Slimline designs are ideal for small cloakroom areas.
In your design approach, consider availability of room to box in the pipes or do you want these on show as a feature? Boxed in piping could create an extra shelf unit.
The Sink
Depth of sinks. The smaller the sink the better. Think about the width of the room if you are converting a cupboard to a toilet as you need enough room to pass the sink when going to the toilet. Also, a handle-less sink unit removes another obstruction. The position of the sink in relation to the door opening is also important: when you open the door to go in, you don't want obstructions in the way of the toilet, so the best solution is to position the sink and unit (if you decide to have one), on the opposite side to the door handle. From a design point of view, this looks aesthetically pleasing as well as practical. A sink unit underneath the sink will give storage flexibility in a tiny space whilst also housing the sink plumbing. Another potential design feature is to have the plumbing underneath the sink on show and the pipes hidden behind a wall or boxed in. This can depend on the space available.
Lighting for Your Downstairs Cloakroom
In a small space such as under the stairs or in a cupboard it is likely there will be no windows for the downstairs toilet. Thus, consider the type of lighting you would like. A simple spotlight is effective and bright enough. Of course, you can consider other types of lighting depending on the look you would like to achieve but be aware of electrical fitting.
Decorating Your Downstairs Cloakroom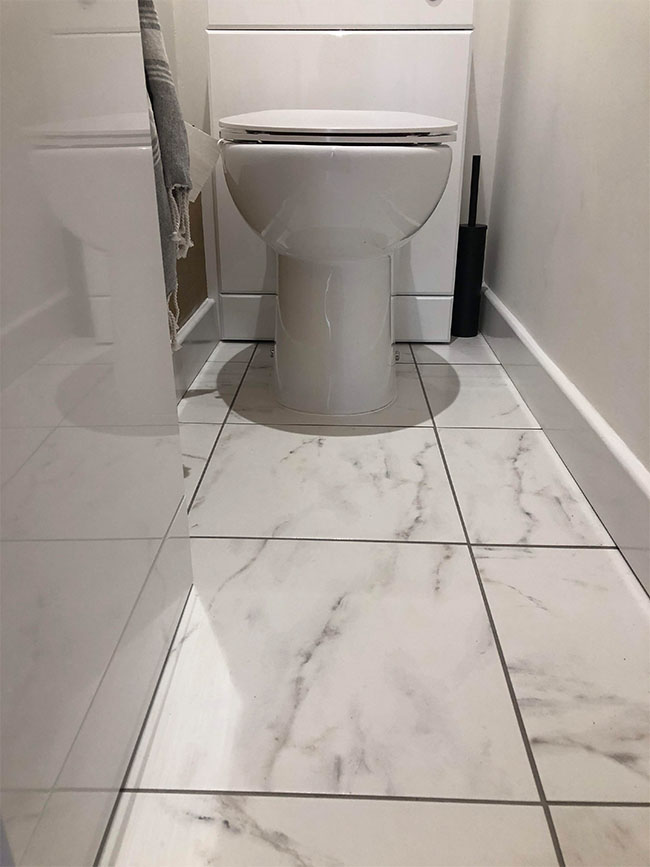 Do you tile or paint? The choice is yours. Bold tiles are very popular but do think about whether to use bright or dark tiles in a small space which may make it feel enclosed, not ideal for those who feel claustrophobic in an already small space. Painting a downstairs cloakroom white or neutral is a perfect backdrop for striking or bold accessories in small spaces. If you feel really daring, a very bold wallpaper can also look amazing. Flooring is also an important choice. It needs to ' flow' and either blend or contrast with the wall choice.
Here, the walls are painted white and the flooring is tiled in a carrera marble effect. Consider the size of the floor tiles. Too big and they will appear overpowering in the room.
Downstairs Bathroom Accessories
Think about the colours you like or would wish for in your new downstairs cloakroom. Black taps and accessories such as toilet roll holders and towel hooks are all on trend. Splashbacks can be in keeping with the rest of the decor or go completely offbeat and contradict it with mosaic contrasting tiles or an unusual pattern. Fish scale patterns or hexagons are on trend.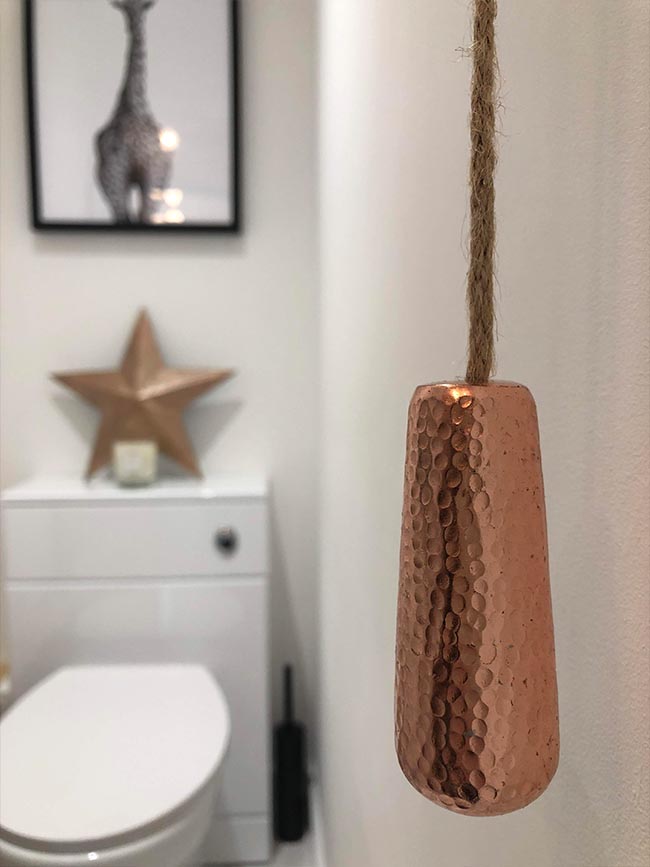 Add a beautiful candle or your favourite object and finish off with a striking piece of art, something a bit tongue in cheek like the giraffe's bottom in this downstairs toilet space. The copper light pull finishes off the whole look.
Building Regulations
Think about air ducts and where the sewage drainage will flow to. Make sure to consult a builder or professional. Your new toilet will need to comply with building regulations, although you should not need planning permission for it unless you home is a listed building. The main concerns under building regulations are correct drainage and proper installation of any new electrical fittings and circuits.
Building
Once you have plans and you have booked a builder or professional fitter, ensure all the items are ordered and ready in good time for the week of fitting your downstairs cloakroom toilet. At time of consultation, your builder should be able to advise measurements of units and items before you purchase. Good communication is key to getting the downstairs toilet fitted how you want it. The builder or fitter, will likely liaise with plumbers and electricians to ensure everything goes to plan. Once fitted and any surfaces prepared / plastered etc, a builder will advise you when you are able to paint or decorate.
Added Value
A downstairs toilet is not always going to be the most attractive looking room in the house. Having said that, adding a downstairs toilet is a sure-fire way to both improve the quality of your home life and add value to your property.
Disclaimer: we always recommend a professional bathroom fitter or installer.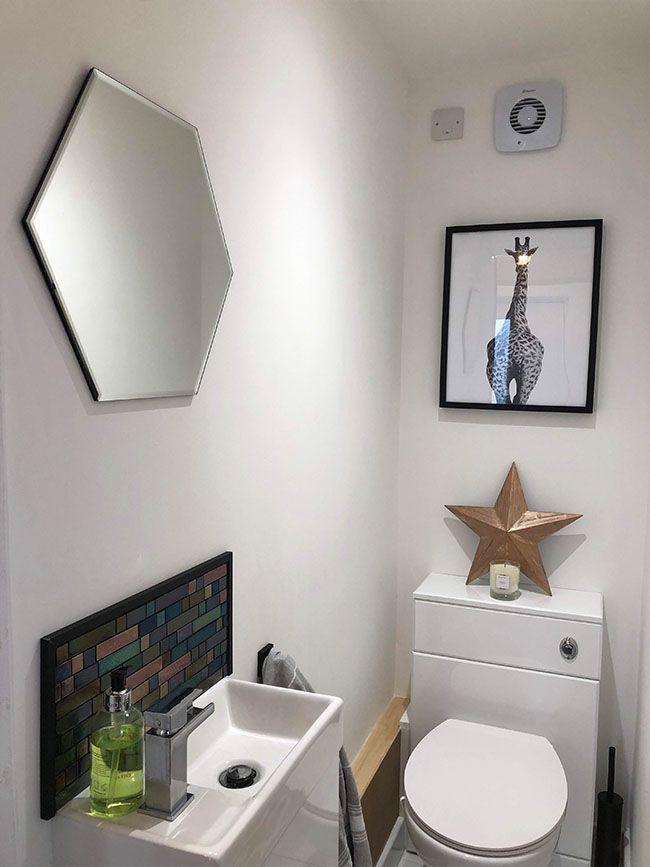 Need more advice and expertise on your bathroom designs? Visit our Bristol Bathroom Showroom where our experts can help you create your new bespoke bathroom with our Planning & Design Service