Kitchen design trends in 2020 will see a continuation of dark and atmospheric cosy interiors but not from the usual colour suspects you might be thinking of. Textures feature heavily with smooth finishes juxtoposed against natural, rustic woods and jagged, veining seeps out from marble effects. Rusty textured splashbacks and worktops, longing to be stroked, feel smooth to touch. There are also other subtle kitchen layout trends making an appearance for 2020.
Colour Trends
Cool, modern monochrome kitchens always seem to hit the top trends every year and 2020 is no different. Dramatically dark and atmospheric colours have seeped into kitchen trends in the past couple of years. Navy and dark, slate grey are still up there but there's a new kid on the block joining them. Opulent green shades are becoming really popular. Pops of colour inject character into kitchens crying out for it.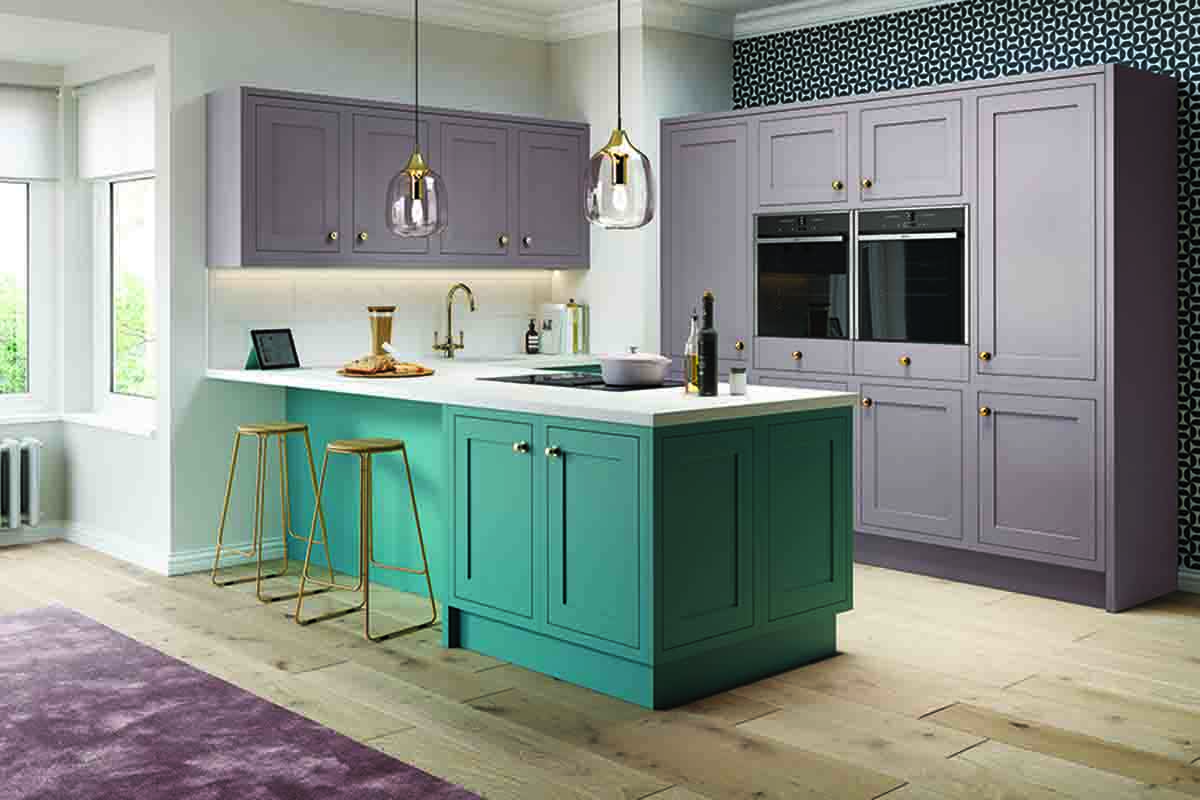 Image: Mackintosh Turquoise and Heather Two tone Fitted Kitchen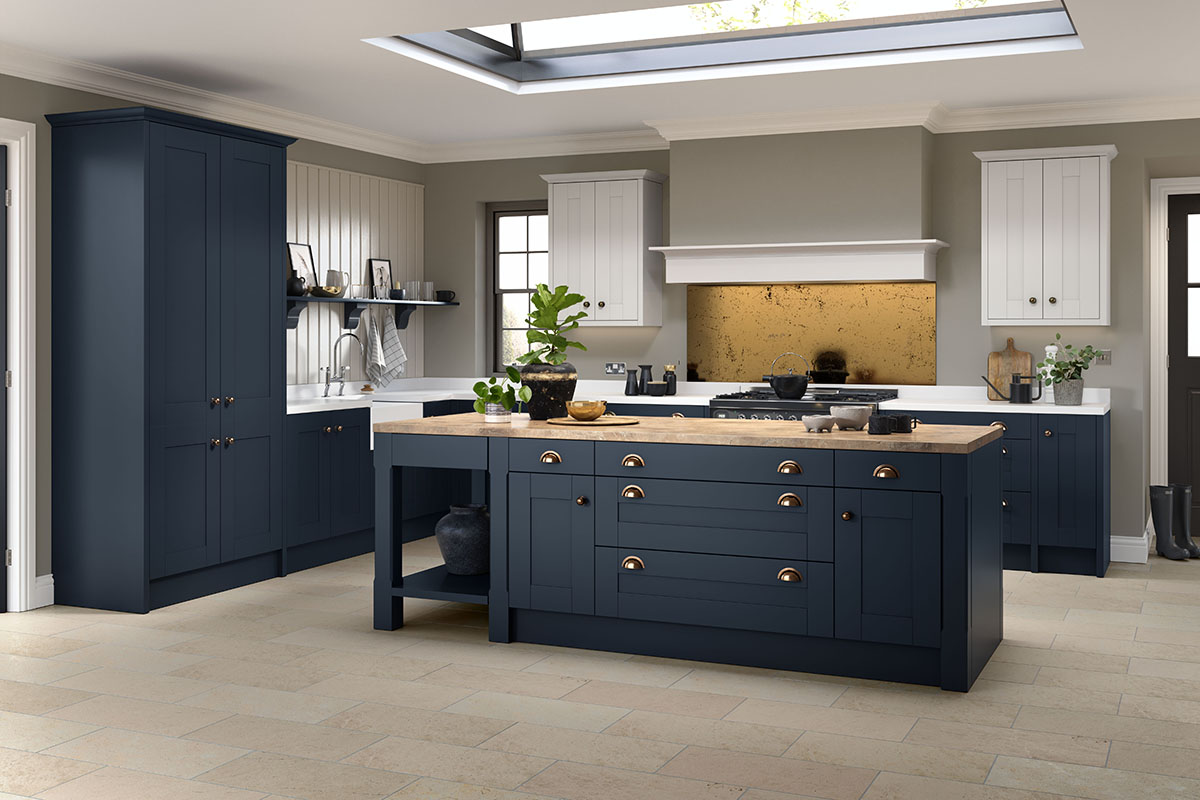 Image: Mackintosh Nouveau Painted Indigo and Limestone Fitted Kitchen - Lustre Gold Metallic Splashback and brass handles
Copper has been on-trend for a few years now and metallics are as popular as ever. Brass is moving up the kitchen trend ladder adding chic industrial style to splashbacks, kitchen handles, kitchen taps and accessories. The navy Mackintosh Nouveau fitted kitchen above features brass cup handles and knobs as well as a beautiful brass metallic splashback. Below: copper taps are still on trend.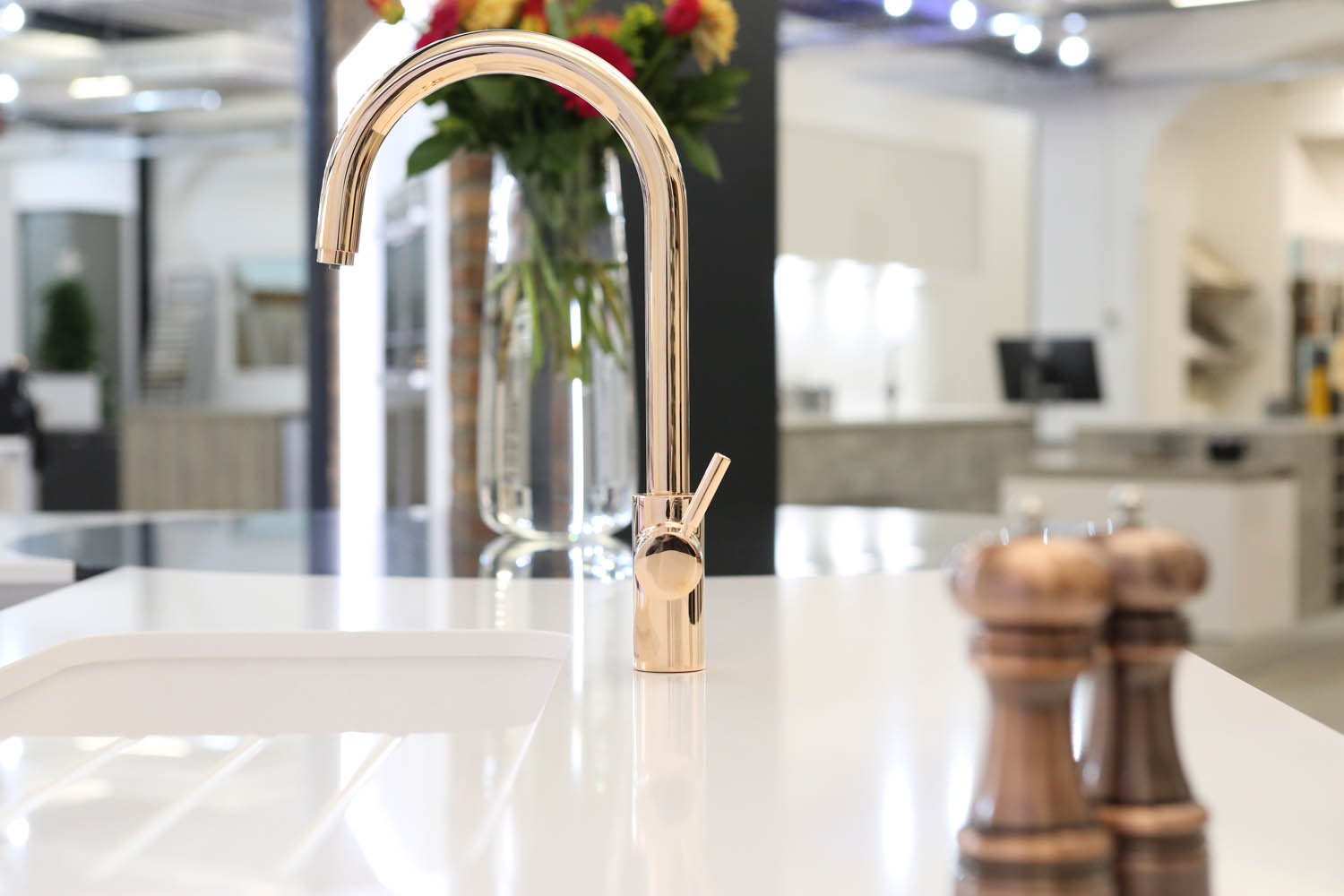 Image: Gardiner Haskins Showroom
Explore Our Kitchen Showroom in 360
Style Trends
Metallics, lots of texture and use of contrasting materials is high on the 2020 kitchen trend list as we've already mentioned above. Tara, one of the kitchen designers at Gardiner Haskins reveals, "lots of contrasting textures on different kitchen surfaces will be popular in 2020. Smooth worktops alongside textured effect cabinets". The contrasting concrete effect worktop clashes superbly with the strong, marbled vein splashback and lustre metallic panelling on the kitchen cabinetry below.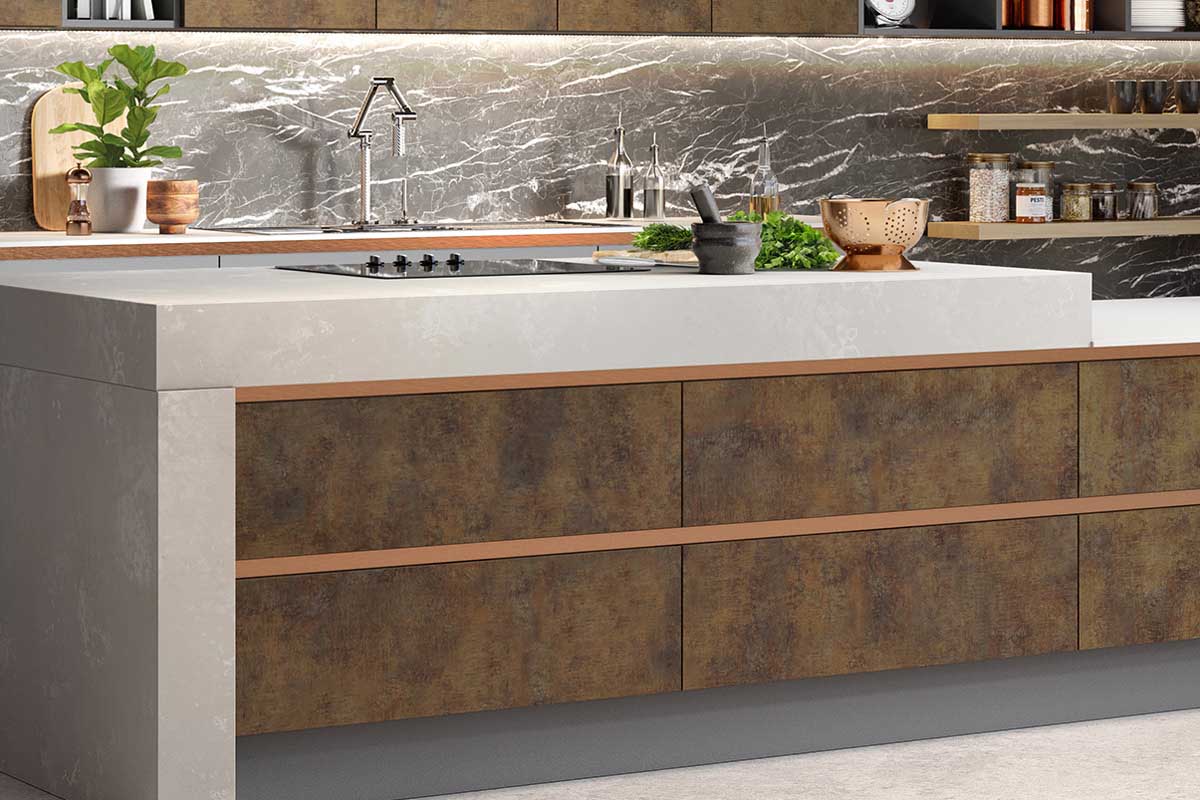 Image: Mackintosh Chic Copper and Bellato Grey Fitted Kitchen
Industrial metals contrasted with pared back rustic wood cabinetry or accessories has not gone away from kitchen trends either. Both of these kitchens show off sleek and smooth handleless kitchen cabinets. Minimal detail enhances the strong textured effects of both fitted kitchens.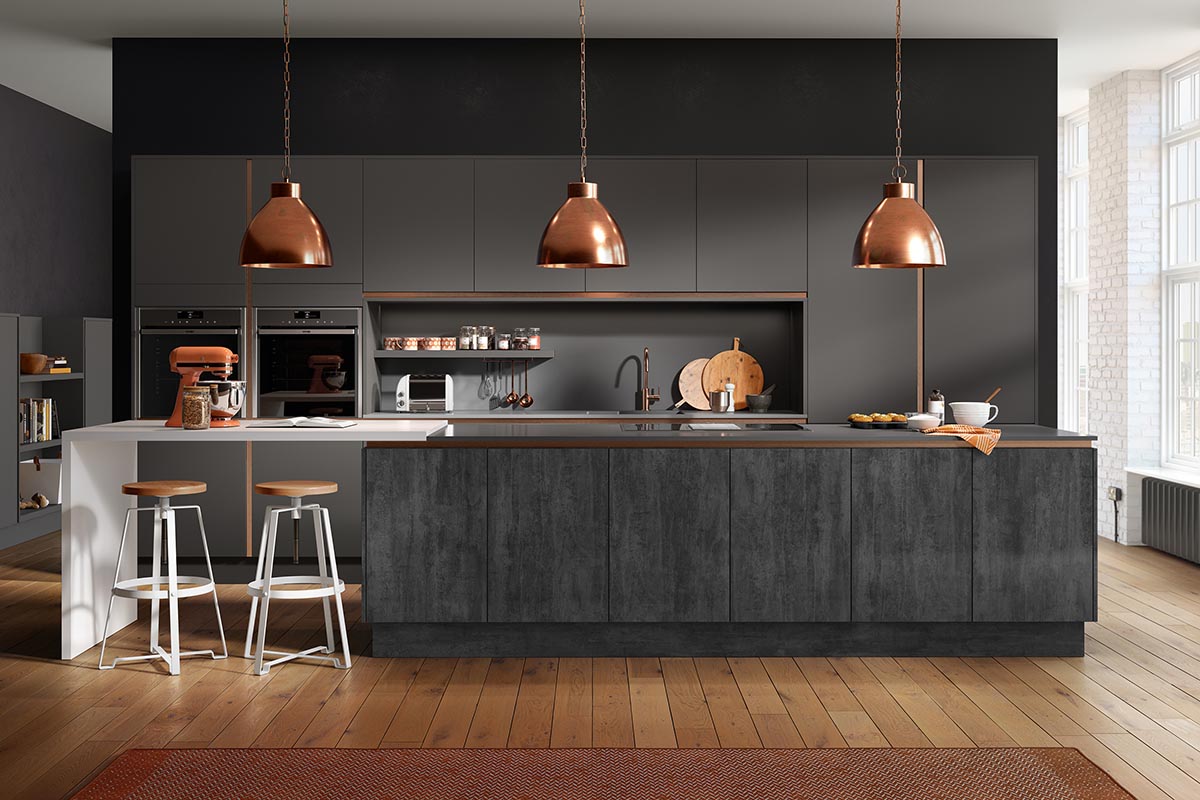 Image: Mackintosh Linear Lustre Metallic, Chic Dusk Grey and Chic Graphite Fitted Kitchen
If you like simple, minimalist kitchens but yearn for something to offset it, how about bold, patterned flooring? Patterned kitchen flooring is trending for 2020; a great way to add a striking finish to your kitchen.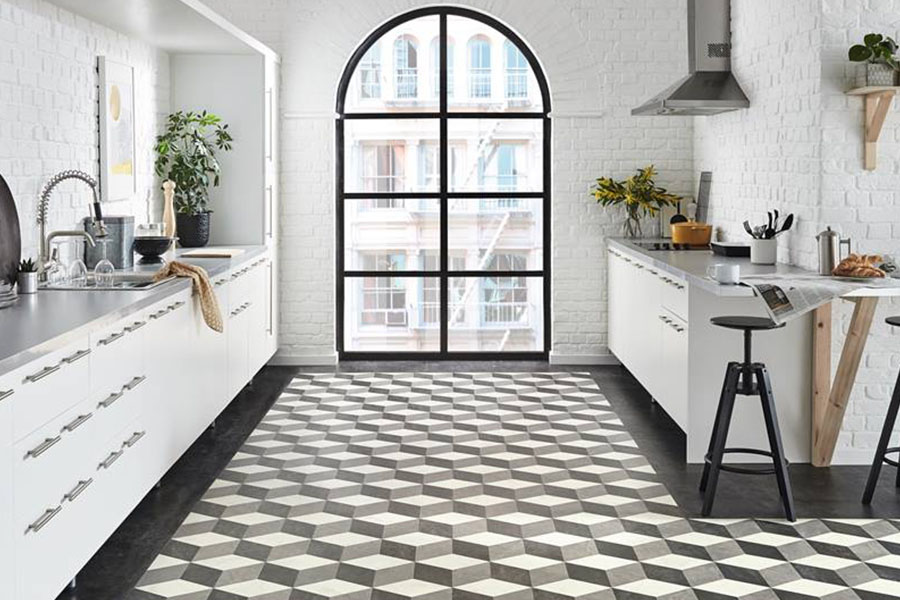 Image: Karndean Cubix Kaleidoscope Flooring
Layout Trends
Smart storage solutions, open shelving and more worktop space are kitchen layout trends we are craving for 2020. We are loving extra large fridge freezers, (if we have the room for them) and pantries are the new favourite must have (again!) for uncluttered food storage. Below, the fridge freezer is neatly encased in surrounding kitchen cabinetry perfect for storing foodstuffs. This clever feature was designed by one of our own designers at Gardiner Haskins. You can read more about this custom kitchen case study here.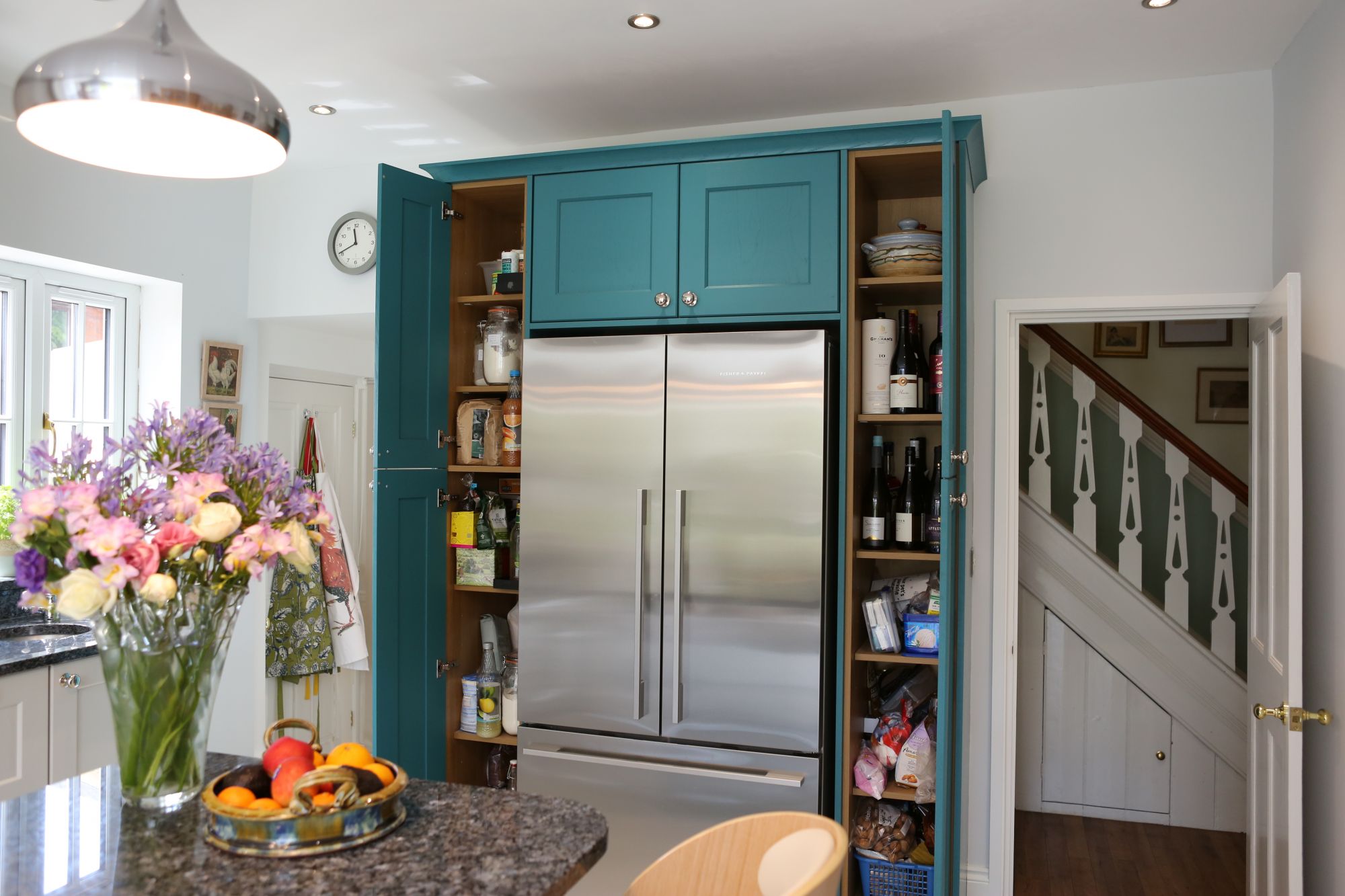 As more of us long for extra worktop space and less clutter; the ability to conceal small appliances is another new trend for 2020. Discreet storage built in or smart storage kitchen cupboards and drawers to hide kitchen gadgets and appliances are becoming a popular option. Smart storage below can conceal gadgets when you wish to hide them and then pullout for easy access.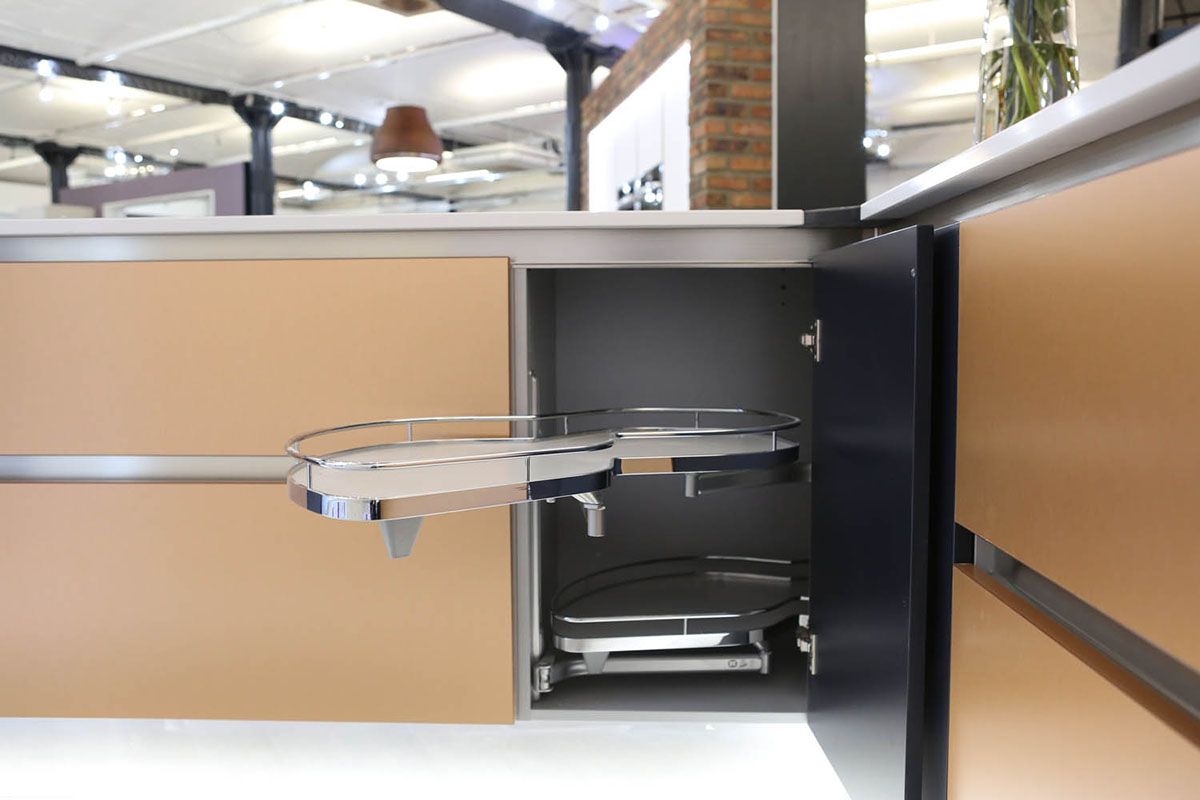 Image: Kessebohmer Smart Storage Solution Gardiner Haskins Showroom
We have all heard of open plan kitchens and this trend is not going away anytime soon. For 2020, broken plan kitchens are a new trend. By adding freestanding shelving or a breakfast bar positioned on a different level from the island, an open plan kitchen can be zoned off. Dining islands are also another way of zoning. The dining area is positioned at one end of the island instead of on one side of the kitchen island. Both kitchens below highlight the dining island trend.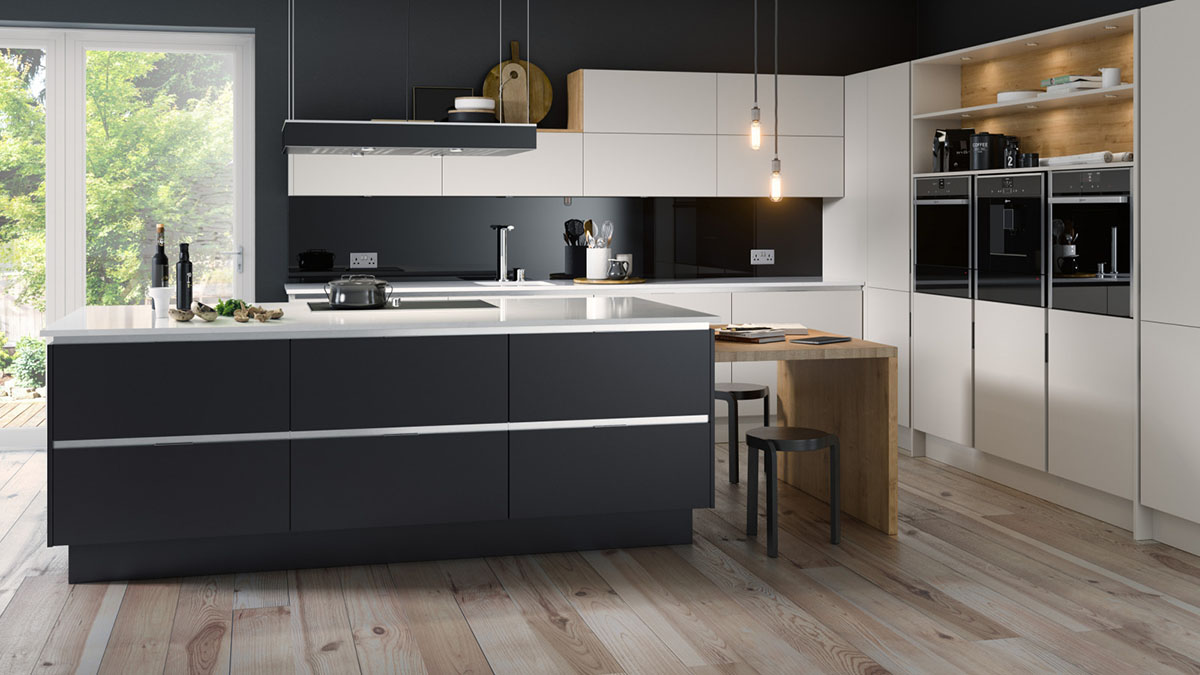 Image: Mackintosh Anthracite and Limestone Fitted Kitchen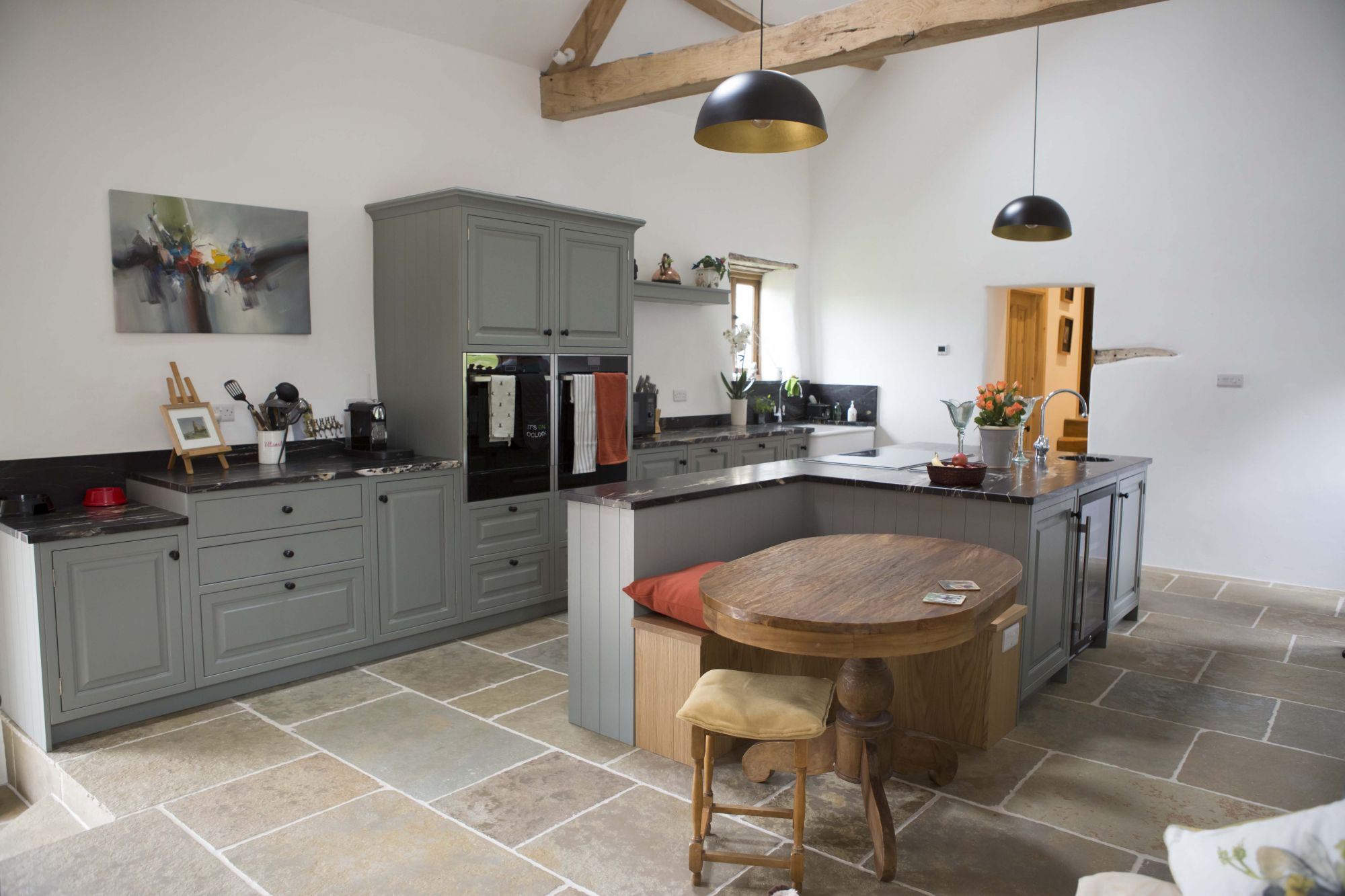 Image: Broken Plan Shaker Fitted Kitchen - Seating boxed in around the dining table fits snuggly in the corner cut out from the kitchen island unit designed by one of our kitchen designers.
See how an old grain store was transformed into the astounding kitchen above - it's twice the size of the image shown!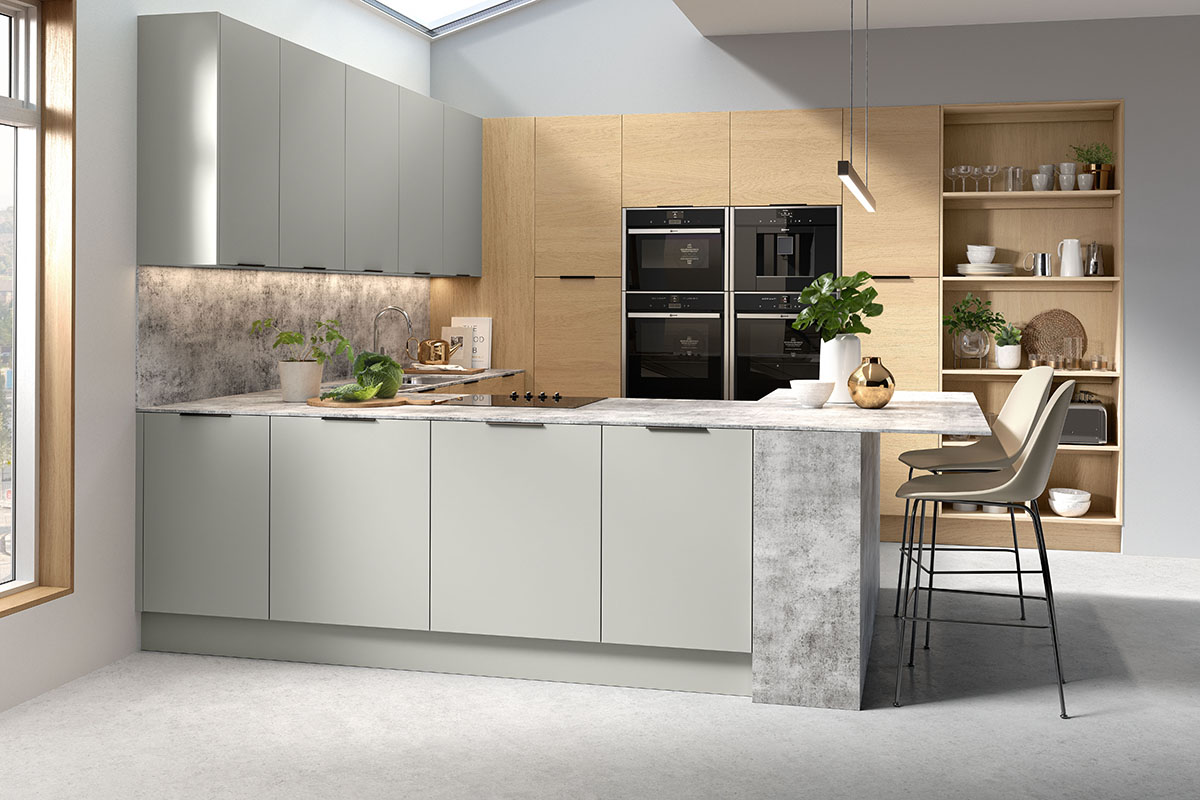 Image: English Rose Fitted Kitchen with textured splashback, oak wood effect cabinets contrasting with pale green and slim handles.
Do you want to transform your Kitchen?
Book your free planning and design consultation at Gardiner Haskins Interiors Kitchen Showroom today by calling 01179 292288.
BOOK AN APPOINTMENT HERE WITH OUR DESIGNERS: