With 20 years of experience and over a thousand kitchen design projects under his belt, Gardiner Haskins Interiors Kitchen Designer Alec Yull has given us an insight in to exactly what goes into creating a bespoke fitted kitchen.
Before Consultation: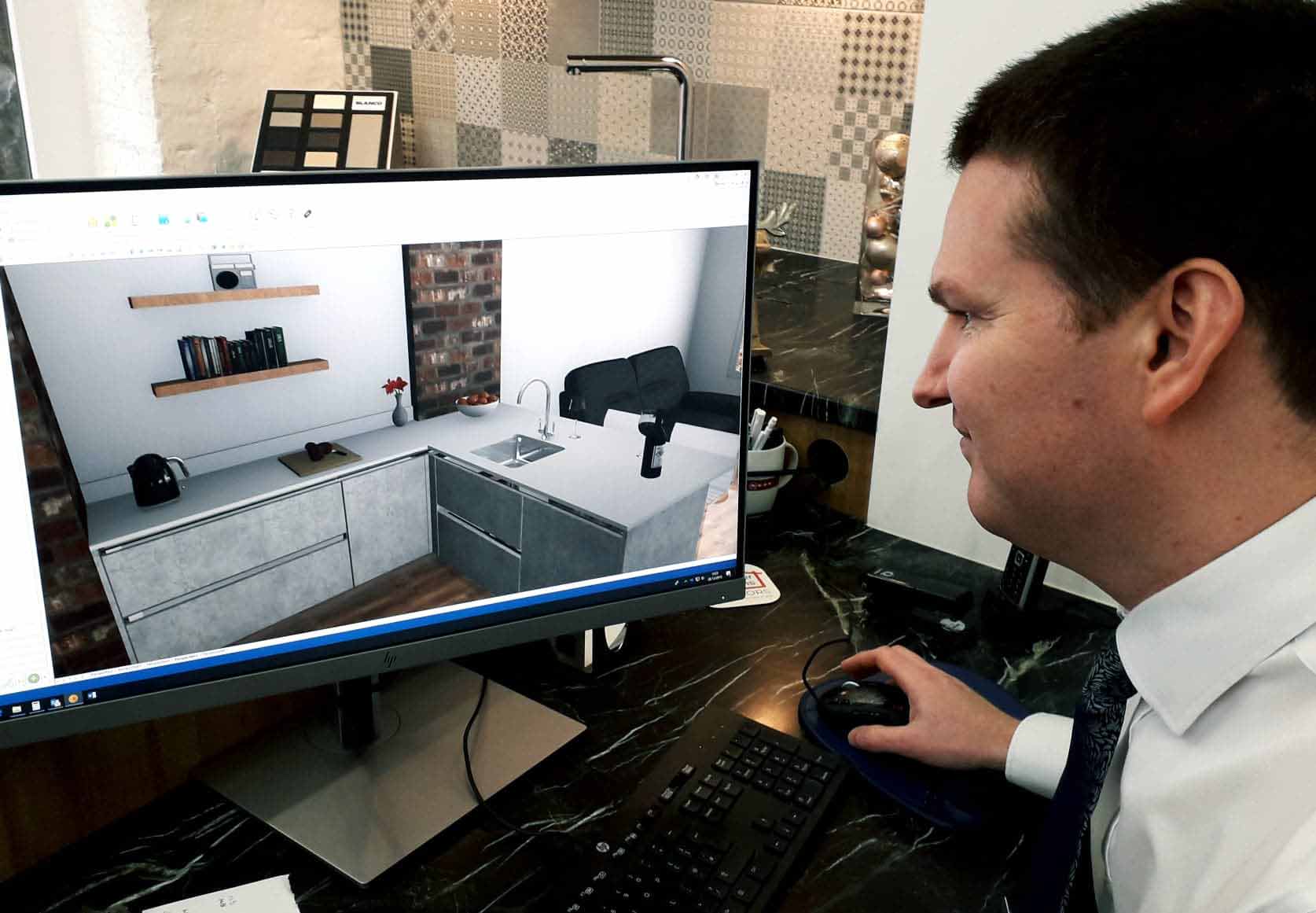 Customers can book their consultation with a designer via phone, email or just by visiting the Bristol Kitchen Showroom. Alec insists that a visit to the Fitted Kitchen Showroom is important to giving customers an insight in to what kind of kitchen they want.
With 18 Fitted Kitchen displays of various styles all designed in – house, the showroom is the perfect place for customers to gain inspiration for how they want their own kitchen to look and feel. Alec says: "Most people will imagine that 'brochure shot' image of their kitchen and my job is to help them create a design that adapts their current space as closely as possible to that."
Step 1: Initial Consultation
In the initial meeting, you will sit down for an informal chat in the showroom to discuss everything from design ideas, style, materials, budget and more. This helps the designer understand your needs and tastes as well as any limitations or must haves for the new kitchen.
Step 2: Home Visit
For the designer, this step is crucial in truly understanding your home, lifestyle and how you use their existing kitchen. It is now that technical and practical elements of the design such as measurements, room shape, plumbing and storage are discussed.
Step 3: Design
The designer will then take all the information gained as well as measurements and create a design using the latest Computer Aided Design (CAD). The CAD provides an accurate, 3D image of the finished kitchen down to the smallest details.
The CAD Design Software means the designer is able to mock up a lifelike image of the kitchen. Making the result much more easy to visualise
Step 4: Second Consultation
This is the part of the design process you see the designer's vision for your kitchen. You will be able to clearly see the CAD, the designer can discuss the design, answer any queries and make any changes as well as provide a quote for the kitchen and a detailed explanation of the next steps.
Step 5: Survey
When you are happy with the design, you will then pay an initial deposit. The designer will detail the design and pass it to one of Gardiner Haskins Interiors' trusted fitters who will carry out a full installation survey of the kitchen space as well as discussing extra detailing with you such as lighting, plastering, decorating and more.
Step 6: Final Confirmation
At the final meeting before fitting of the new kitchen, the designer will confirm design & materials as well as make any changes that are needed. This is when the final details will be agreed on and work can officially begin on fitting your brand-new kitchen! While fitting is underway, as with through the whole process, the designer is always on hand to answer any queries. Alec feels this personal service is what sets Gardiner Haskins Interiors apart from other Fitted Kitchen Design services.
"Having a single designer oversee the whole project means the customer always has a point of contact and a single person who is invested in the project and knows every detail. The fact the designer has visited their home and understands both them and their vision. It is what makes customers feel at ease and enjoy the whole process safe in the knowledge that their dream kitchen is in good hands."
Want to design your own dream Fitted Kitchen? Book your free consultation now