Everything you need to know when buying kitchen taps
Choosing kitchen taps can be tricky, there are so many options and it is often easy to just opt for the classic chrome tap. However, with so many designs out there it is a shame not to at least be aware of the different options you could have. Browse the selection below, you might find some new tap technology that will make your life that bit easier.
Before you begin…
Let's talk about water pressure! You must check what water system and your water pressure before you buy any new taps as some taps are not compatible with certain levels of water pressure.
If you have a low-pressure system – this often comes in the form of a cold-water tank in the loft or a hot water cylinder in an airing cupboard. This situation means your choice of taps will be limited. Talk to our experts in our new showroom for more information.
If you have a high-pressured vented system – this system comes in the form of a combination boiler, fitted to a wall in the kitchen. Here, there is no hot or cold storage tank. Instead, water is fed directly from the mains and warmed accordingly. You can use any tap with this system.
If you have a high-pressured, unvented system – This system includes a water tank storing hot water. The water is stored at mains pressure and heated by immersion heaters attached to the side of the tank or it is a central heating boiler located in an airing cupboard. This system means you can choose from most taps, but to be sure to consult our experts in our new showroom when you book a FREE fitted kitchen consultation.
Moving on to sink compatibility. If you already have a sink it will have tap holes already built-in. This will affect the type of taps you can have. One hole means you will have to buy a monobloc tap. If you have two holes you can have pillar taps or a deck-mixer tap.
It is also important to think about the style of your kitchen. In simple terms, is the vision of your kitchen a modern or a traditional one? We have taps for both styles!
Types of tap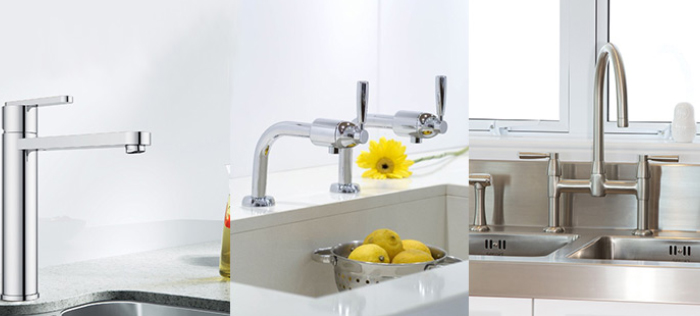 There are three main different types of tap to choose from…
Monobloc tap – This is a tap with a single block spout. It is usually controlled with one or two handles and are a good option if you have a small space. They look modern and are easy to use, giving your kitchen that minimalist feeling. Choose from a huge variety of shapes and styles of this tap.
Pillar tap – This tap is the classic pair of taps, one for hot and one for cold water. This is the cheaper option. They're easy to install and come in wide range of styles.
Deck-mixer tap – This is the tap that has separate handles for hot and cold water but are mixed, coming out of one spout. This tap creates an aesthetically pleasing bridge effect and the handle means it is easy to control the temperature. The deck-mixer tap comes in a huge range of styles and designs.
Types of handles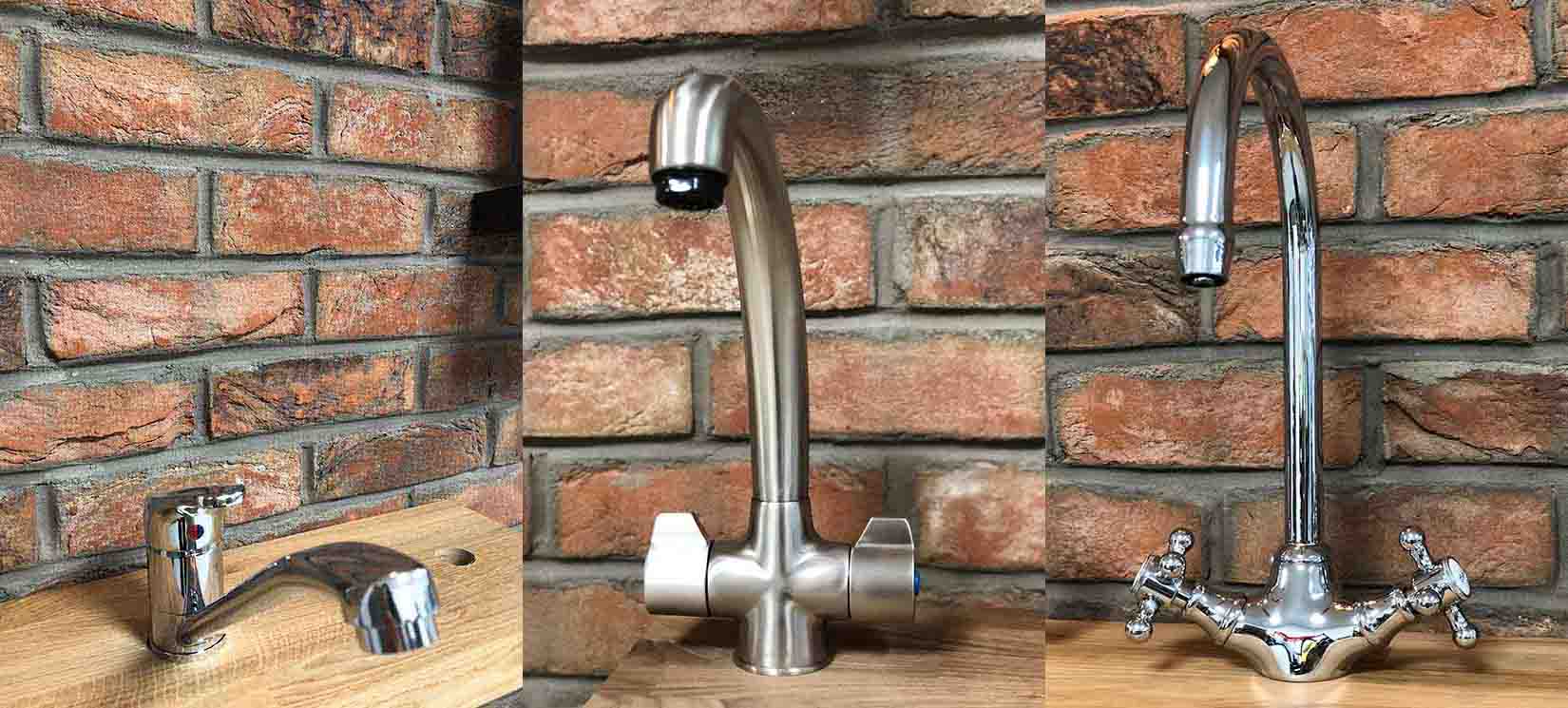 Lever – Control water flow and temperature at the same time with a single lever. Levers are stylish, modern and convenient because if you have full hands you can turn the tap on with the back of your hand. There are also two different types of lever to choose from. A top lever – placed on the top of your tap, move it up and down to control flow and side to side to control temperature. Or a side lever – placed on the side of your tap, pull out and push in to turn on and off and turn it backwards or forwards for hot and cold.
Knob – The classic knob is cheap to buy and easy to install. It comes in an extensive range of styles and designs.
Cross-head – Typically, the cross-head tap is seen as traditional. It would complement any country style kitchen.
Types of spout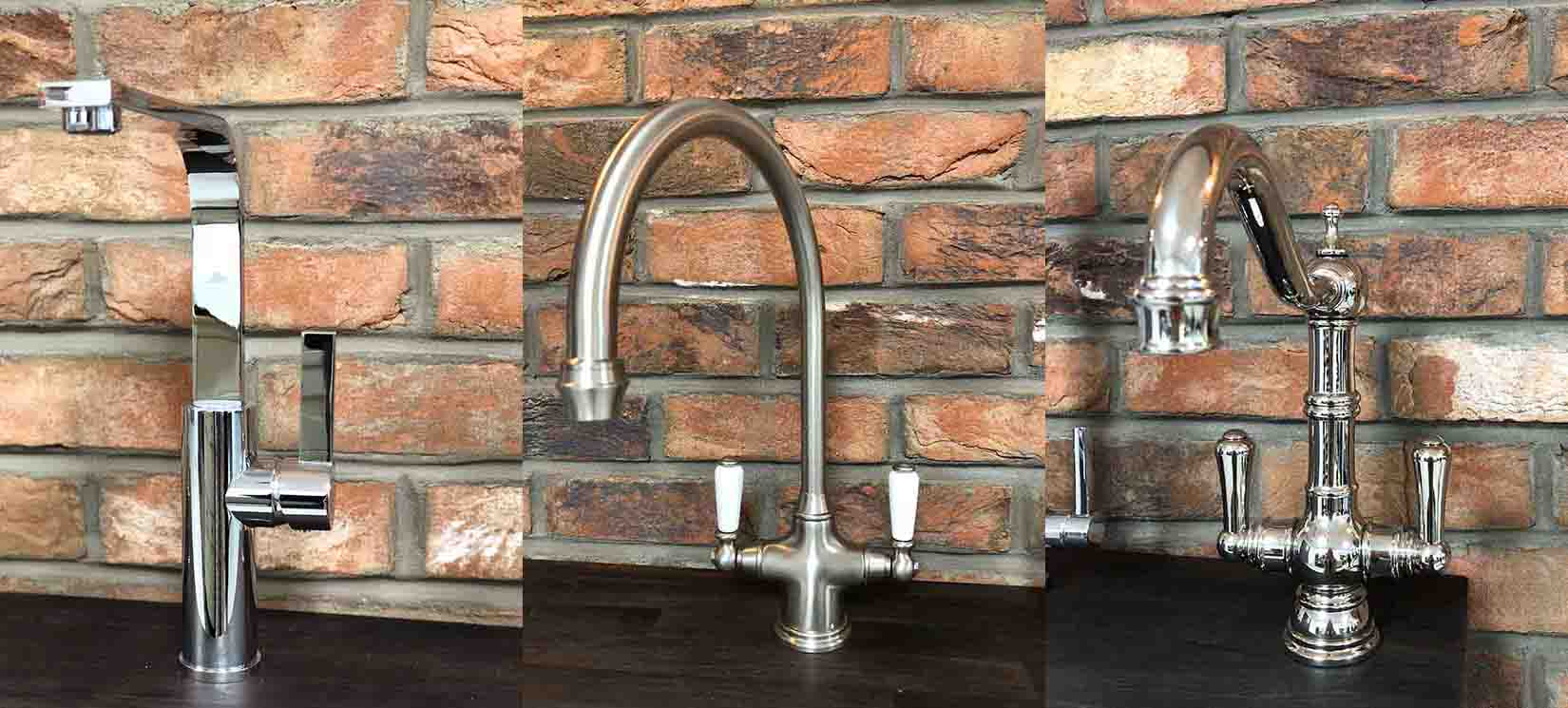 F-shape – This modern look is popular. It's compact and easy to use. It usually consists of a monobloc or in the pillar style with the lever on the top of the tap.
U-shape – This modern design is also a staple in kitchens. The look is sleek and stylish and the spout is shaped in an elaborate, large U-shape. This type of tap is usually either a monobloc or a deck-mixer tap.
High Spout – This is what it says on the tin. It's designed specially so you can easily fill large pots with water.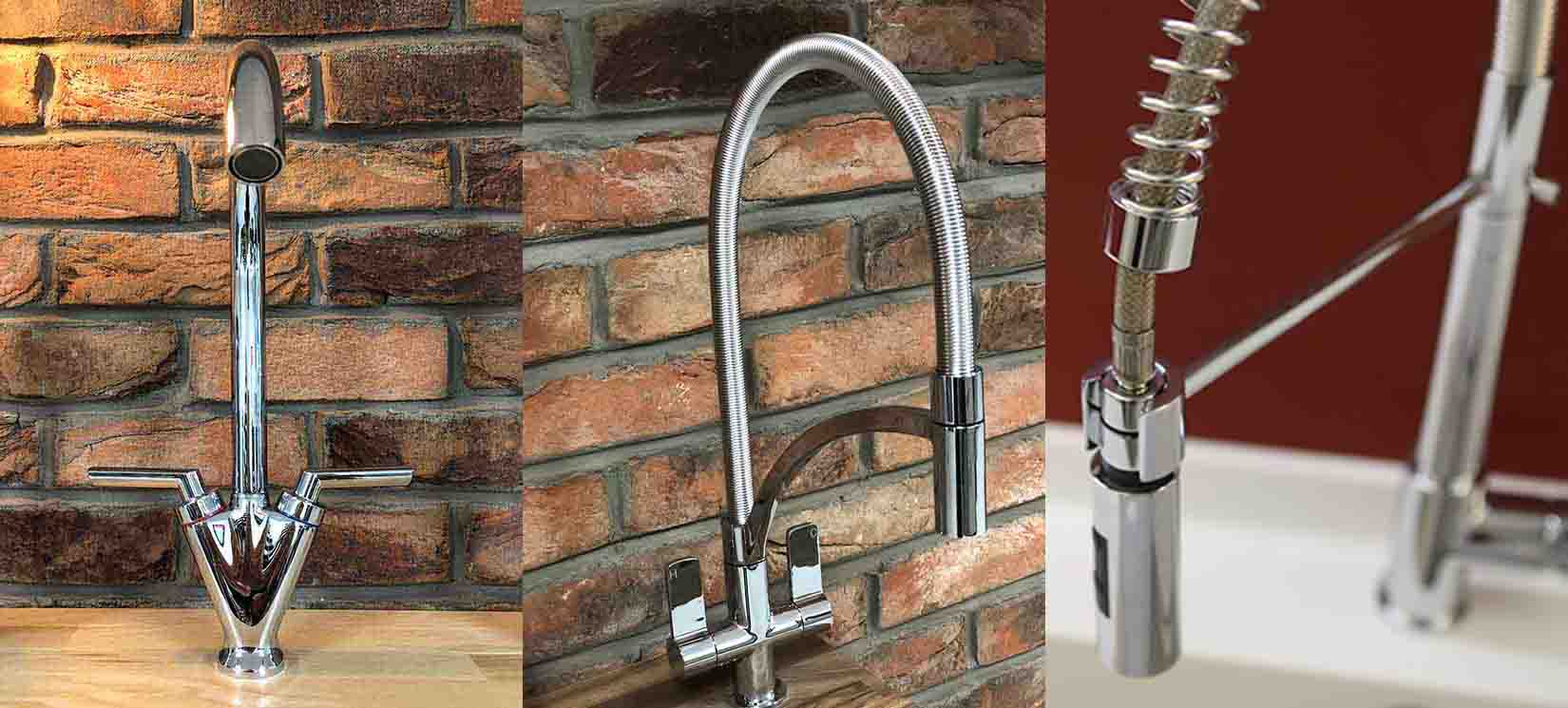 Swivel Spout – This is a convenient must when buying a tap, especially if you have a double sink or a 1.5 sink. It enables you to swivel the spout to make room for dishes, pots and fruit and veg washing.
Pull-out spray tap – Created for ease of use and convenience. Pull on the spout for ease of access to the spout of water. Point in any direction you like whether it's filling a large pot, rinsing dishes before they go in the dishwasher or washing fruit and vegetables.
Spring neck – The spring neck has the same effect as the pull-out spray tap. It has a restaurant kitchen feel, so is useful for a busy working kitchen. With this tap, the springs are on the outside.
Types of valve
Brass compression – This is the most common valve and is often found in pillar taps. However, the seals can wear out which can cause the tap to drip.
Ceramic disc valves – Typically found in monobloc or deck-mixer taps, these valves are far more durable and they last a lifetime.
Types of finishes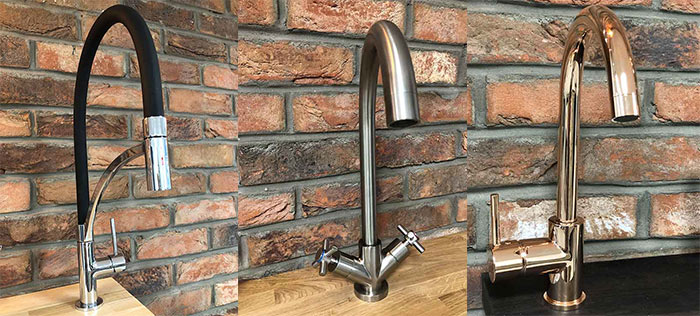 The classic chrome tap; guaranteed this is what was in your head after reading this far, but why settle for the standard day-to-day when you can embellish your kitchen with something different? Here are a few of the other options you could choose from when choosing a finish…
Steel chrome
Brushed steel
White or Black Matte
Brass or Copper
Taps with technology
Branch out and discover that taps can be so much more and make your life easier with technological advancement. Choose to install a boiling water tap for your convenience. Fill up pots from it or make a quick cup of tea or coffee.
Choose to get a water filter tap. Instead of using filter jugs, if you live in a hard-water area this tap filters the water for you through its built-in mechanism. Note: you must still change the filters.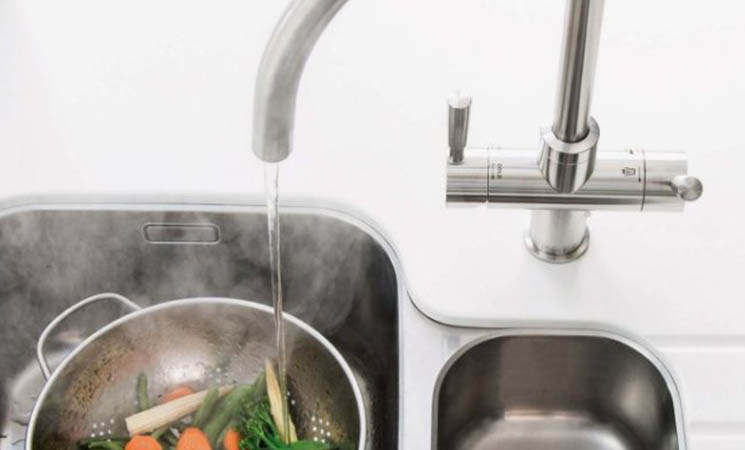 To find out more about our brands and ranges visit our Sinks and Taps page or come to visit our New Kitchen Showroom.