Everything you need to know before buying your new fitted kitchen
Buying a fitted kitchen can be a daunting task. There are multiple aspects to think about and you probably feel lost in the amount of choice you have. At Gardiner Haskins, we are here to help craft the perfect kitchen of your dreams and guide you through every step of the way. To help you begin, we have compiled a 6-step-guide to help start the process.
We believe that to create the perfect, dream kitchen we need to build a relationship and partnership with you. In national kitchen companies, there is usually a different consultant for every stage of the process, which can become quite impersonal. Instead, we stay with you from beginning to end. From initial consultation to the final unveil there will be the same caring member of our team to help you every step of the way. We're not interested in impersonal selling, but chatting to you, finding out your individual needs and providing a genuinely individual, bespoke kitchen.
But first…

Step 1: Get inspired!
This is, in a way, the most crucial stage of your kitchen design journey. It's when you search the internet, start your Pinterest boards (have a look at ours), look at kitchen magazines, and visit showrooms to decide what style, design and feel you prefer.
We've compiled a list as a guide to help you think about the right elements and don't miss anything.
Style and Feel – Think about style and feel. Do you like traditional, contemporary or shaker style Kitchens? Or maybe a combination?
Elements – Think about the elements of a kitchen. Look at aspects individually and as an ensemble, for example, cabinets and storage, worktops, floors, splash-backs, appliances, sinks and taps, lighting and handles?
Materials – Think about what materials you would like these elements to be in. Do you like wood, granite, laminate, glass, stainless steel, marble or tiles?
Colour and Finish – What colours would you like these elements to be? Would you like the finish to be gloss or matt?
Bear in mind a rough budget for how much you have available to spend, and we will guide you through your options to fit your desired budget.
We have a wide range of kitchens to choose from and can design any sort of kitchen you dream up. Even if you only have a few ideas about your likes and dislikes we can help you through the process, so come and visit our new showroom for inspiration today, visit our kitchen range page or check out our Pinterest Page for inspiration.
Stage 2: Free planning consultation
Once you have some idea of what style of kitchen you want, come and visit us in our brand-new showroom. At Gardiner Haskins, we offer a free consultation and chat with our professional kitchen designers to discuss your ideas and answer any questions you may have. Meet our friendly team in our New Kitchen Showroom here.
Tell us about your inspiration, ideas and needs. How do you want to use your space? For cooking, eating, entertaining, socializing, or all the above? This will help us design a functional, as well as a fashionable kitchen that you can use every day.
Our designers are specially trained and have years of experience in designing kitchens. We pride ourselves on being one of Bristol's leading independent kitchen specialists. We want to create an atmosphere where you feel comfortable and looked after. Which is why when you meet your designer they will stay with you throughout the entire process from start to finish, giving you the optimum service that you deserve in this important process.
So, come and visit our showrooms today and we'll help you fill in an enquiry form.
Stage 3: Free measuring service
As part of our services we offer a free home visit measuring service conducted by our designers, so you don't have to worry about this part of the process. We love getting to know you, and we believe that a personal relationship with someone that you can trust is what you need throughout this process. We believe that the best relationships are built over tea and biscuits.
We then take the kitchen measurements and design your kitchen!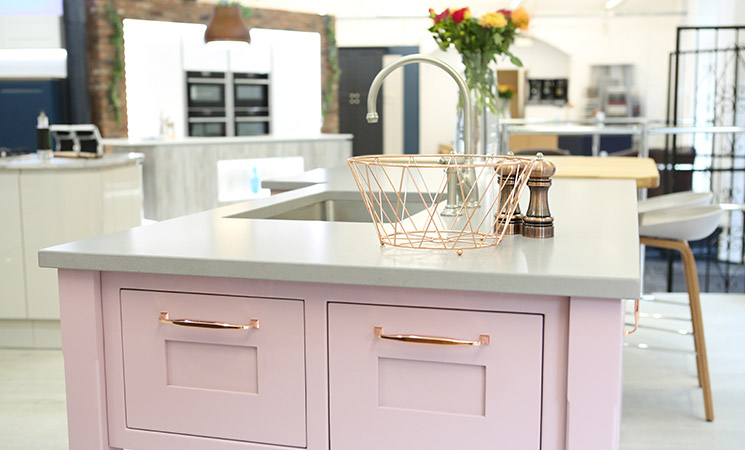 Stage 4: Follow-up appointment
After your designer has created the initial design, we organize a follow-up appointment. This is where you review the proposed design and fall in love with your new kitchen. You can also make any adjustments to help further craft your perfect kitchen.
Stage 5: Follow-up with the fitter
This is when you meet with your expert kitchen fitter to make sure everything will fit in perfectly. If you're having any doubts, you can still amend your ideas up to this point. Check out our installation guide for more information.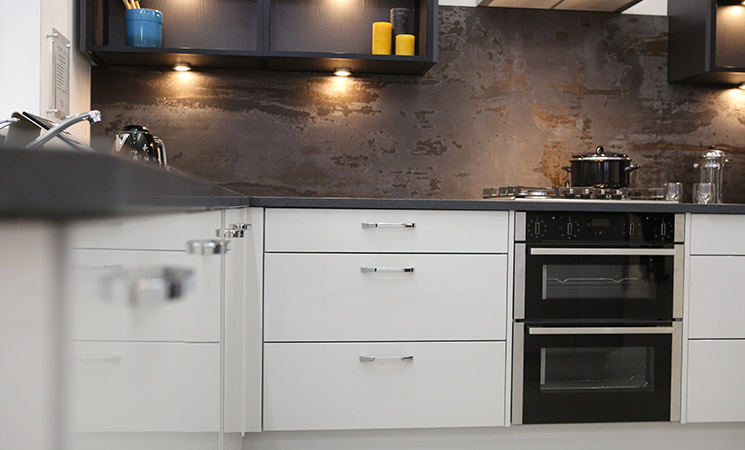 Stage 6: Finalisation
Well done! You've reached the final stage towards creating your ideal kitchen. All that's left to do is finalize the order and set a date for your fitting.
Download our handy printer-friendly Kitchen Design Checklist here.
If you need any more information about the design process contact us.