Are you planning your new dream kitchen and planning on measuring your kitchen yourself? When you measure your kitchen yourself you take on responsibility of whether it will fit or not. Buying a new kitchen is one of the biggest investments you will make for your home, so we believe professional consultant advice will always give a better end result than the 'DIY' attitude. The good news is that our Gardiner Haskins kitchen design service is free of charge and no obligation. Read on to find out more.
We've written this guide with tips on how to measure your own kitchen. But, it comes with a warning: you should leave it to the expert kitchen designers.
How To Take Kitchen Measurements
Step 1: Getting the right tools to measure your kitchen
This is a really important step and you could stumble at the first hurdle if you don't get the right tools for the job. At the very least you should use a metal carpenter measuring tape for accuracy or spend a little more for a laser measurer. Beware that some laser measurers give you a measurement from where the laser exits the device, therefore not taking into account the device itself, so you may need to add that on.
Step 2: Draw your kitchen layout
It doesn't have to be to scale but it will certainly help you understand what all these measurements mean. Sketch out the space including any obstacles and mark all those measurements on your drawing.
Step 3: Measure twice, fit once
Measure your kitchen and measure it again (and again) until you're confident you have accurate measurements. If your measurements are out by even a millimetre that could be the difference between that wine fridge fitting or not. Keep in mind that what looks like a perfectly rectangular space is probably not a rectangle. Don't just measure from one point across the room but instead, measure at multiple points down the length and width of the room. It may even help to have a protractor to get the angles of the corners.
Step 4: Measure kitchen ceiling height
Measure the distance between the floor and the ceiling of your kitchen to make sure you have enough height to determine what size kitchen wall cabinets will fit. When you visit a kitchen showroom it can be deceiving to think that the kitchen on display will fit in your space. When you have it delivered and installed, it may be a different story.
Step 5: Measure your kitchen walls
This is arguably the most important measurement you will take, so take your time here. Measure the clear wall spaces first by placing the end of your tape flat against the wall and then move to the opposing wall. Get someone to help by holding the end of the tape in place so you can focus on getting to the other wall at the same height to make sure your tape measure is level. Walls with obstacles are a bit trickier, such as fridge freezers in the way. Measure as close to the obstacle as possible, then add on the width of that obstacle to get your total measurement. If you want to be really accurate then move the obstacle if you can. You can't afford for your measurements to be wrong.
Step 6: Measuring obstacles in your kitchen
Windows, doors, doorways and walk throughs all need to be taken into consideration for your new kitchen. Measure these for width and height and how much space there is between those obstacles and adjacent walls as well as distance from the ceiling/ground for windows etc. You also need to measure where your radiators and boiler sit (if applicable), especially if they aren't going to be moved during the kitchen installation.
Step 7: Measuring for your kitchen appliances
You may decide to keep your current appliances, if so, measure them. Most appliances are standard sizes but just in case yours aren't….measure them. The last thing you want is your beautiful new kitchen installed only to find that your American fridge freezer doesn't fit! Make sure to get the height, width and depth. As an example, unusually deep appliances could not be placed in a corner.
Step 8: Other kitchen measurements
Measure from the centre of your cooker to the nearest wall and the same for your kitchen sink. Make a note of where any plumbing and pipework are in your kitchen as you will need to ensure your new kitchen design can work with this setup.
Why You Shouldn't Measure Your Own Kitchen
We've given you steps on how to measure your own kitchen and now we're going to tell you why that would be a bad idea! You're about to make a big investment to upgrade your kitchen so why would you not take a little extra time to get it right? One tiny, silly mistake can have a huge impact on the end result and you will kick yourself for not getting a trained kitchen designer to measure your kitchen.
It's FREE
When you buy a kitchen from Gardiner Haskins the kitchen measuring service is FREE and no obligation, your designer will come to your home and measure your new kitchen. So why not take advantage of that? Our kitchen designers have decades of experience in measuring kitchens, so you know they'll get it right first time. Many kitchen companies will send out a separate surveyor to measure your kitchen, not the designer who will be planning the kitchen with you. We believe it's a critical part of kitchen design that we come to your home and get to know you and the space your kitchen will be fitted in.
Getting the Measurements Right
As you've already read, there is lots to consider when taking your kitchen measurements and there are likely to be a few tricky corners, angles and spaces in your kitchen. Your new kitchen will be designed to exactly fit these measurements so they have to be right. So, unless you consider yourself an expert with a measuring tape then you should leave it the people who are: the kitchen designers.
Made to Measure
Your bespoke kitchen will be made to fit your measurements, which will take several weeks to complete. Imagine the following scenario: you've paid for your kitchen, you've waited weeks for it to be made and delivered, you've found the perfect kitchen installer and they're at your house with the next two weeks reserved to fit your kitchen. Half way through the project they discover that your measurements weren't right and one of the units doesn't fit! You may have to wait weeks for a replacement (which could be at additional cost to you) and then wait until the kitchen installer is available again. You've just delayed your new kitchen project by a very long time and cost yourself more money. Measuring your own kitchen is a big responsibility so you would be better off giving that responsibility to your kitchen designer.
Considering Functionality
Kitchen designers will automatically consider the whole environment and how everything will work together, including how much space there will be to move around, how the different light sources will open up your kitchen, whether you're left/right handed and how that relates to where you place cupboards and drawers.
Getting to Know Your Home
Having that visit to your home will tell the kitchen designer what your design preferences are and how your new fitted kitchen will fit with that whole vision. Your new kitchen is an extension of your personality and personal design tastes, so seeing that in the flesh will help them guide you through the design decisions you will make together. Your dedicated designer will be interested to see the rest of your home and getting to know about your vision.
Kitchen Case Studies
Check out some examples of real kitchens which our designers have measured, designed, planned, project managed and have been fitted by our kitchen installers. When you buy a kitchen with us you will deal with your dedicated kitchen designer from start to finish, so they will project manage the entire thing. One less thing for you to worry about.

Read about Liza Fry's stunning barn conversion and how the kitchen installer custom fit every cabinet to fit the quirky curves and shapes of the inner barn walls.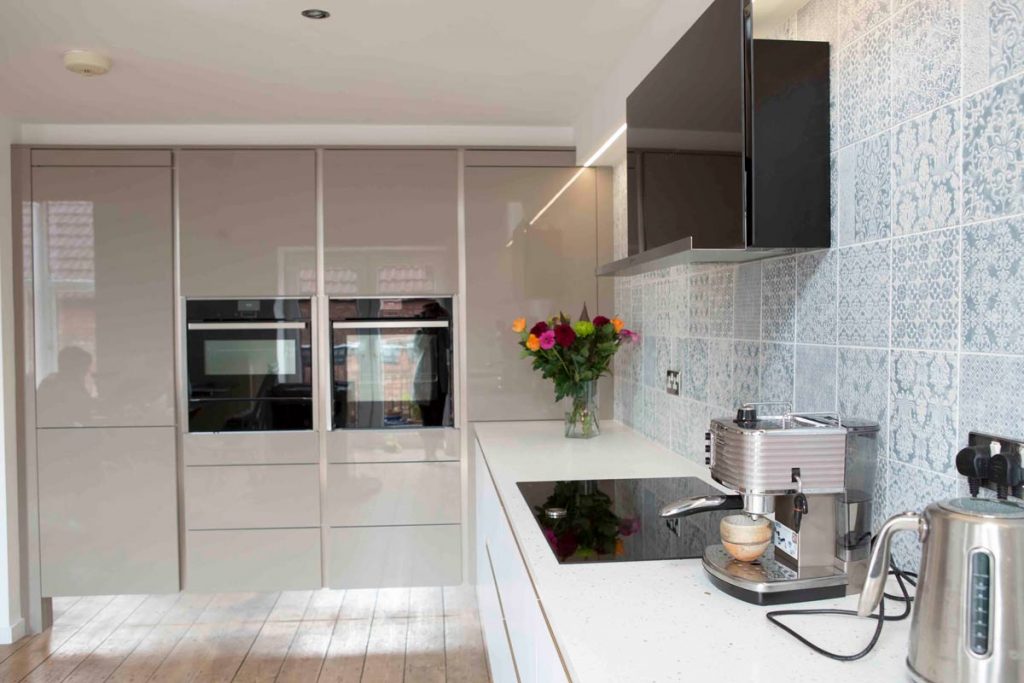 Read about how this client worked with our kitchen designer to create a stunning, contemporary kitchen with meticulous attention to detail.
---
Book your planning appointment today: read more about our kitchen measuring, design and planning service and book an appointment with a kitchen expert to get your perfect kitchen.
Reasons to choose Gardiner Haskins Fitted Kitchens:
You will work with a dedicated, experience kitchen designer from start to finish. They will project manage the whole thing for you so you only have to deal with one person.
Our kitchen team have decades of experience with designing beautiful kitchens.
The majority of our customers come to us because they've been recommended by a friend, family member or neighbour.
The results speak for themselves – if you haven't already then take a look at those kitchen case studies linked above to see some stunning examples of our kitchens.
We only work with kitchen installers who we trust and have worked with for many, many years.
Our Bristol kitchen showroom features over 20 inspirational kitchen displays which represents just a fraction of the choice of colours and designs which we can offer.
We only work with exceptional kitchen brands who we feel offer incredible quality products.