Richard is renowned for spending most of his time laughing, being quite haphazard and having the most cluttered desk in Gardiner Haskins since 1984. If you visit our Cirencester store on Wrong Trousers Day then you can't miss him as he's the one in the bright blue suit covered with orange goldfish. More on that later…
At the age of 18, Richard's Dad told him to find a job and make some money whilst he figures out what he wants to do with his life. That job was as a Sales Assistant at Gardiner Haskins in Cirencester, working in the DIY department. A short 34 years later and Richard still isn't sure what he wants to do, but he's swiftly moved up the ranks as Manager of the DIY Department and Garden Centre.
---
The Goldfish Suit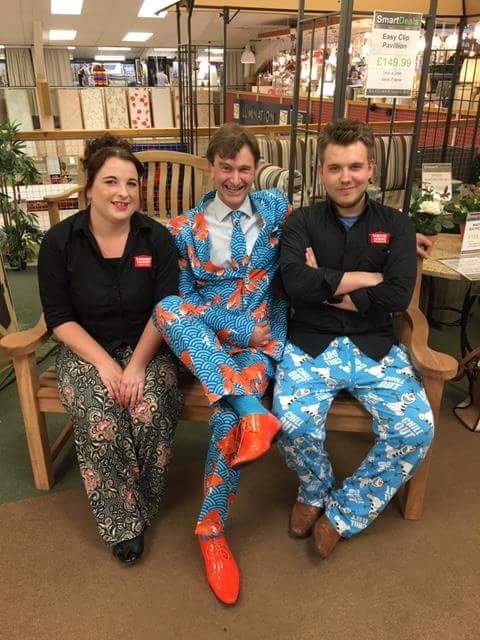 This suit really is something to behold, but where did it come from? It all started when Richard's skittles team had a fancy-dress evening, so when looking online for the most outrageous suit he could find, Richard came across this little gem. Unfortunately, it wasn't enough for his team to win the competition (hard to believe there's a suit out there which is wackier than this!) but it makes its way out from the back of the wardrobe once a year for The Grand Appeal's Wrong Trousers Day.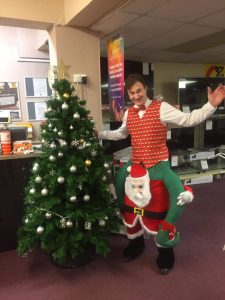 It's not the only fancy dress item that Richard is renowned for. There's also the elf-riding-Santa suit which makes an appearance during the Christmas season. When donning these outfits Richard is met with delight and interest from some customers whereas others will act like there's nothing out of place, which Richard admits is the weirdest response. So, when you're next in and you spot Richard in fancy-dress make sure to take a selfie with him. He'll love that.
---
Best Memories
Richard has spent most of his adult life working for Gardiner Haskins, and he's one of many staff who have worked for us for a very long time. With over 34 years of memories, which ones have been Richard's favourites? Being promoted to Manager certainly makes the list, but Richard's very best memory was meeting his partner Rose who also worked for Gardiner Haskins. They've been together now for 29 years and counting. Richard isn't the only one to meet his partner here. In fact, Gardiner Haskins is a real hotbed for romance with dozens of romances blossoming here over the years.
---
Big Changes
A lot has changed in Cirencester over 34 years with some major regeneration in the town centre and lots of new, niche businesses opening up in the area. Gardiner Haskins is right at home among many other independent stores on the high street. Richard doesn't think that he's personally changed much in that time, and if you look back at some old photos that certainly seems to be the case. He admits that perhaps he's a little greyer than he was 33 years ago!
During his time here, Richard has had a lot of involvement in how the store looks and making some big changes to the layout and displays. The store grew from one floor with a small mezzanine to two full floors of home products.
---
What Richard's Colleagues Say –
"Always put his staff needs before his own by constantly changing his shifts to allow members of staff to have the days off that they need."
"Richard is always up for a laugh, through wearing funny outfits on special days which always seems to get more wacky with each passing event!"
"Rarely seen without a smile, even when things aren't going according to plan…"
---
In 2019 Rich was set the challenge of raising money for Maggie's Cancer Support Centre by doing a Live Dance in store! In typical Rich fashion he turned up in a bright orange suit bringing a smile to everybody's faces. His dance as well as raising a few smiles also raised £655 for the Charity.