The 'New Boy' and 'Cheeky Prankster' of the Gardiner Haskins management team, Andy Stockwell started at the Cirencester store in 2002. Originally looking after Cookshop, Flooring and Hardware, he then expanded to cover Soft Furnishings and Furniture as well in 2008. He is now a pillar of Gardiner Haskins and well known in the community, especially for his charity work.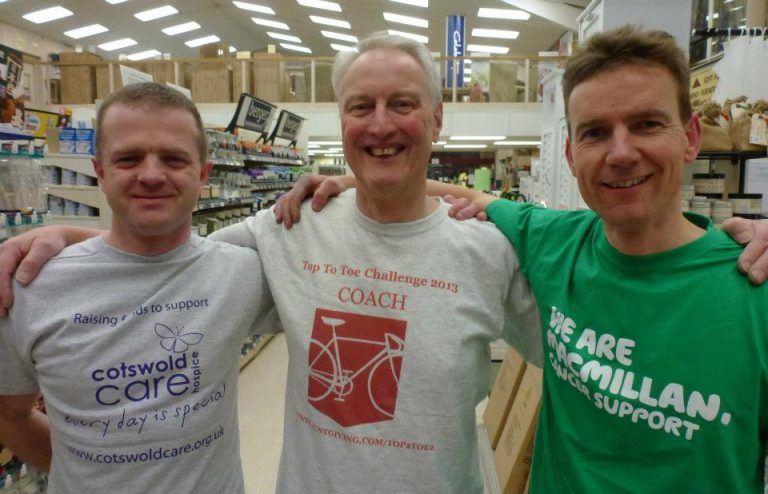 ---
The Interview
Andy was interviewed for his position by the Store Director Mike Carr and two of the other management team: Tim Edis and Richard Newman. Andy says "I remember Mike saying to me that being a Department Manager and Buyer was as close to running your own business as it was possible to get without actually running your own business and that's exactly what it's like. In most retail jobs a lot of factors, including stock and staff, are out of your control. That is not the case here. Almost every aspect is down to you and you stand or fall by your decisions. That is my favourite thing about working here. I'm very glad to still be standing after 15 years and also very grateful to Mike for taking a chance on me."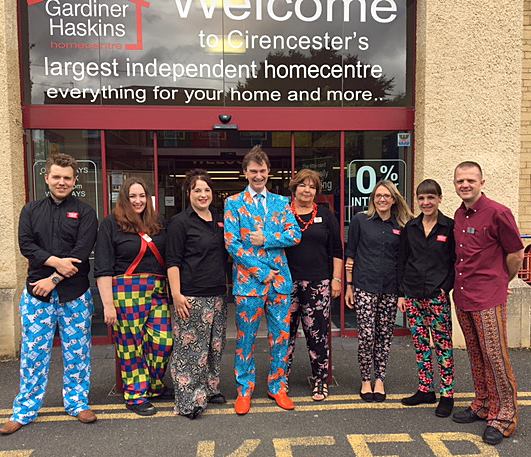 ---
Teamwork
At the heart of Andy's Gardiner Haskins career is the team he's built around him. He says "My greatest achievement has to be the development of my team and the individuals within it. They are constantly trying to improve and think of ways to push the business forward. Our success is very much down to them, it's definitely a team effort." His team speak as highly of him, Karley has worked with Andy for 9 years and says, "Andy is an integral part of the team here. He is an encouraging manager, always pushing people forward. He plays a massive part in Charity Events including Cycle Rides for Longfield Hospice and dressing up for various occasions. Other management may not agree, but his pranks are legendary."
---
Charity Work
Andy is also very passionate about his Charity work. The last big challenge he faced was a 100 mile bike ride completed in one day for Longfield Hospice. The course consisted of riding between the 13 Longfield Charity shops and he was accompanied by Mark Stephenson (Electrical Department) and 3 other friends of the company. In total they raised £6040 for the Longfield Hospice. He is looking at some more challenges this year, so watch this space.
---
Pranks & Laughter
Although Andy is very much a team player, that does not stop him trying to have a laugh. He once sent Rich an official looking letter saying his company car was being revoked. Of this prank Andy recalls, "I knew Rich received the letter but he never mentioned it, until he went to Mike Carr about it, who was oblivious. I almost got in trouble for that one! I also swapped Tim's office chair for a toilet after he had a sickness bug. He didn't find that funny, but his staff did"
From raising thousands of pounds for charity to dressing as a rubicks cube at a Christmas party and hopefully some work in between, Andy's certainly had a colourful 15 years here at Gardiner Haskins.