At Gardiner Haskins, we offer the latest in Home Entertainment.
Our models feature the latest, up to date technology and designs. Including: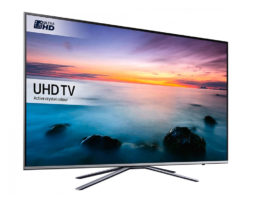 Samsung 4K Smart TVs:
Featuring computer capabilities within your television – offering many more uses than traditional sets. Internet connected and with built in apps, players and internet browsing capabilities, users can access catch up and on demand television, streaming, web browsing and more in one device.
4K/UHD:
Also known as Ultra HD (UHD), 4K is the latest in high definition picture. Offering 4 times the level of detail as regular HD television, 4k technology means sharper picture quality for a more immersive experience. 4K televisions feature a total resolution of 3840 x 2160 pixels and are particularly useful for screens over 50 inches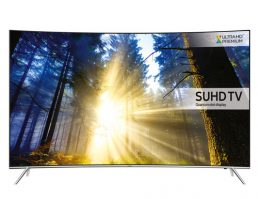 Curved Televisions:
Becoming more popular with viewers due to their curved screens, these give the viewer a more immersive experience – the picture literally wraps around you! Having a curved screen also allows the picture to be sharper and more richly contrasted than compared with flatter screens.
Choosing your television – What to consider
WHERE it is going?
Firstly, you need to consider where your new Television will be positioned – in which room and where do you want to place it? This will help you decide on the Size of television you buy as well as whether you want to Wall Mount it or leave it Free standing.
WHAT you will be using it for?
How you will use your television is important too. Are you a big film or sport watcher? Then you may want to choose HD or 4K Picture? If you like to listen to music you may want extra special sound quality or if you want to use it for surfing the internet you should consider a Smart TV. This will impact the model of the TV you choose as well as the price you will pay.
HOW MUCH do you want to pay?
At Gardiner Haskins we have a range of televisions to suit any budget, visit our in store showroom to discuss your options with our fully trained staff.
Accessories and Extras

Make the most of your Television with a range of accessories and extras.

HDMI Cables:
A basic item but essential for connecting your television to other devices such as Blu Ray players, Games consoles and more, our range of HDMI leads will ensure your television full connectivity for a broadened home entertainment experience.
Sound Bars/Speakers:
Improve your sound quality with our great range of audio enhancing Sound bars and speakers. With simple connectivity, they can be connected to your television as well as other devices to improve your entertainment experience – especially great for music and movie lovers.
Wall Brackets:
For the full flat screen experience, a wall bracket will allow you to safely and securely mount your television set to the wall. Not only great for saving space in smaller rooms, our range of brackets include rotating and movement enabled models that allow you to tilt the television to your perfect viewing position.
Blu Ray Players:
Now complete with internet connectivity, Blu Ray introduces a new era of watching movies. With UHD technology, improved sound and internet capabilities, it gives you the extra cinema experience from the comfort of your sofa. Shop our great range in store and find the perfect player for you!