Take a look at some of the great gadgets on the market that allow you to enjoy your favourite foods in healthier ways!
Full Steam Ahead…

Popular in Asian countries for centuries, using a steamer isn't anything new but is becoming more popular, with more diners relishing the health benefits of using water to cook.
How it works: Steamers boil water and use the steam to cook the food whilst needing no additional oils and fats. Food is kept nutritious and healthy as steaming retains vitamins and minerals found in vegetables and helps lower cholesterol and calories by removing fat from meats. New steamers are multi layered meaning you can create whole meals at once using the power of water. Available as a stand alone electrical appliance or alternatively as a separate set of pans for use on a hob.
Fat Reduce with George Foreman Grills

Since George Foreman 'put his name on it' in 1994, his Fat Reducing Grill has become a staple in homes around the world. With over 100 million sold since, many companies have followed suit and emulated the design, making grilling quicker and reducing fat in meats.
How it works: The electric heated grill simultaneously grills on both sides – no need to flip! The grooved surfaces are angled to channel fat away from the food product– reducing fat content compared to foods that are grilled and continue sit in their own fat. The fat is collected in a removable drip tray and seeing the amount collected is sometimes surprising (and a little bit gross at times!)
Create your own Soup
A warm, hearty soup is one of the best comfort foods for cold days and nights. Whilst a vegetable soup may sound healthy, there are lots of added extras in shop bought soups that may not be so good for you. With a snazzy new soup maker, you can create your own flavours whilst knowing exactly what is going into your bowl.
How it works: Simply choose your preferred ingredients, prep your vegetables, meats and flavours, throw them in and blend! Most soup makers will let you choose how chunky or smooth your soup is too!
Lighter than air

Fried food with less fat seems too good to be true but adding an Air Fryer to your kitchen means you can create delicious dishes with up to 80% less fat content compared to traditional fryers.
How it works: Air fryers require little or no oil and crisp food with a rapid air circulation around the fryer and food which allows you to create tasty chips, fries, onion rings and more dishes with much less fat.
Get in a spin with a Spiralizer

For those who are trying to cut down on carbohydrates – the spiralizer can be a god send for when you're missing pasta but want to keep your carbs low, get your vegetables in and keep your nutrients high.
How it works: Making getting your 5 a day more interesting. The clever little gadget will make 'spaghetti' style noodles from a range of vegetables – which can then be used as a great low carb alternative to pasta. The popular 'Courgetti' is always a winner and when combined with some more vegetables, meats and sauces of your choice you'll barely notice the difference.
Easy ways to get active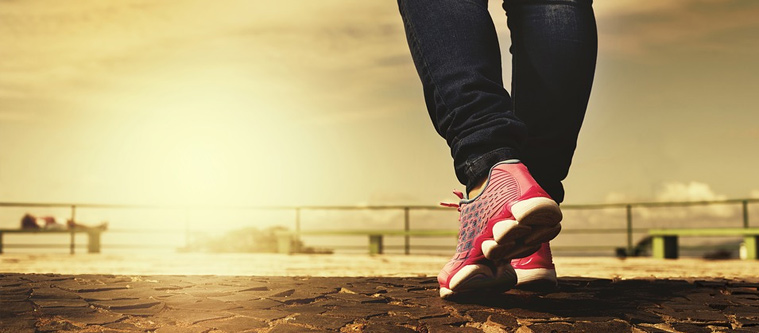 Of course, staying healthy isn't just about what we eat but also about staying active. Motivation to stay fit tends to wain in Winter – with our swimming costumes packed away for another year and replaced with chunky knits, coats and comfy clobber it is tempting in winter to cast aside our usual healthy habits. Hands up if you've ever said, "I'll wait until January". Who wants to go running in snow, rain and sub-zero temperatures after all? However, most people know it is important to stay active – with government guidelines recommending 150 minutes of moderate activity per week (Think of aiming for around 30 minutes of activity 5 days a week.) we've come up with some great alternatives to keeping active in Winter – it'll make that January health kick much easier!
Taking the stairs: Start skipping the lift and taking the stairs. Particularly good for workers in tall office buildings, taking the stairs gives you a workout, burns calories and works the legs all at once.
Walk this way: With new-fangled fitness trends, classes and workouts popping up almost daily, the humble walk has become an overlooked and underused way to get active. It's easy, it's free and you can go at your own pace! Start slow by getting off the bus a couple of stops early and walking the rest of the way. Get the family together for a winter walk in the country or, If you're stuck for time, a 30minute walk at lunchtime will not only get in your activity quota but also means you get some much-needed fresh air and a break from your desk, housework or other chores. Picking up the pace with power walking is also a great way to get fat burning and work up a sweat.
Work out at home: Gym memberships can be expensive and attending classes can be daunting for some. You can now attend a fitness class without leaving your living room…kind of. All you need to work up a sweat is the internet -with thousands of online workout videos available for free courtesy of Youtube you can find a workout to suit you and do it from the comfort of your home. Whether it's living room HIIT, yoga in the kitchen or insanity in your dining room you can find the perfect fitness methods for you.