Our Bathroom Ranges
Bathroom Ceramics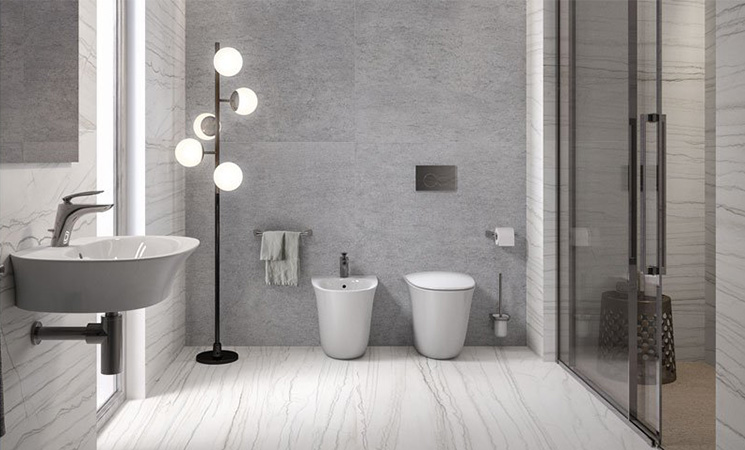 Rak supplies bespoke fitted bathrooms from big to small. You have the freedom of creativity because the RAK range gives you plenty of room for imagination. Choose from styles such as Avant Garde, contemporary, updated and classic. Build your bathroom with Rak from the big ceramic sanitaryware and furniture, right down to the smallest accessory.
Rak is one of the largest ceramic brands in the world. They are an award-winning company who pride themselves in innovation and quality in the material they use, manufacturing and design of their products.
Roper Rhodes is one of the UK's leading independent suppliers of bathroom furniture and sanitaryware. With over 30 years of designing and developing experience, you can be assured that this brand will deliver quality in every detail. The bathroom designs are functional, stylish and seamless, in contemporary and classic designs. There is something for everyone as the products come in a variety of colours, materials and finishes.
Get everything you need for your bathroom from sanitaryware and bathroom furniture to showers, taps and bathroom accessories at Roper Rhodes.
Laura Ashley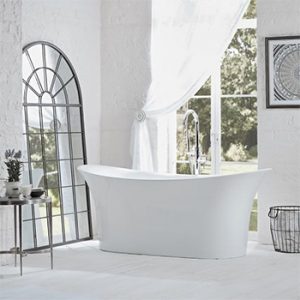 Laura Ashley, the well-known clothing brand, teamed up with Roper Rhodes in 2013. They introduced a Laura Ashley range of bathroom sanitaryware, bathroom furniture and more. Design your bathroom in your favourite Laura Ashley home-style with soft greys, off-whites and natural materials like oak, marble and granite. Laura Ashley bathrooms are beautifully designed, well thought through down to the last detail and come in a range of contemporary and traditional designs.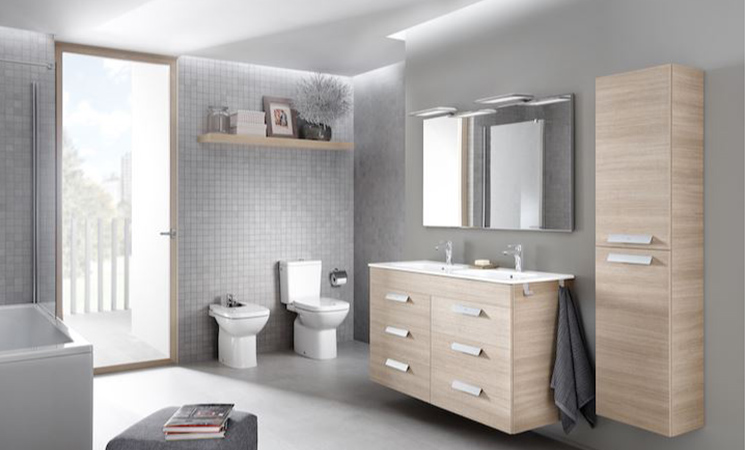 With almost 100 years of manufacturing experience, you can be sure that you're getting the best when you choose Roca for your fitted bathroom. Roca provides everything from basins and furniture solutions, brassware, bath and shower systems right down to the smallest accessory to complete your desired look and style.
Roca also combines bathroom sanitary-ware with technology. Their revolutionary Smart Toilet and thermostat showers will change the way bathrooms are used.
The HiB Novum furniture range is sleek, contemporary, stylish and intelligent. These cabinets will create a perfect sanctuary in your bathroom, making it an extraordinary place you won't want to leave. Discover a huge range of designs and solutions at HiB from modern hung to traditional standing cabinets in a range of colours, textures and sizes. Make your bathroom storage beautiful with HiB.
Elation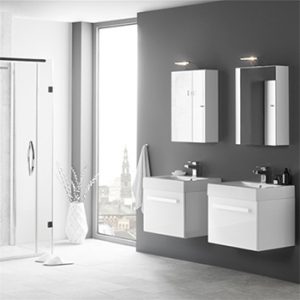 Elation creates practical yet stylish bathroom storage. With 100 years of heritage, they have perfected the art of making bathroom furniture. Each of their ranges is researched, designed and tested to suit your British Bathroom. Choose from modern-styled slab doors to traditional shaker doors in a range of styles and finishes. Create your perfect bathroom from this versatile range of designs and styles.
Now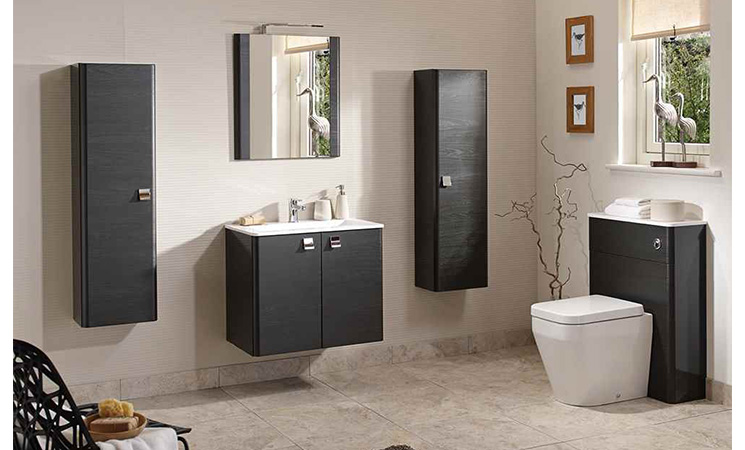 Now bathroom furniture is made with exceptional quality and timeless elegance. They are renowned for their sleek, modern designs, rimless toilets and a contemporary colour palette for their stylish bathroom cabinets and vanity units.
Calypso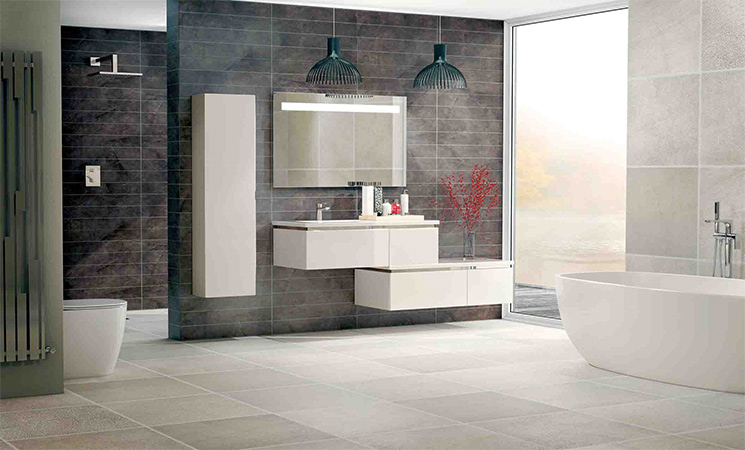 Calypso offers a huge selection of fitted, modular and vanity bathroom units to suit any home. Adorn your bathroom with any design from contemporary to traditional, plan your bathroom how you want to. Calypso design luxury bathroom furniture with maximum storage to get that sumptuous spa look and experience but also to give you practical storage for essential items. Get everything you need for your bathroom furniture, as well as bathroom accessories, mirrors and lighting, basins and WCs, taps and showers and worktops.
R2 Bathrooms
R2 have been designing bathrooms for 35 years and are a family run business from Bath. They are part of the Roper Rhodes Group. Get a fully coordinated suite made from quality material with soft close doors and draws. Their taps are the of the highest quality brass and chrome plated and their LED backlit mirrors are ideal for bathrooms. Bring your bathroom to life with R2 bathrooms. Choose from free-standing, wall mounted furniture, WC storage units and cloakroom units. As well as fitted bathroom furniture they also supply basins and WCs, Taps, SHowers and heated, de-mist mirrors.
BATHS
Cleargreen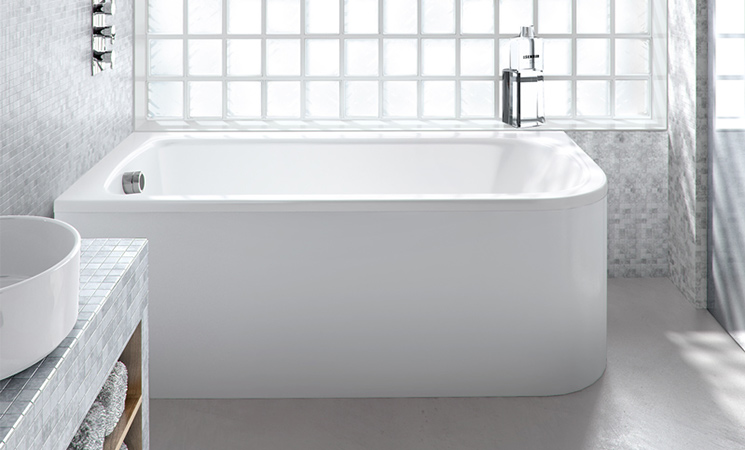 Cleargreen is the iconic eco-friendly bath manufacturer. Their baths are made from 30% recycled material. These baths contribute to a sustainable future without compromising on quality. They actually retain heat for 30 minutes longer than ordinary baths. With reinforced lucite acrylic and a steel reinforcing rod, Cleargreen baths are durable and long-lasting.
Choose from a vast range of free-standing, single-ended, double-ended or shower-baths in a variety of styles and sizes. Greenclean make baths comfortable, smart, priceless, economical and aesthetically pleasing. Ask in store for more details.
Waters
Waters Baths of Ashbourne insist that you should love your bath! These exceptional, freestanding baths are inspirational and make the ultimate statement in quality and elegance. With Waters baths, you can create a beautiful bathroom. There is nothing like a freestanding bath, it will capture your attention and mesmerise your eyes. Waters' 3 stunning collections will make your bathing experience something for you to look forward every day,
SHOWER ENCLOSURES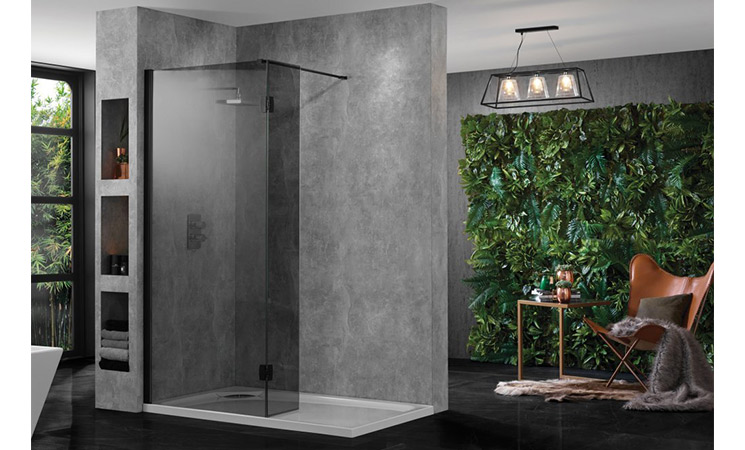 Aquardart supply shower enclosures and trays that blend the latest designs together with the highest level of detail and quality. This family business has been in the bathroom industry for over 100 years. They are so good they have given their products a lifetime guarantee. These enclosures will give your bathroom an effortless beauty and clean lines.
Aquardart glass screens are made of Clean & Clear glass, meaning they are easy to clean and also protects the screens from discolouring, peeling and cracking. Clean & Clear makes the glass resistant to lime-scale, water spots and bacteria.
Merlyn
Merlyn is passionate about design and innovation when it comes to shower enclosures. They are designed with timeless elegance and superior quality. Merlyn strives to improve and perfect their shower enclosures with an attention to detail, so they are built to last. That's why Merlyn have given them a lifetime guarantee. Choose from stylish and sleek shower enclosures to modern and luxurious wetrooms.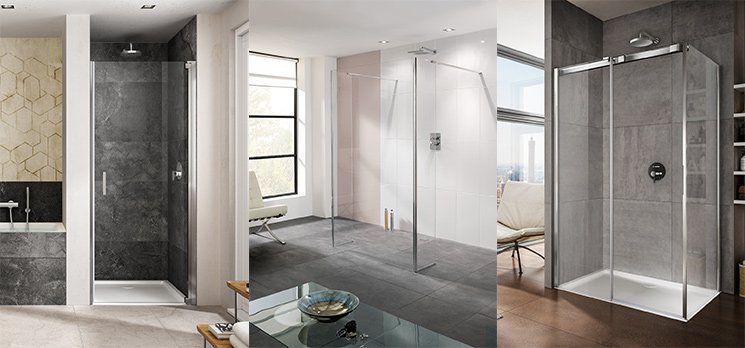 Lakes are a leading manufacturer and supplier of shower spaces, doors and bath screens. Here you really get freedom of choice. This independent family run business is award-winning and they are constantly adapting to meet the demands of today's lifestyles. The quality of the shower enclosures has been given a lifetime guarantee.
Lakes shower trays have a high-quality finish. The walk-in showers have a seamless design and give a boutique style experience. The shower doors are effortlessly simple and sleek. Bath screens are an integral part of the style of the bathroom and Lakes' screens have sweeping curves and seamless clean lines. Similarly, Lakes shower enclosures have a beautiful design and are faultless in functionality.
Lakes shower spaces are made from their unique PureVue glass. Meaning they are made with reduced iron-oxide, taking away the green tinge in the glass.
The shower enclosures are also made with AllClear glass. This ingenious invention ensures your screen remains spotless. Normal glass is naturally pitted but the AllClear surface makes it flat so that limescale, soap suds, water and dirt cannot cling to the surface, leaving a clean, hygienic shower space.
WALL PANELLING
Showerwall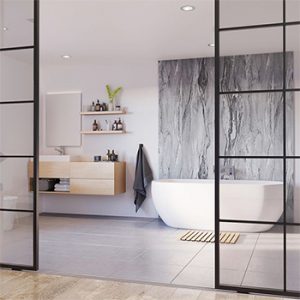 Showerwall waterproof panelling is the ultimate waterproof bathroom wall feature. It has a water-tight finish that performs impeccably. They are inspired by natural surfaces and are made from glass-like acrylic that create a seamless feature on your wall. Choose from a bespoke photograph, a block-colour or a marble-like design. You can also choose a textured surface adding to the effect of a stone-look panel.
Splashpanel
Splashpanel is a stylish and cost-effective alternative to tiles. The PVC is 100% waterproof so it is perfect for showers, baths and wetrooms. It is smooth and easy to clean, unlike grout-lines which develop mould and bacteria. This hardwearing and lightweight material is fashionable and functional.
SHOWERS AND TAPS
Methven
Methven has been making water amazing since 1886. They have developed award-winning showers, taps and valves. Methven aims to harness the power of water to cleanse, calm, refresh and invigorate. Their products are made by experts with a passion for design and innovation.
Methven has invented the acclaimed Aurajet – a full body spray with maximum body contact and the SatinJet – a way of experiencing luxury in your everyday shower. They have also developed a control that mixes hot and cold water to create a constant flow and temperature, even when you have unequal water pressure
Deva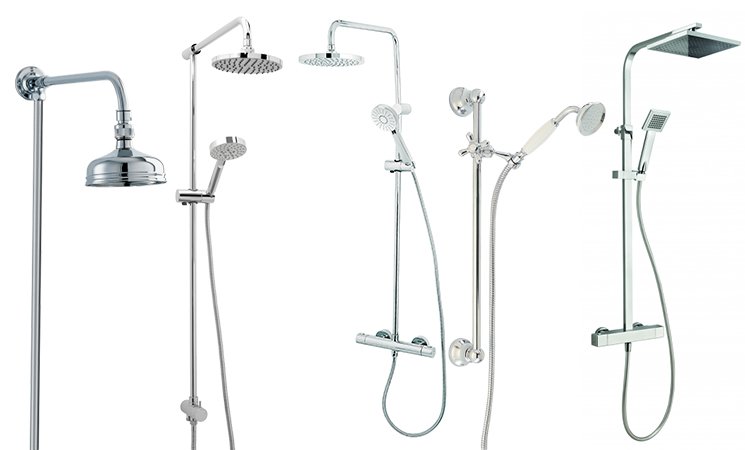 Deva by Methven supplies a huge range of showers and taps. Find everything you need right here in modern to traditional styles.
Niagara
Niagara supply a range of shower and tap products in the latest designs, premium materials and outstanding quality since 1989. Their taps and showers are effortlessly stylish and exceptional in design and functionality. Coordinate a look with a matching set. Niagara digital dials make a bold statement and control temperature with precision as well as being highly responsive. The LED digital display and illuminated light will let you know what the precise temperature is.
St James
St James produces delightful, Victorian inspired, luxury showers, taps and accessories. Display a timeless elegance associated with traditional bathrooms in a number of different finishes, from solid brass to English porcelain. Mix and match the accessories from their collections to make a truly iconic statement. St James is tradition down to the last detail.
Haceka
Haceka provides everything you need for you to complete your bathroom. This is the ideal total supplier, you can make every detail in your bathroom match for a truly satisfying look. Find everything from showers, taps and furniture to toilet brushes and soap dispensers.
BATHROOM ACCESSORIES
Smedbo
Smedbo believes that it is the small details that make all the difference. They are a small family business who emerged when people felt that there was a need to make bathrooms beautiful and to safeguard the Scandinavian design quality. Smedbo makes bathroom accessories to create a more organised and easy-to-navigate bathroom space. The simple elegance and clean lines of the designs make life calmer and more restful.
BATHROOM MIRRORS
HiB
As well as furniture, Gardiner Haskins Interiors also supply HiB bathroom mirrors. These mirrors are revolutionary and out-of-the-ordinary. Let your mirrors take the limelight and add that 'wow' factor to your bathroom. Choose from illuminated, non-illuminated and magnified mirrors. The bathroom cabinets also illuminate. The features include two coloured illuminated LED lights from cool blue to warm yellow, that you can turn on by a wave of your hand, a USB charging socket, heated pad to stop it from steaming up and a Bluetooth connection. These mirrors truly represent the future.
BATHROOM LIGHTING
Sensio
Gardiner Haskins is proud to supply the futuristic lighting solutions of Sensio. The family-run business of 15 years is equipped with knowledge and expertise to provide your bathroom with stunning and innovative LED lighting. At Sensio, they believe that lighting doesn't have to be complicated. Their renowned expertise and quality have brought education to the industry in the form of cutting edge lighting solutions. Choose from illuminated mirrors, hanging or spotlight ceiling lights, LED cabinet lighting, flexible strip lighting and over mirror lighting.
At Gardiner Haskins, we believe we offer the very best value direct from our stores. If you can find a better value online or in another store, we will do our best to match or beat that quote. Visit our store today and discover your new dream bathroom.