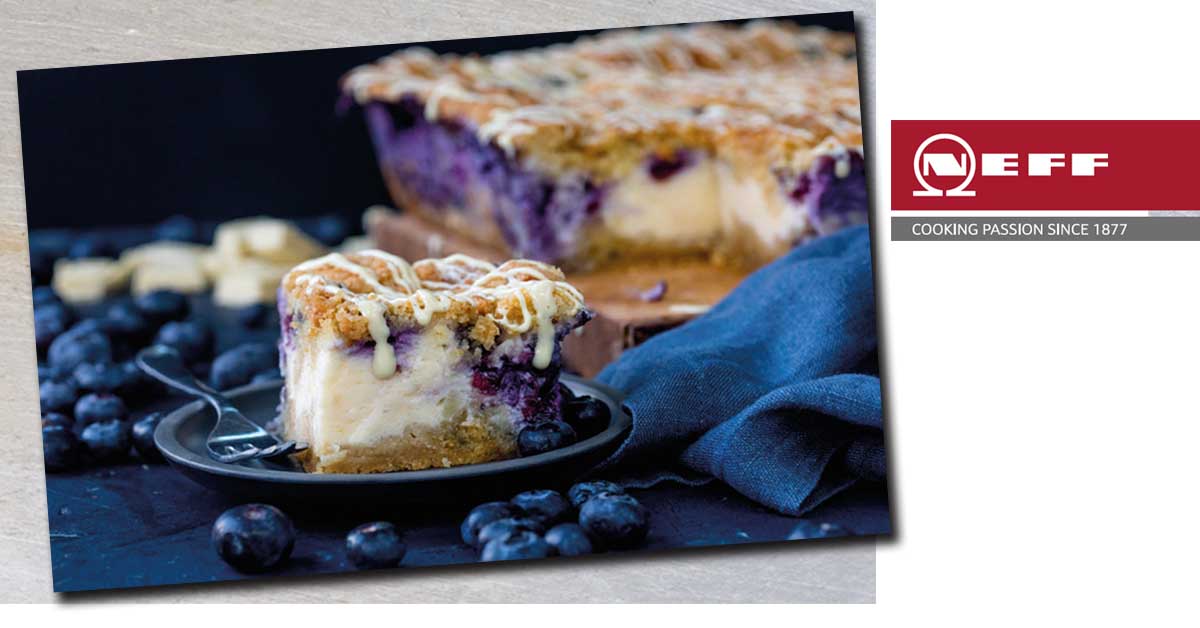 This yummy blueberry cheesecake bar recipe courtesy of Neff kitchen appliances.
Prep time: 15 minutes
Cooking time: 30 minutes
Ingredients
240g plain flour
3/4 tsp baking powder
150g cold butter cut into small cubes
90g white caster sugar
90g light brown sugar
1/4 tsp salt
1 small egg beaten
1/2 teaspoon vanilla extract
Filling
200g fresh blueberries
350g mascarpone cheese
50g Greek yoghurt
140g caster sugar
2 tbsp plain flour
3 eggs
2 tsp vanilla extract
Also:
50g white chocolate, broken into chunks
Method
Preheat the Microwave Combination Oven to Hot Air 170°C. Line a deep baking tin measuring approx. 20cm – 20cm with baking parchment and put to one side.
Make the crumble first. Place the flour, baking powder and cold butter cubes into a large bowl. Rub the butter into the flour using your fingertips until the mix resembles breadcrumbs. Stir in the white and brown sugar, salt, egg and vanilla extract, then give it a mix with your hands. Take approx. half of this mixture and place it into your prepared baking tray. Flatten the mixture down and squash it to the edges and corners.
Place in the Microwave Combination Oven for 7 minutes. Remove from the oven, then scatter half the blueberries over the base.
Take a medium sized bowl and add the mascarpone, yoghurt, sugar and flour and beat until smooth. Stir in the eggs and vanilla. Pour the mixture onto the base and sprinkle on the remaining blueberries.
Sprinkle on the remaining crumble mixture, then bake at Microwave Combination setting of Hot Air 160°C with 180 watts for 25-30 minutes, until the topping is golden.
Take out of the Microwave Combination oven and leave to cool. Once cool, remove from the tin and discard the baking parchment.
Add the white chocolate to a jug and place in the Microwave combi oven. Microwave on the maximum setting in 30 second bursts, stirring in between each burst to melt the chocolate.
Drizzle over the crumble cheesecake and then slice the blueberry cheesecake into 9 large squares (3 by 3) or 12 bars (2 by 6).
Enjoy the blueberry cheesecake bars with vanilla ice cream too!!