Recipe: Sea-Salted Fudge
Sea-salted fudge! Gorgeous melt in the mouth fudge with a bit of a kick. My mouth is watering just thinking about it as I write this!
I actually found this recipe on Pinterest (credit to Ren Behan on www.jamieoliver.com) before Christmas and made jars of it as gifts for our parents from the grandchildren, but alas, I have also made it several times since as I can't get enough of it. It is so yummy! I guarantee you will be making double helpings or if you are making it for gifts you will end up keeping a stash of it behind as a treat.
Ingredients:
1 x 397g can condensed milk
80g unsalted butter
150g soft, light brown sugar
1 whole vanilla pod or 1 teaspoon vanilla essence
A good pinch of sea salt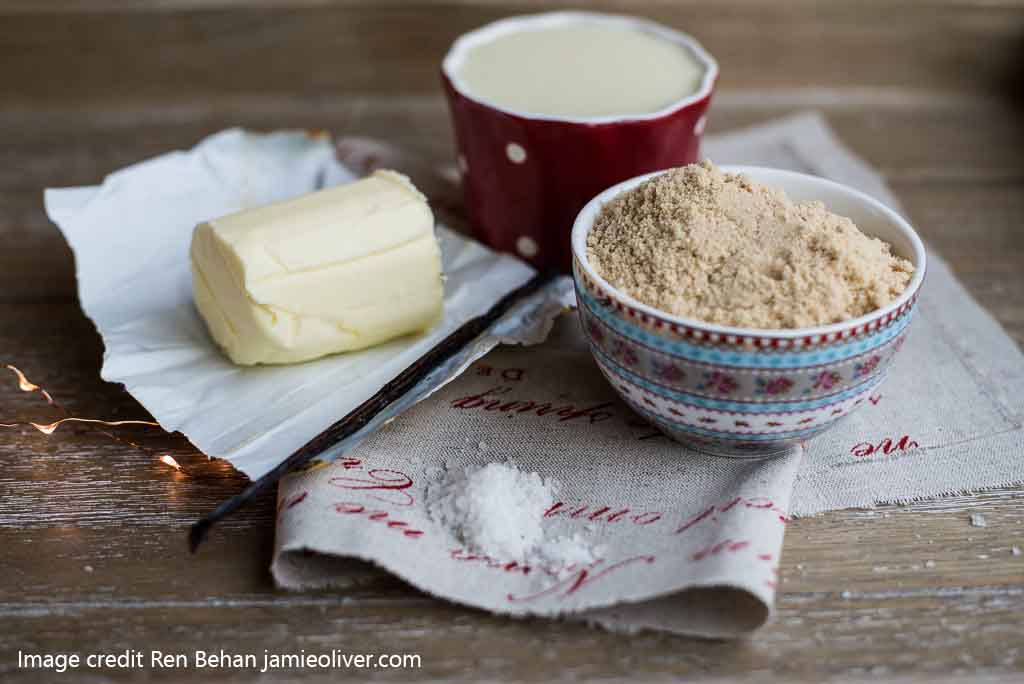 To Decorate/ Flavour:
Freeze dried strawberries
Crushed honeycomb
Edible bronze coloured or glitter decorations
Method
Line a 20cm square tin with grease proof paper. Place a glass of ice-cold water nearby which you will use to test the fudge a little later.
In a large, non-stick, wide bottomed pan, add the condensed milk, butter and soft brown sugar. Slice the vanilla pod in half length ways and use the tip of a knife to scrape out the seeds. Add the vanilla seeds to the mixture.
Melt the ingredients over a medium heat, using a wooden spoon to stir until the sugar has dissolved. Make sure the sugar doesn't catch on the bottom of the pan – if it does turn down your heat a touch.
Next carefully bring the mixture to a rolling boil. Take care because the mixture will be extremely hot. Stir it constantly for around 10 minutes.
Test the fudge by dropping a small amount of the mixture into the cold water. You are looking for the fudge to drop to the bottom of the glass and form a round tear shape or ball. This is called the soft ball stage. If you have a thermometer, the mixture should have reached 113°C (236°F).
Take the pan off the heat, add a good pinch of sea salt (about half a teaspoon) and leave it to cool for a few minutes. Then, using the wooden spoon again, stir the spoon vigorously until it begins to firm up a little – for about five to eight minutes.
Very carefully, pour the mixture into your lined tin and smooth out with the back of a metal spoon. Sprinkle over your chosen toppings and push them down into the fudge slightly.
Leave the fudge to cool at room temperature for a couple of hours, and then chop into pieces using a sharp knife.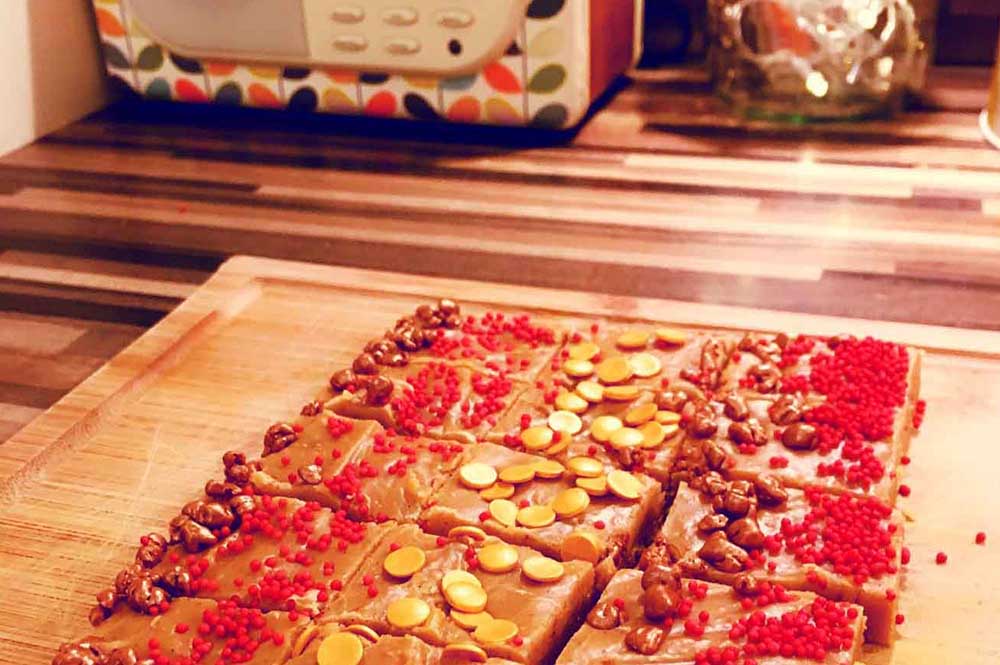 Once your sea-salted fudge has cooled, keep some for yourself and bag some up as gifts. I loved putting them into jars decorated with ribbon and designing gift tags naming the contents.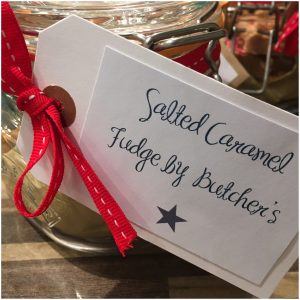 The fudge will keep for 2-3 weeks, so it's best to make it as close to giving as possible. To store the sea-salted fudge, keep it in a zip seal plastic sandwich bag, or in a sandwich container with a tight fitting lid and then transfer it into your gift container or box when you are ready to give it as a gift. Creamy sea-salted fudge is great for all occasions. At Christmas time decorate with red and gold topped edible decorations or mini eggs at Easter time. Personally, I like to eat it anytime and decorate with anything yummy I can get my hands on!