About Craig & Rose
Craig & Rose have been manufacturing paint since 1829. Over the years Craig & Rose have had a part in creating history including painting the iconic Forth Bridge and manufacturing paint for St Pauls Cathedral and palaces around the world.
Craig & Rose provide paints to achieve a truly unique project whether you want a glittery feature wall, marble effect accessories or a blackboard in your children's room they are the brand to choose.
In Store Range: Vintage Colour Collection
The Vintage Collection is the perfect collection of timeless colours. The colours have been carefully selected by Craig & Rose from their vintage colour archive and other historical sources.
There are two finishes available from our Cirencester decorating department.
Chalky Emulsion: A classic matt finish for walls, ceilings and furniture. The soft velvety texture cleverly conceals surface imperfections and offers exceptional colour intensity.
Eggshell: An eggshell finish gives a not matt, but not glossy finish to walls, wood and furniture. A soft satin sheen for a lasting heritage look.
Pick up a colour card in store to see the full 110 colours from the collection, if we don't stock it we can order it for you.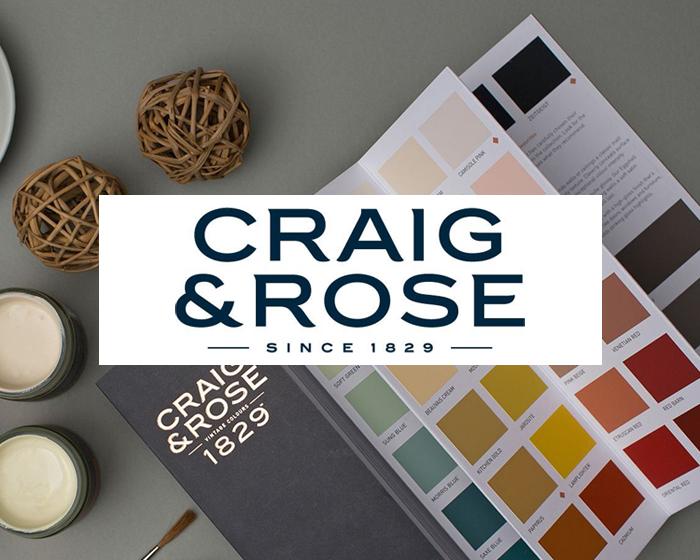 In Store Range: Artisan Collection
The Artisan Collection is a specialist range of special effect paints and spray paints for when you want to create a truly unique feature in your room.
Special Effect Paints
Stone Effect: Create the look of natural stone in your home by using random brush strokes you will achieve a unique look in your home.
Rust Effect: A process to create the look of rusted iron and give an industrial effect.
Stainless Steel Effect: Gives a sleek stainless steel appearance with an urban edge
Glitter Glaze: A glitter top coat to leave a hint of sparkle on your walls or accessories.
Gold and Metallic Effect: A luxurious finish which is ideal for a rich looking feature wall.
Copper Effect: Copper is the trend which keeps on giving. Create the look of metallic copper on your walls and home accessories.

Special Effect Spray Paints
Crackle Effect: Delivers an instant antique crackle finish. Use over another Craig & Rose colour for maximum effect.
High Performance Enamel: Great for adding a splash of colour indoors or outdoors.
Bright Effect: Create the look of precious metals, especially effective on accessories such as photo frames.
Marble Effect: Get a highly fashionable black or white marble effect. Perfect for creating feature pieces in your home.
Granite Effect: A textured paint designed to reflect the texture of granite.
Metallic Effect: Brighten any space with the bold metallic colours available to compliment any colour scheme
Diamond Effect: A sparkle effect for any object which needs a bit of glitz.
Frosted Glass Effect: This durable coating delivers a semi opaque finish. Ideal for creating effects on glass decorative objects such as vases or for practical items such as windows for more privacy.
Magnetic Chalkboard Effect: A speciality paint to turn ordinary items or areas into a fun or practical chalkboard. It also has magnetic properties to add more fun to a child's board with fridge magnets or for attaching important letters/memos to your notice board.

Find more Craig & Rose Inspiration Here
Visit our Cirencester Store to pick up a Colour Catalogue today