What to consider before buying bathroom taps
Make sure you choose brassware in a style that is in keeping with the overall look you want to achieve. We have a huge variety of brassware to choose from, including traditional and contemporary styles.
Brassware is available in different materials, so consider how much maintenance will be needed, as this may affect your choice.
BEFORE YOU BEGIN
Let's talk about water pressure! You must check what water system and your water pressure before you buy any new taps as some taps are not compatible with certain levels of water pressure.
If you have a low-pressure system – this often comes in the form of a cold-water tank in the loft or a hot water cylinder in an airing cupboard. This situation means your choice of taps will be limited. Talk to our experts in our new showroom for more information.
If you have a high-pressured vented system – this system comes in the form of a combination boiler, fitted to a wall in the kitchen. Here, there is no hot or cold storage tank. Instead, water is fed directly from the mains and warmed accordingly. You can use any tap with this system.
If you have a high-pressured, unvented system – This system includes a water tank storing hot water. The water is stored at mains pressure and heated by immersion heaters attached to the side of the tank or it is a central heating boiler located in an airing cupboard. This system means you can choose from most taps, but to be sure to consult our experts in our new showroom when you book a FREE fitted bathroom consultation.
TYPES OF BRASSWARE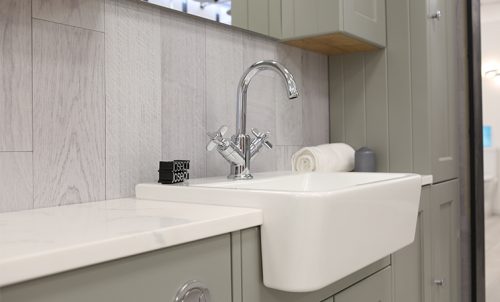 Pillar Taps: This is the most traditional option. It has two separate taps which require either a two or three hole basin. The central hole is for a tap hole stopper or a pop-up waste lever.
Monobloc Basin Mixer: This type of brassware occupies a single tap hole and is available in both traditional and modern styles. Traditional monoblock mixers incorporate separate hot and cold hand wheels, whereas the contemporary alternatives are more often in the style of a single lever that controls both flow and temperature.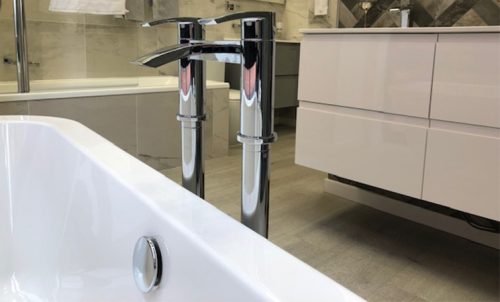 Bath Filler or Deck Mixer taps: This fitting includes two standard tap holes with a single spout. The lever will mix the two water temperatures while the bath is filling, so you can have the ideal bath.
Bath/Shower Mixers: Available in traditional and contemporary styles, these offer a versatile bathroom solution. With a diverter switch, water flows from the spout to shower head as required. Traditionally the shower handset rests in a cradle above the taps. Contemporary versions are also available, typically as an all-in-one unit with a single lever mixer, with the shower head wall mounted via a bracket or slide rail.
Finishes: Alternative plated finishes are available on some ranges, but the options do vary. Plating is undertaken to the highest standards to ensure the longevity of the finish. Care must be taken when cleaning plated finishes to avoid damage. Do not use abrasive or chemical cleaners. For something compleatly different, opt for a matte black finish on your taps.
Wastes: To coordinate with tap finishes, we offer a range of waste chain or pop-up styles for basins and baths, where the waste is not incorporated or supplied.
Need more advice and expertise on your bathroom designs? Visit our Bristol Bathroom Showroom where our experts can help you create your new bespoke bathroom with our Planning & Design Service