Our Paints and Paint Mixing Cirencester
How Paint Mixing and Colour Match Service Works: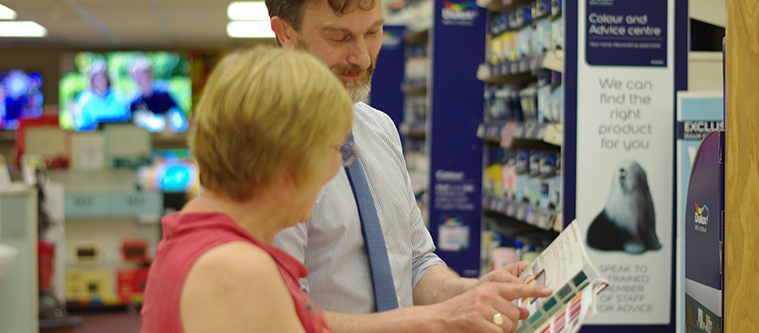 Our trained in store experts can help you find an ideal match to suit your chosen colour scheme and desired functionality. Our mixing station works with Crown and Colourtrend paints and is the perfect place to get the paint you want in just a few steps. Our paint specialist will be on hand to guide you every step of the way.
Step 1: Pick the colour you want: With over 12,000 colour choices, we have something for everyone. Alternatively, you can bring in a sample of your desired colour for us to match (Dulux paint only)
Step 2: Pick the function you want: What do you want your paint to do for you? Where will it go? Will it need to be water resistant? What job will it be doing? If you need paint for a statement wall, water resistant bathroom paint or a colour to make a room look lighter or larger we have something for every function.
Step 3: Add your finishing touches. With a range of coatings from silk to matt you can choose the preferred finish for your colour for a completely individual pot of paint.
Step 4: Mix Once you've chosen your colour, finish and functionality we will mix your paint in front of you, ready for you to take home and get decorating.
Types of Paint:
The type of paint you require depends on what you're painting and where. Is it an indoor wall? In which room? Is it an exterior fence, gate or shed, A smooth or rough surface? Will it need to be water resistant?
These are all questions you need to ask yourself before deciding on a paint type. Some of the most popular paint types and finishes on offer include:
Matt Emulsion: Gives a matt, non-shiny finish that is good for concealing small imperfections on a wall or ceiling as opposed to more shiny finishes which reflect light and highlight imperfections. Matt emulsion however, is not as well wearing as glossier versions.
Soft Sheen Emulsion: Gives a subtle, soft sheen finish and creates a more durable surface than vinyl matt. It is suitable for areas that may need to be occasionally lightly washed or sponged so is more suited to lower traffic rooms.
Silk Emulsion: Gives a high sheen finish and is the most durable and easy cleaning type of all emulsion paint. However, it will more easily reveal imperfections in the surface area.
Kitchen & Bathroom Emulsion: Available in matt or soft sheen finishes, these paints are extremely durable and are designed for high moisture/grease areas.
Liquid Gloss: Whilst needing an undercoat, Liquid Gloss gives a more traditional high gloss finish whilst being extremely hard wearing and dirt resistant.
Satinwood: A durable, mid -sheen paint that provides a subtler sheen than conventional shiny gloss paint yet not quite as hard wearing.
Eggshell: Used on interior wood, Eggshell paint gives a flat, yet not completely matt finish.
Essential Accessories
Once you've got your ideal paint you will need the right accessories to apply it for a flawless finish. Our range of painting accessories includes everything you could need for perfect painting. Some of the bits and bobs you may need include:
Primers and Sealers: Coated on the surface before the paint is applied, primer and sealers are used to protect the wall or surface, increase adhesion and durability of the paint as well as create a less pourous surface to ensure a smoother, longer lasting finish product.
Top Tip: Ensure your room is well ventilated with windows open or air circulating fans as primers and sealers can give off fumes which can be hazardous if exposed to for extended times.

Brushes: Ideal for smaller surface area's such as skirting boards, edging, frames and panels as well as cutting into small corners and adding finishing touches to hard to reach places. Our range of paint brushes come in a variety of sizes and bristle types for different jobs and paints.
Top Tip: Keep your brushes fresher for longer make sure to wash them after use and store them correctly – a specialist paintbrush cleaning tub is perfect for this.

Rollers: For a more convenient, speedy way to cover a large surface area, rollers come in a variety of sizes and materials to help create smoother or more textured finish. More coats may need to be applied than when using a brush as the paint can apply thinly.
Top Tip: Use with a tray to ensure the paint is evenly distributed.

Painters tape: Used to create sharp, clean lines, painters tape is perfect for lining adjacent surfaces, reducing paint bleed and protecting from drips and spills for a clean finish.
Top Tip: For best results remove the tape as quickly as possible once the final coat has dried and pull off at a 45-degree angle.