An Ode to Autumn…
For someone who spends Winter shivering and Summer sweltering, I can't help but get excited when I see the leaves turning brown, feel that slight chill in the air and when I start seeing the phrase 'Pumpkin Spiced' absolutely everywhere. All of this can only mean one thing… Autumn!
By far the most underrated season, Autumn has so much to offer. Take a look at just some of the main reasons why Autumn is amazing:
How it looks and feels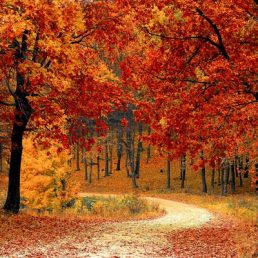 Golds, Browns, Oranges and Red. Not to be shallow but… Autumn is the prettiest of seasons. With leaves falling off the trees it makes for beautiful landscapes, pretty weekend walks with the crunch of leaves beneath your boots and photos that are every Instagrammers dream – no filter needed! Home décor trends also take a more autumnal feel with a lot of decorators going for warmer, more earthy colours and richer, more luxurious furnishings to suit the season. Perfect for spending cosy nights in.
The Food and Drink
By October 1st, Summer salads are a thing of the past and food suddenly is a lot more interesting. Cosy comfort food can be healthy too. Swap your Summer salads for tasty soups without worrying about your waistline. Seasonal foods for Autumn include butternut squash, root vegetables, blackberries and apples. Tasty soups can be easily made with a selection of in season vegetables and meats – a soup maker is a great investment for quick, easy meals that are both delicious and nutritious. Check out this recipe for Warming Butternut Squash Soup.
The star of the Autumn Season is always the Pumpkin. Always a big trend by October, you'll notice them popping up in every Supermarket and not just for Halloween carving! The humble pumpkin can be made in to a range of delicious dishes including soups, pies and you can even emulate your favourite high street inspired pumpkin spiced coffee at home by adding syrups and autumnal spices to your home brews.

Autumn Style
With Autumn comes time to cast the Summer Wardrobe aside and start wrapping up. It may not be time for a Winter coat yet but Autumn temperatures mean that you can start adding layers to stay both snug and stylish. Light jackets and boots are a season staple whilst oversize knitwear is a great way to bridge the gap into the colder months. With the slight chill in the air It's also a great time to dig out the tights – but not just your standard black or opaque pairs. Many shops stock a range of colours and patterns that can be teamed with your favourite dress or skirt to easily jazz up any outfit.

The Autumn events:

Christmas is still a while away, but there are still two big Autumnal events to get you in the celebratory mood:
Halloween: October 31st:
Every kid (and big kid's) favourite time of year. With fancy dress, trick or treat and the annual radio playing of 'Thriller' (Still sounding scary 30 years on!) Halloween is a great time to have fun and celebrate with family and friends.
Halloween History: Halloween originated here in the UK around 2000 years ago. Based on the ancient Celtic festival of Samhain. As the Celts marked their New Year on November 1st, the 31st October would mark the end of Summer and harvest and the beginning of the death bringing winter.
The Celts believed 31st October to be the boundary between the two and that the ghosts of the dead would return to the earth on this night. – SPOOKY STUFF!
Ideas to help you throw the ultimate Halloween party:
Costumes: The scarier the better! Run a competition for best fancy dress outfits.
Decorations: You can decorate cheaply with cobwebs, Pumpkins and paper skeletons.
Activities: Apple Bobbing and Pumpkin Carving are old favourites. Or you can organise a spooky treasure hunt around the house.
Music: Any Halloween music is perfect – think 'Thriller' or the soundtracks to 'The Rocky Horror Picture Show' or 'Ghostbusters' .

Bonfire Night – November 5th
The night of bonfires and fireworks lighting up the sky, Bonfire night is a great time to throw a party or see a display. Marking the anniversary of the infamous Gunpowder Plot, when Guy Fawkes' plot to blow up the houses of parliament was foiled in 1605, it's become a night for celebrations, bonfires and fireworks throughout the UK.
Bonfire night ideas and tips:
Fireworks and sparkler Safety: When handled safely, these can be great fun. To keep safe, make sure to wear gloves when handling sparklers and have a bucket of water on hand to extinguish. When lighting fireworks, make sure to stay a safe distance after lighting and NEVER return to a lit firework that hasn't gone off.
See Some Sparkles If you don't want to throw your own display, a lot of local councils throw displays for the public to visit.
Keep pets safe: Pets can be unnerved by fireworks. It is best to keep pets indoors during the evening to avoid making them nervous. If you are having your own at home fireworks, you can buy pet friendly 'bangless fireworks' which provide the lights without the loud noise.
Guy Competition: Building 'guys' is a bonfire night tradition. They are easily made with fabric, old clothes and stuffing. For a fun game, collect a pile of clothes, stuffing and art supplies and have a guy making competition. They can also be burnt on the bonfire after!

So…Whilst some are sad that Summer has ended, I hope that I've managed to convince you of just how Amazing Autumn can be – it may be colder but it's still a great time for fun!