Our own outdoor space is so important to us; spruce it up and brighten that space. An outdoor space for retreating to is wonderful in the warmer months coming up. It will make you feel better too. It doesn't have to be a huge garden. Your outdoor space maybe a small balcony or patio / courtyard area. Whatever it is, there are ways you can brighten it up with colour.
Image credit: Cuprinol
Brighten Up Your Furniture
Use the garden furniture you have already and spruce it up. Above, this old garden table has been brightened up with a fresh coat of red paint just placed down the centre of the table so it also looks like a centrepiece. This a great idea to add dinner table accessories over it. Decorate with garden chairs and accessorise with your favourite cushions. If you don't have outdoor cushions, bring the indoor out and grab them off your sofa. Don't forget to bring them in after!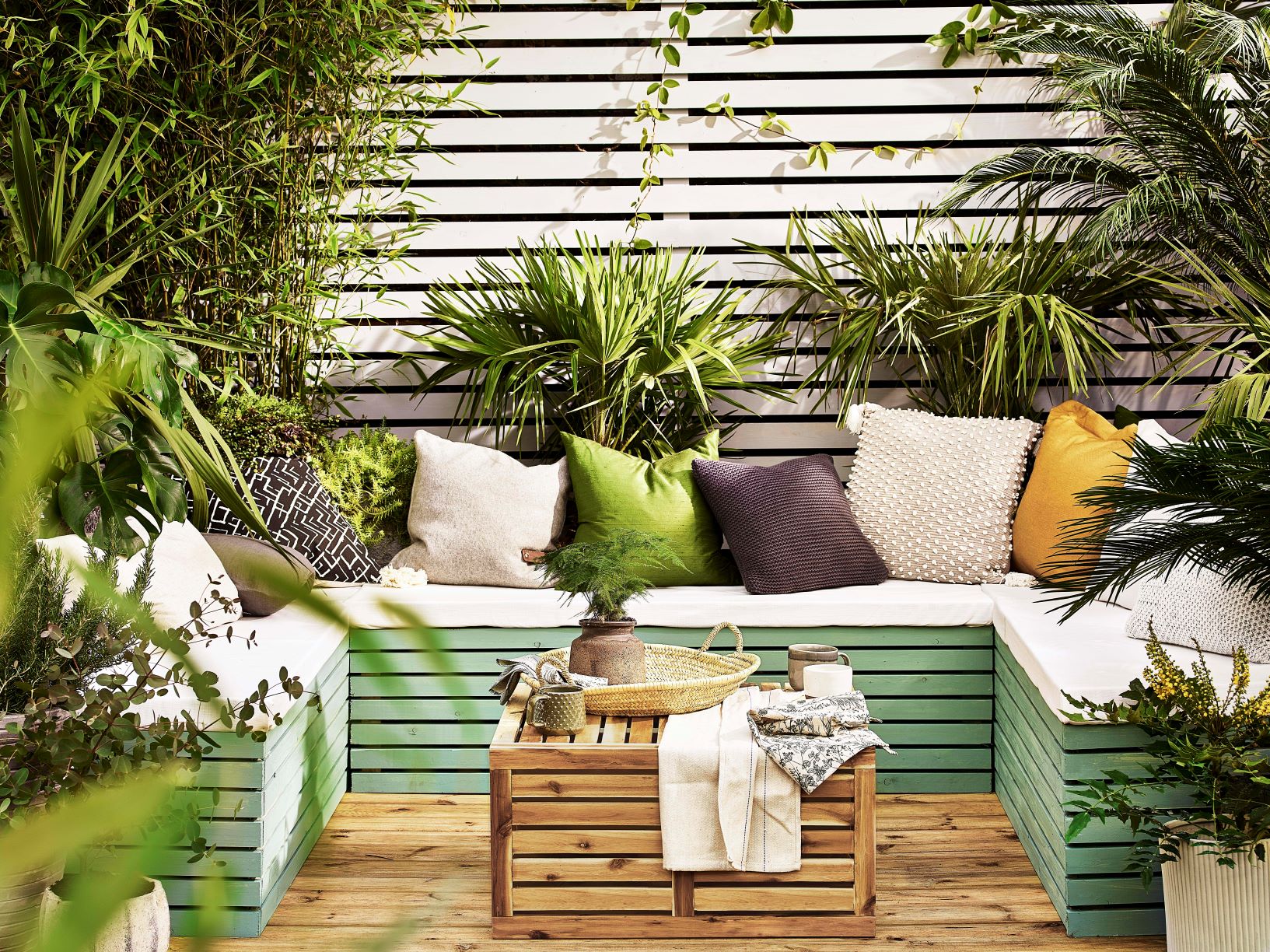 Image Credit: Cuprinol
If you have spare decking or can get creative, make your own furniture. You may have bits and pieces around your garden already that you can use. Above, the seating area has been transformed into a beautiful, colourful cosy nook area on the decking and the fencing behind has also had a makeover with a contrasting neutral paint colour.
Below, 2 pallets have been painted first, screwed together and castor wheels added to manoeuvre the coffee table around with ease. The shelving underneath makes great storage for your ipads and tech shaded from the sun to prevent them overheating.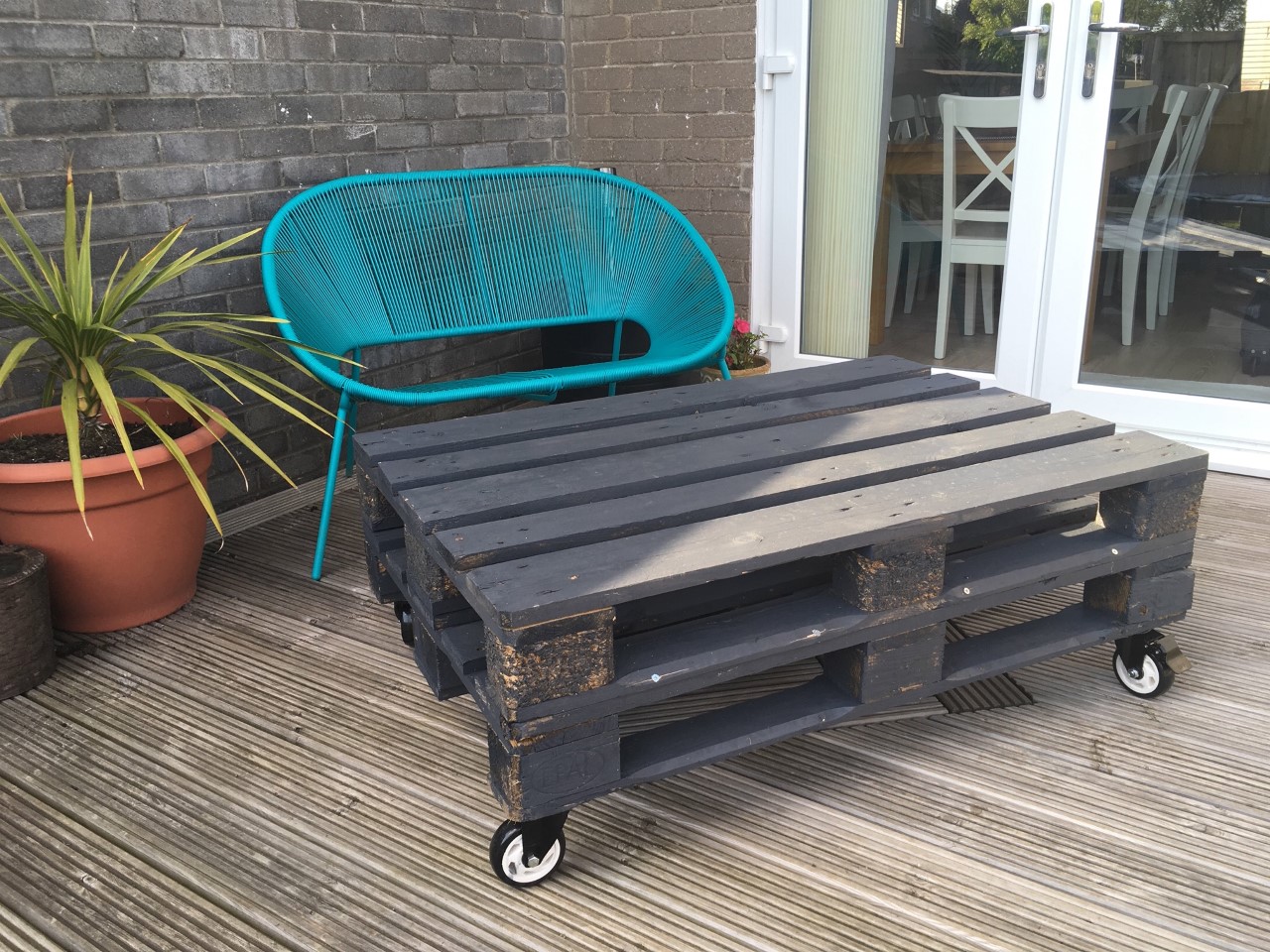 Image credit: author's own - Carine Butcher
Bring Your Kitchen Outdoors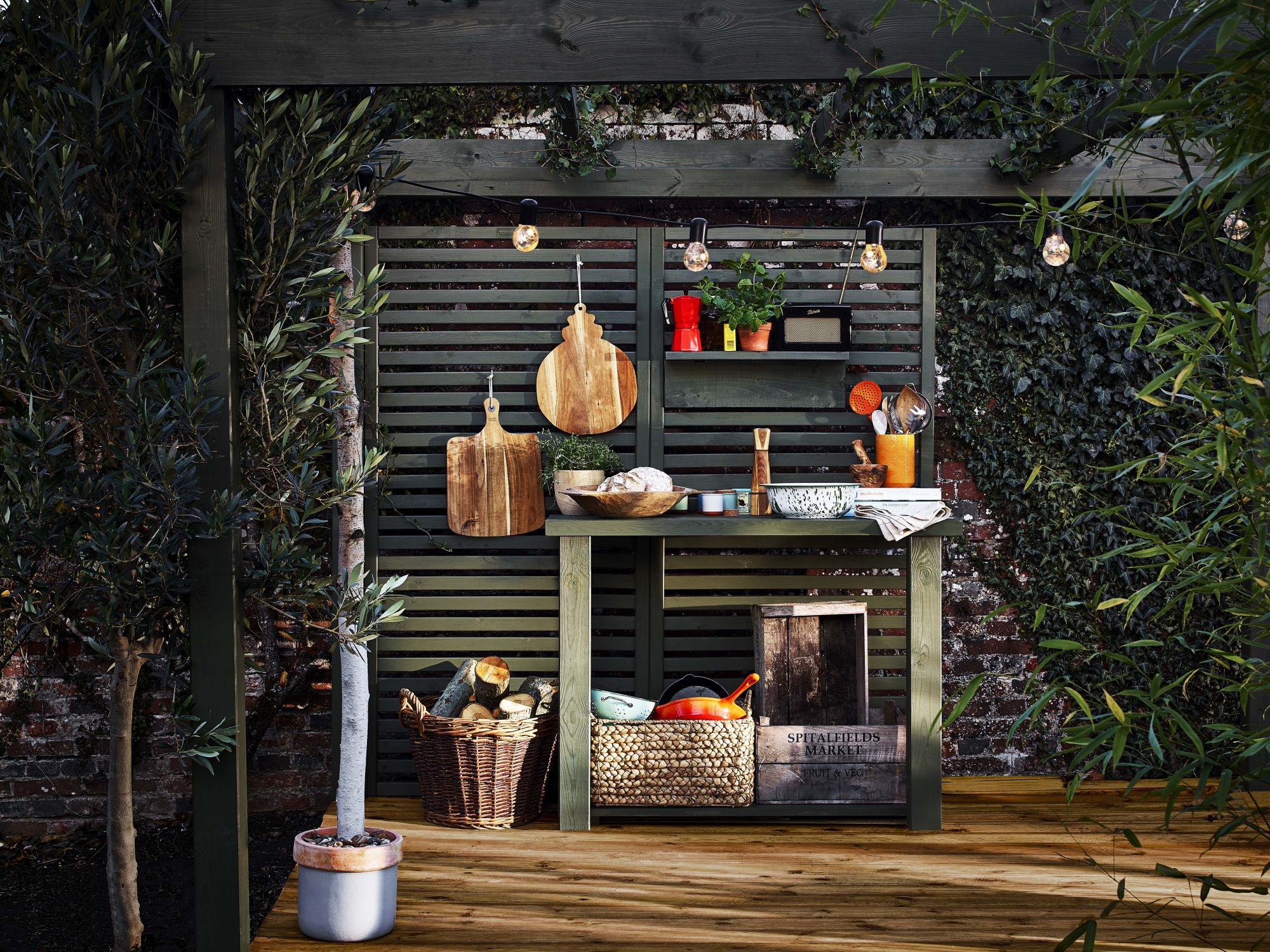 Image Credit: Cuprinol
For the ultimate cool, why don't you create your own mini kitchen area outside? This could simply be a small space for a bbq and some hooks on a fence or wall for your cooking utensils. It doesn't have to be permanent. Keep the set up and take utensils in and out when you want to use them.
Decorate Your Shed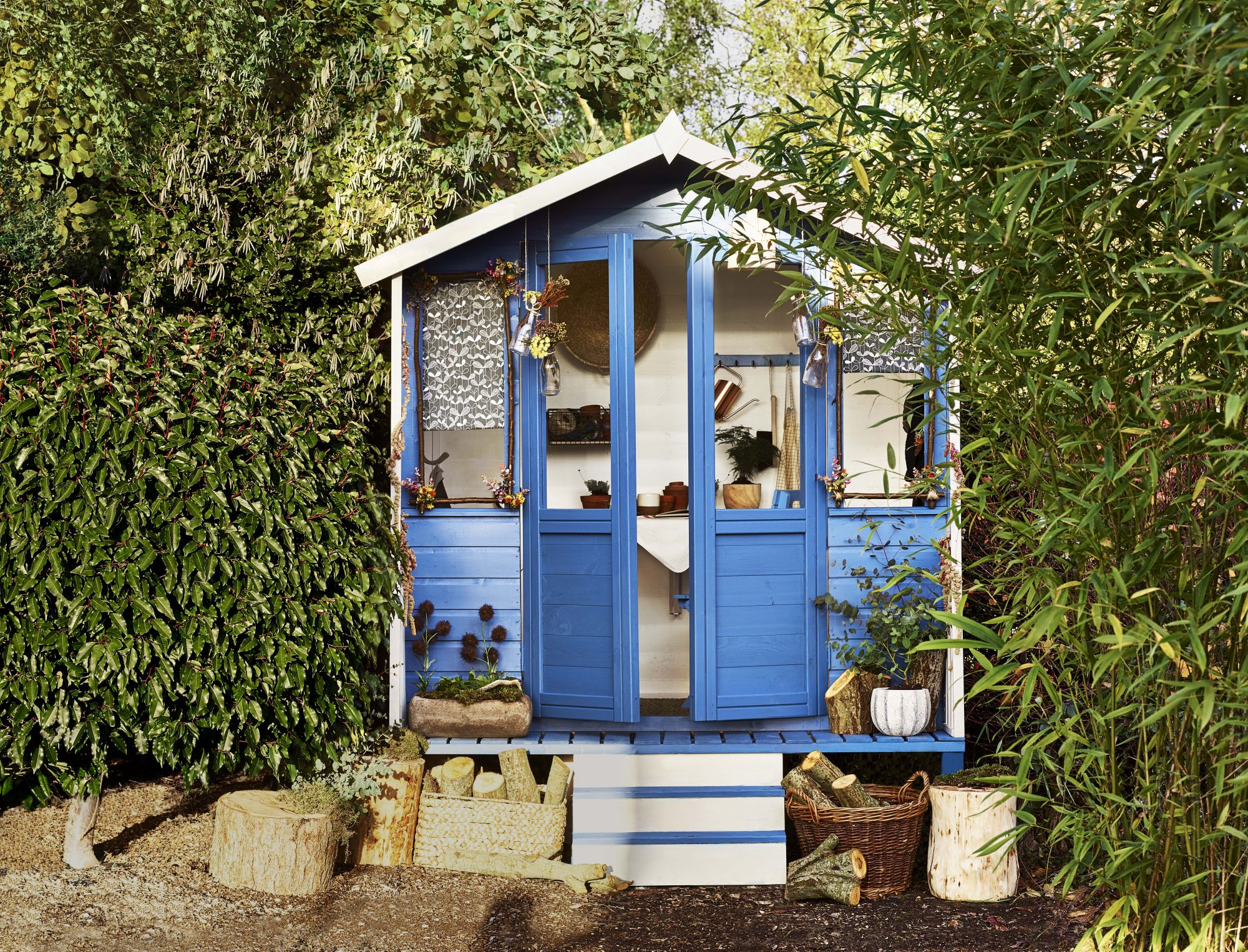 Image credit: Cuprinol
If your shed is looking a little shabby and not chic anymore, have a good clear out and paint it. Make it your own and use it to store those important garden tools, create your own little planting area or even a reading nook. Get creative.
Paint Those Pots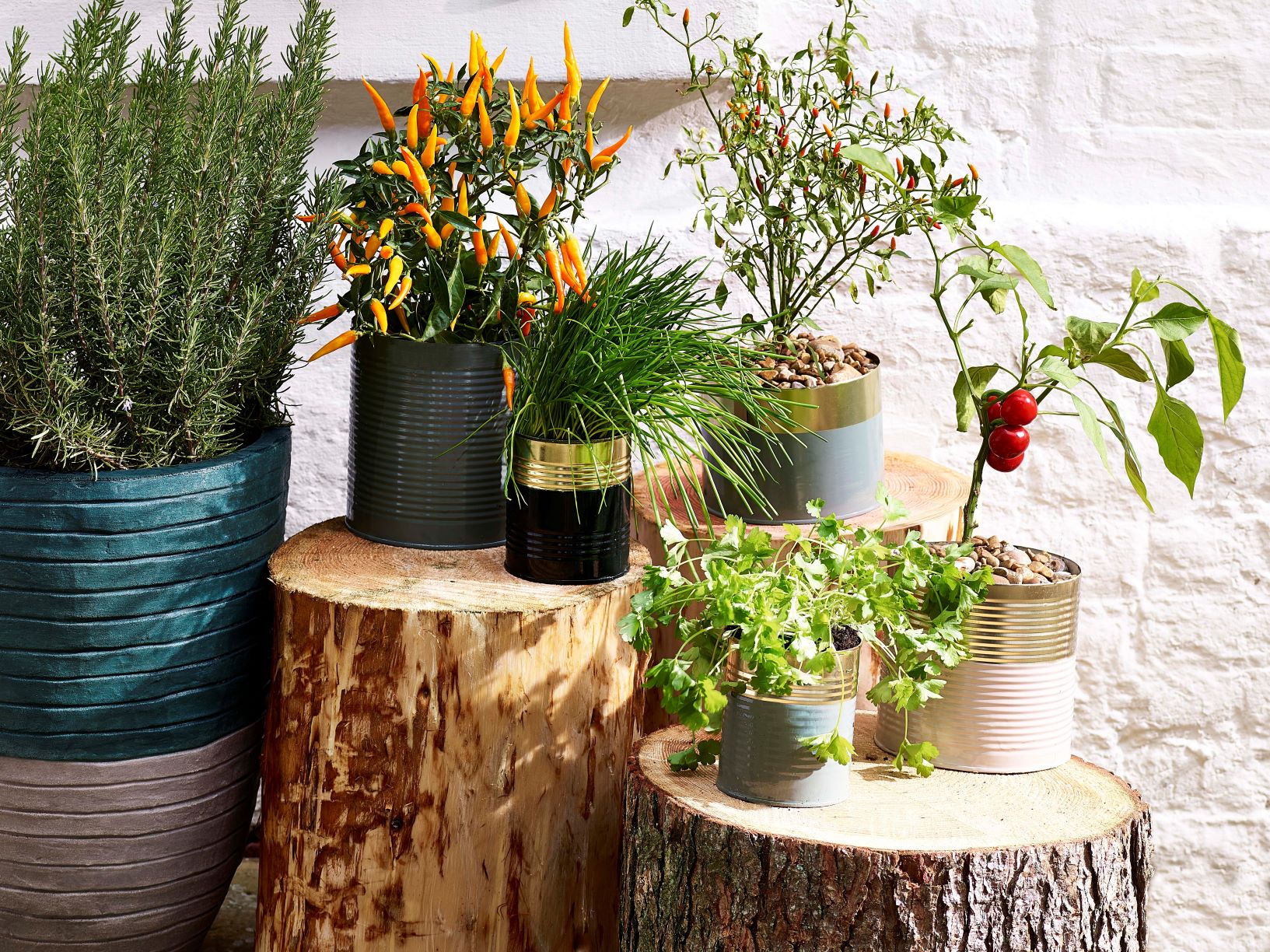 Image Credit: Hammerite
Love your plants? Chances are you have pots that could do with some brightening up too. Decorate old pots or repot plants and seedings, using empty tin cans or other containers you can easily find around the house or garage. As long as they are clean, repurpose and brighten up your pots too.
Remember, you do need to use paint specially formulated for outdoor use on the furniture, decking, fencing or anything else you can think of that you are painting and leaving outside. Preparation is key so always read the instructions. Outdoor paint is specific to cope with our wind, rain and sunshine.
Enjoy!