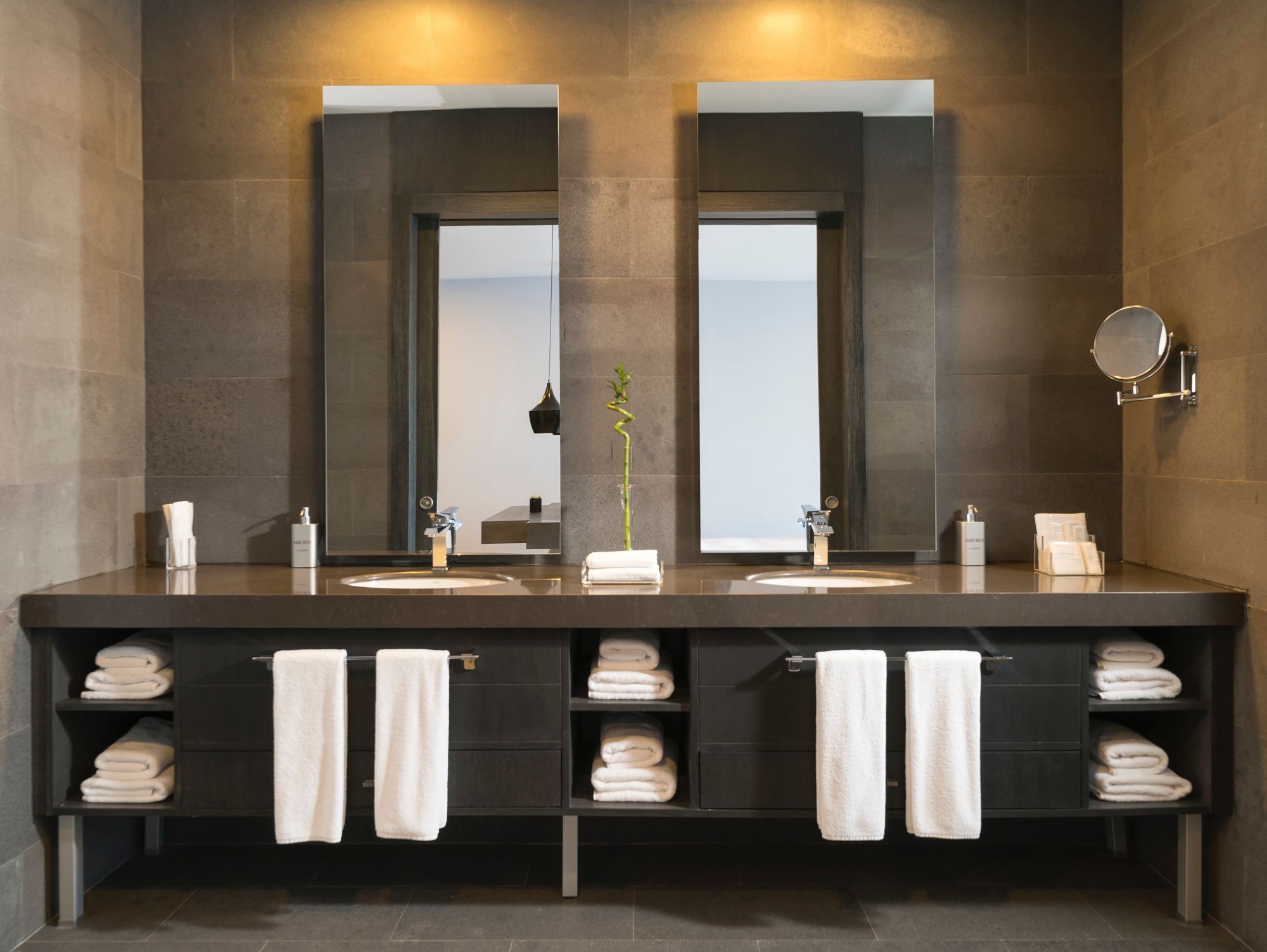 Lusting over beautiful and dreamy dark bathrooms, but afraid to actually pursue it and go to the dark side in your pure white bathroom? Don't despair, read on for inspiration. Then visit our bathroom showroom to see the new moody dark bathrooms on offer and see how these ideas could become reality. You can explore your bathroom design in 360 with our Virtual Reality Software.
Black Accents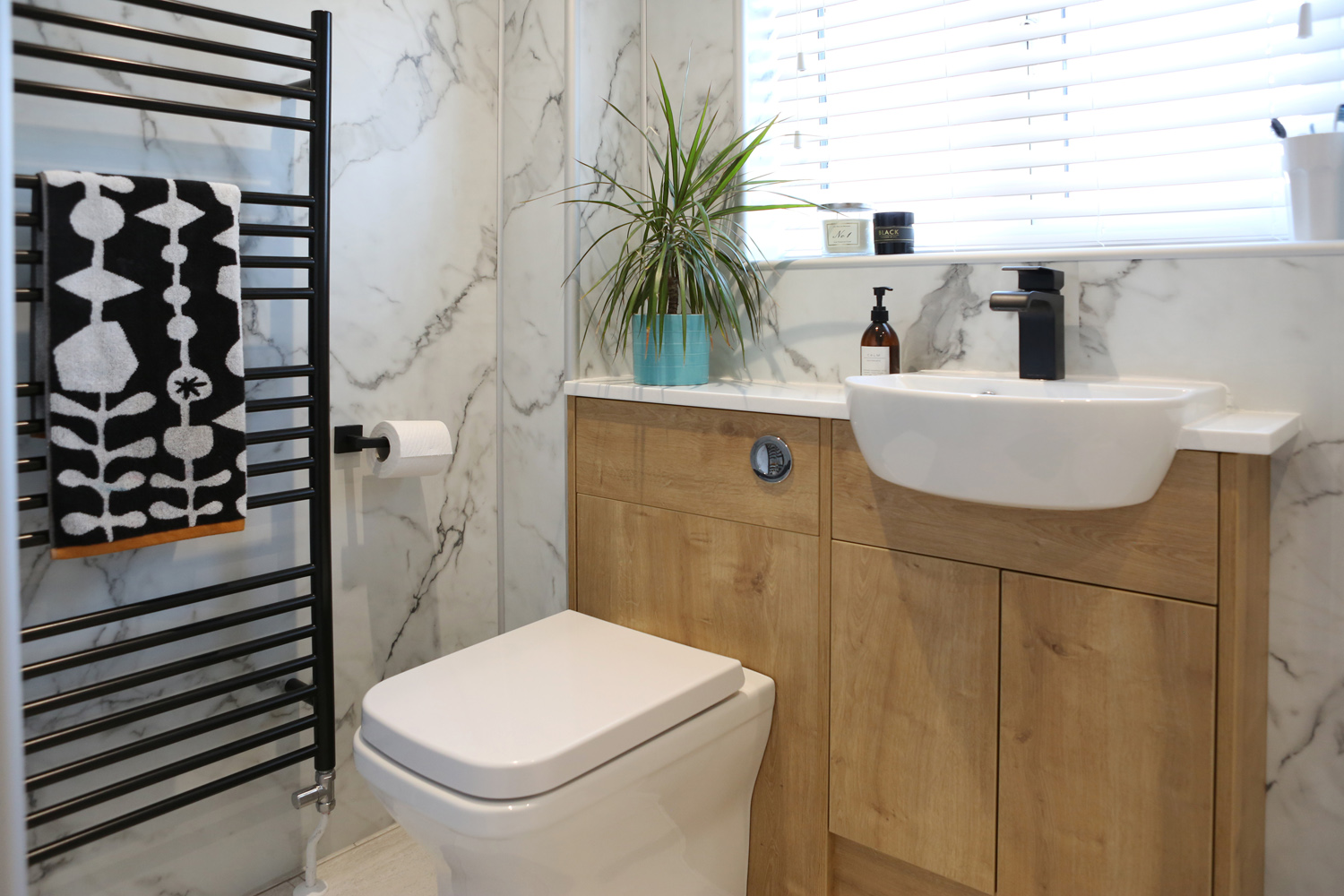 You don't have to go the whole hog and transform your bathroom completely over to the dark side. Black accents compliment white and many other colour hues too. Black taps and black showers are very popular. They look fabulous in a white bathroom or other contrasting dark bathrooms. A heated towel rail in black or anthracite can make a white room pop or blend subtly in a dark bathroom.
Dark Bathroom Sanitaryware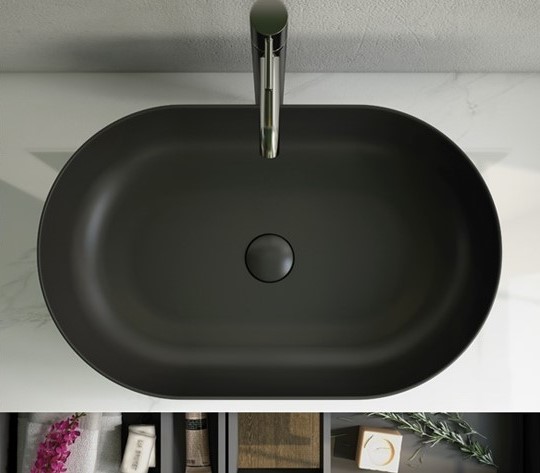 Credit: Rak Ceramics
Consider a roll top bath or sink in a darker shade to give the bathroom a focus piece that shrieks out 'WOW'. Manufacturers and suppliers produce baths, sinks, taps and sanitaryware in a multitude of shades. It's not for the white-hearted anymore!
Dark Wall Panelling or Tiles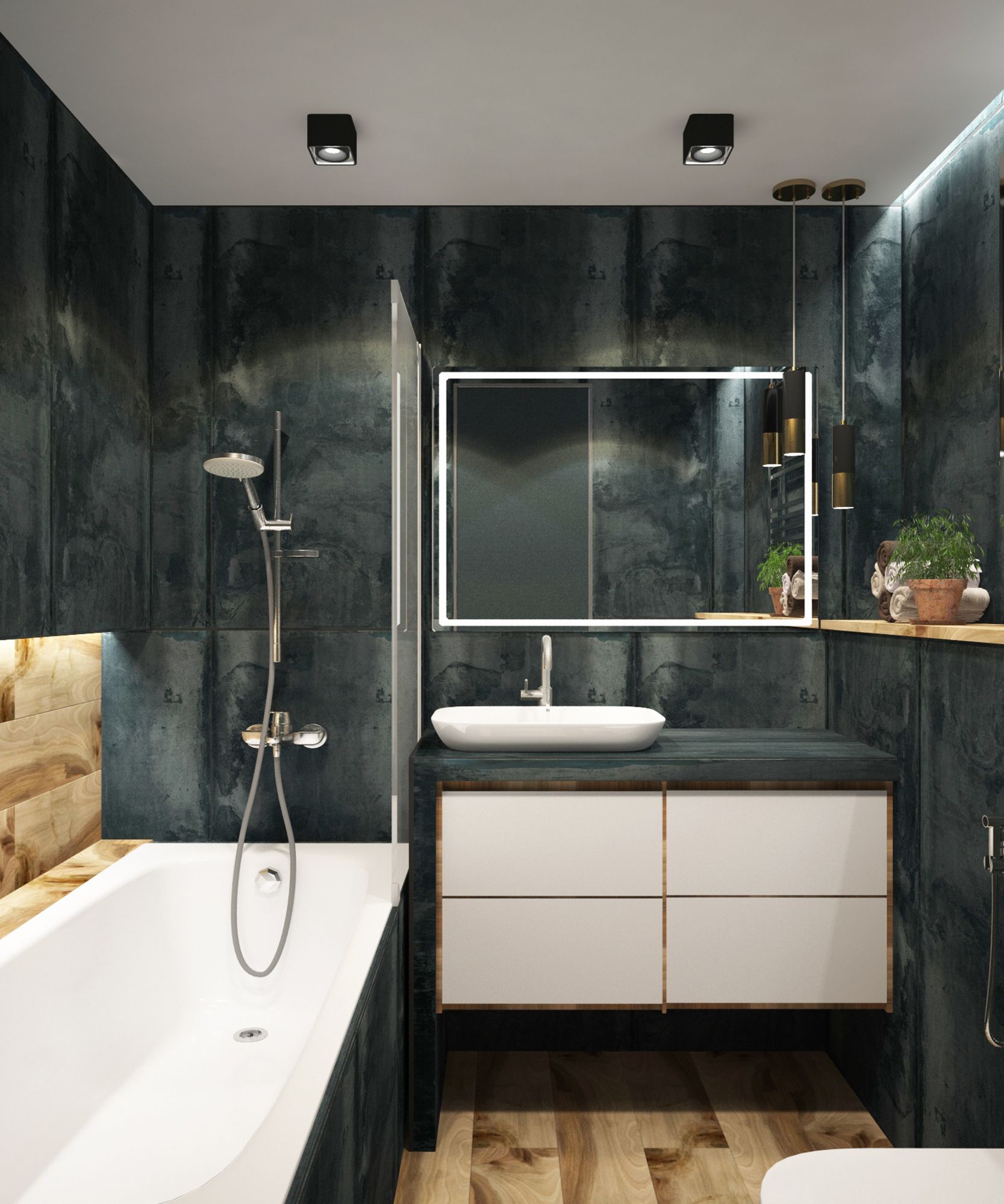 You can buy shower panels in various colours, textures and sizes to cover the whole of your bathroom and not just the shower area. This is a great idea for those who want to feel cocooned and enveloped in warmth. Dark wall tiles are also hugely popular right now with an immense choice. Go for glossy, shiny or textured matt tiles.
Dark Bathroom Paint
Painting a wall or full bathroom may seem daunting. Paint suppliers have brought out an array of dark paint shades and some are specifically for dark bathrooms. Be sure to choose one that is bathroom friendly withstanding the damp and temperatures. Installing a splashback above the sink and shower panelling in the wet areas will prevent paint getting damaged.
Stone Surfaces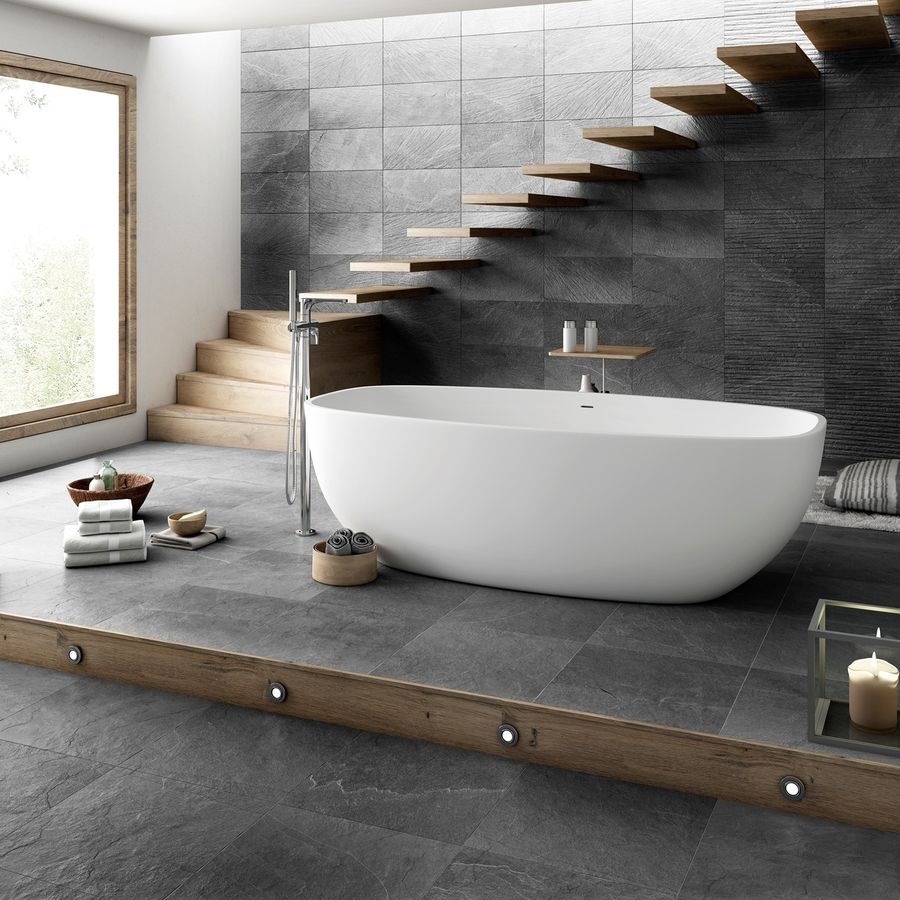 Credit: Tileflair
Stone conjures up coldness, in the same way darkness may too. Textured, stone flooring in dark bathrooms will add to the cosy, cocooning feel. Even better, add underfloor heating and your feet will be instantly tasty warm the minute you step out of the shower or bath.
Monochrome Flooring
Break up the darkness, by adding a monochrome patterned floor. It will create an extra feature adding interest to the space.
Dark Wallpaper
Wallpaper in a bathroom? Yes, you can! Specialist wallpaper produced for areas with high humidity is the way to go and make sure it is not in the shower area or right above the sink. You can have a decadent, dark bathroom with patterned or textured dark wallpaper. As with paint, install a splashback, tiles or shower panelling around the wet areas.
Bathroom Door and Skirting Boards
Still not sure about darkening the walls? How about painting the bathroom door instead? Paint the skirting boards in a rich, dark shade to match the door. This will ensure your bathroom has a feature in it without committing to a completely dark bathroom.
Shutters and Blinds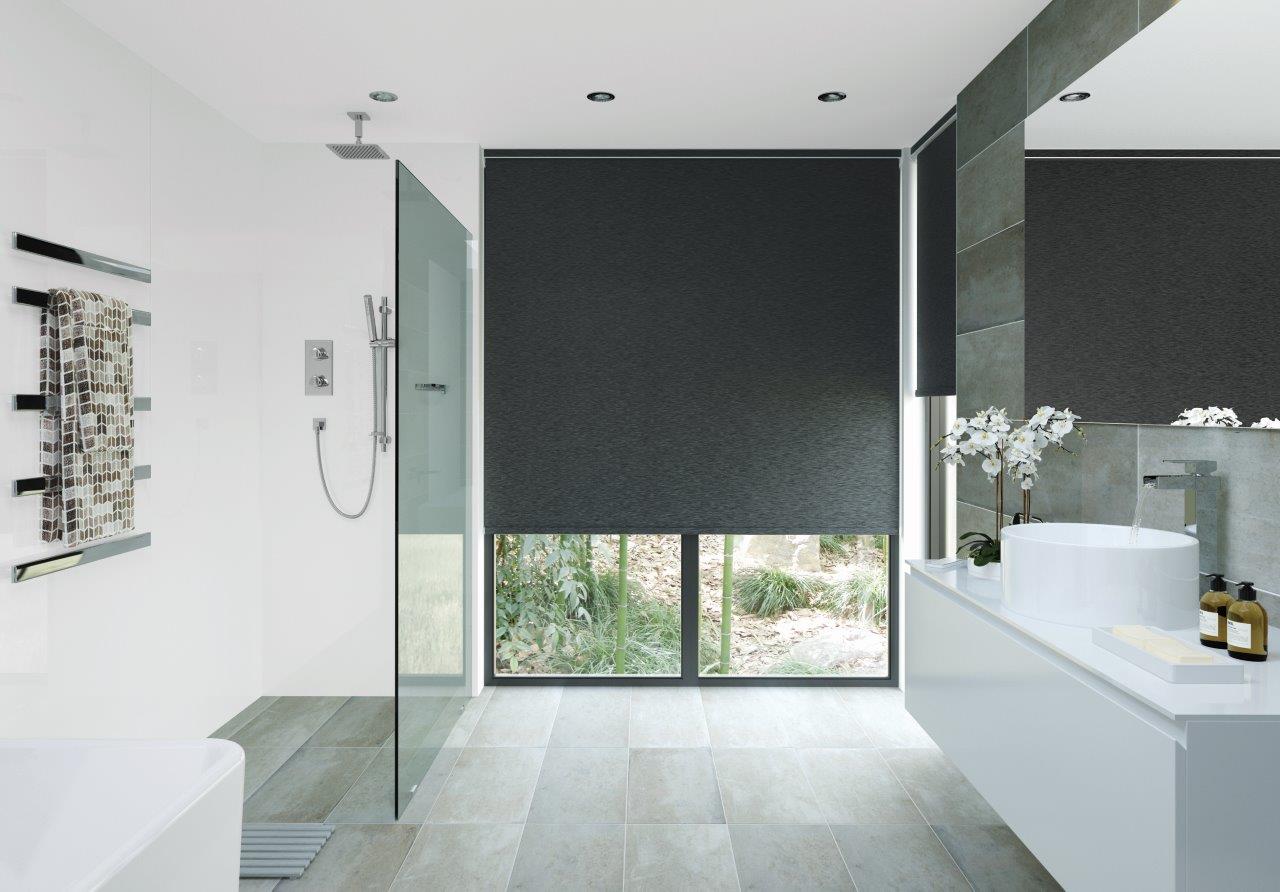 Credit: Rol-Lite
Dark shutters or blinds add another depth of interest to dark bathrooms either as a feature on their own in a lighter bathroom or combined with dark walls and flooring embracing the whole dark trend. Choose wooden shutters or blinds in a bathroom made of materials suitable for the humidity in a bathroom.
Dark Cabinetry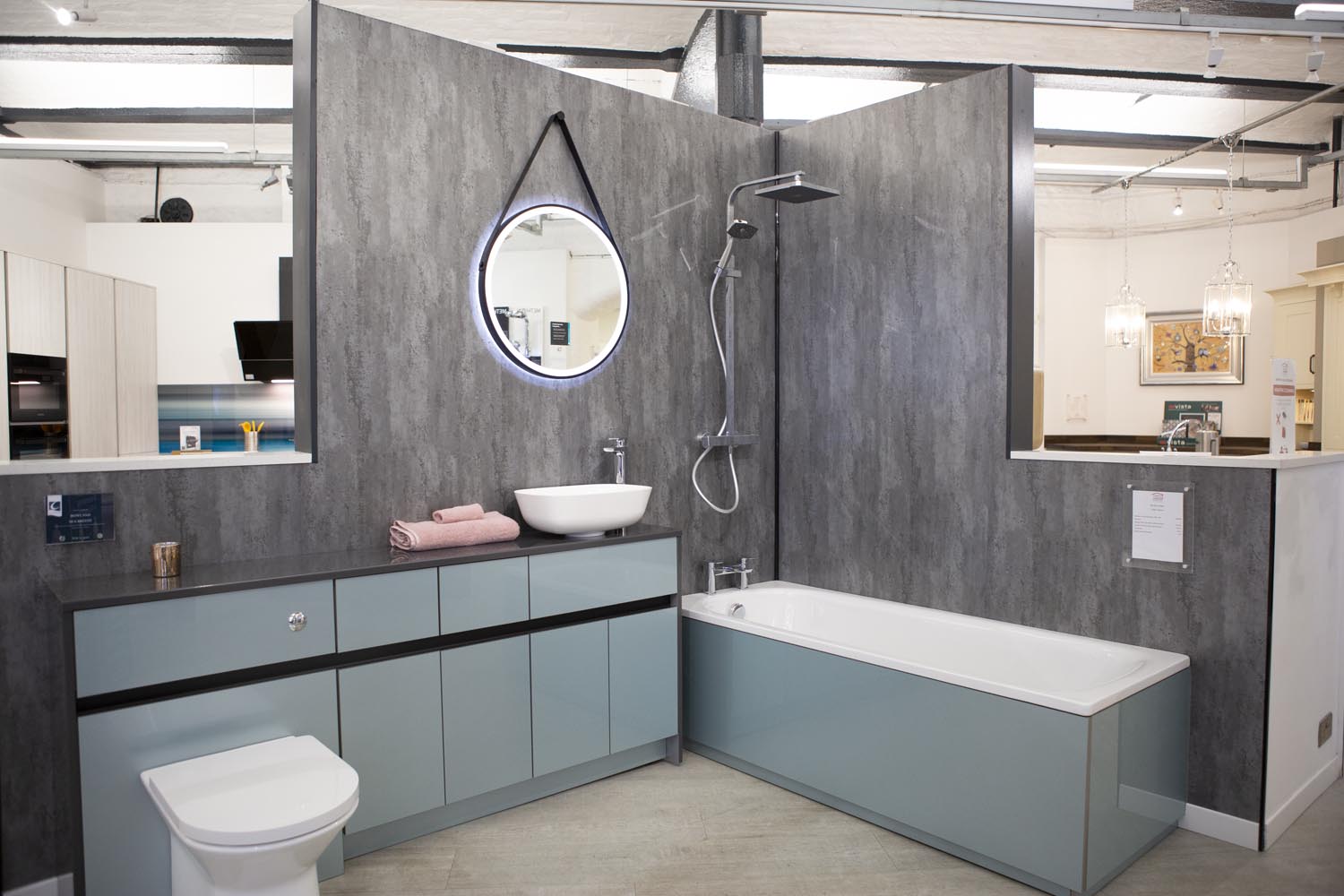 Consider bold contrasting cabinetry against dark panelling or go for dark cabinetry in a white bathroom.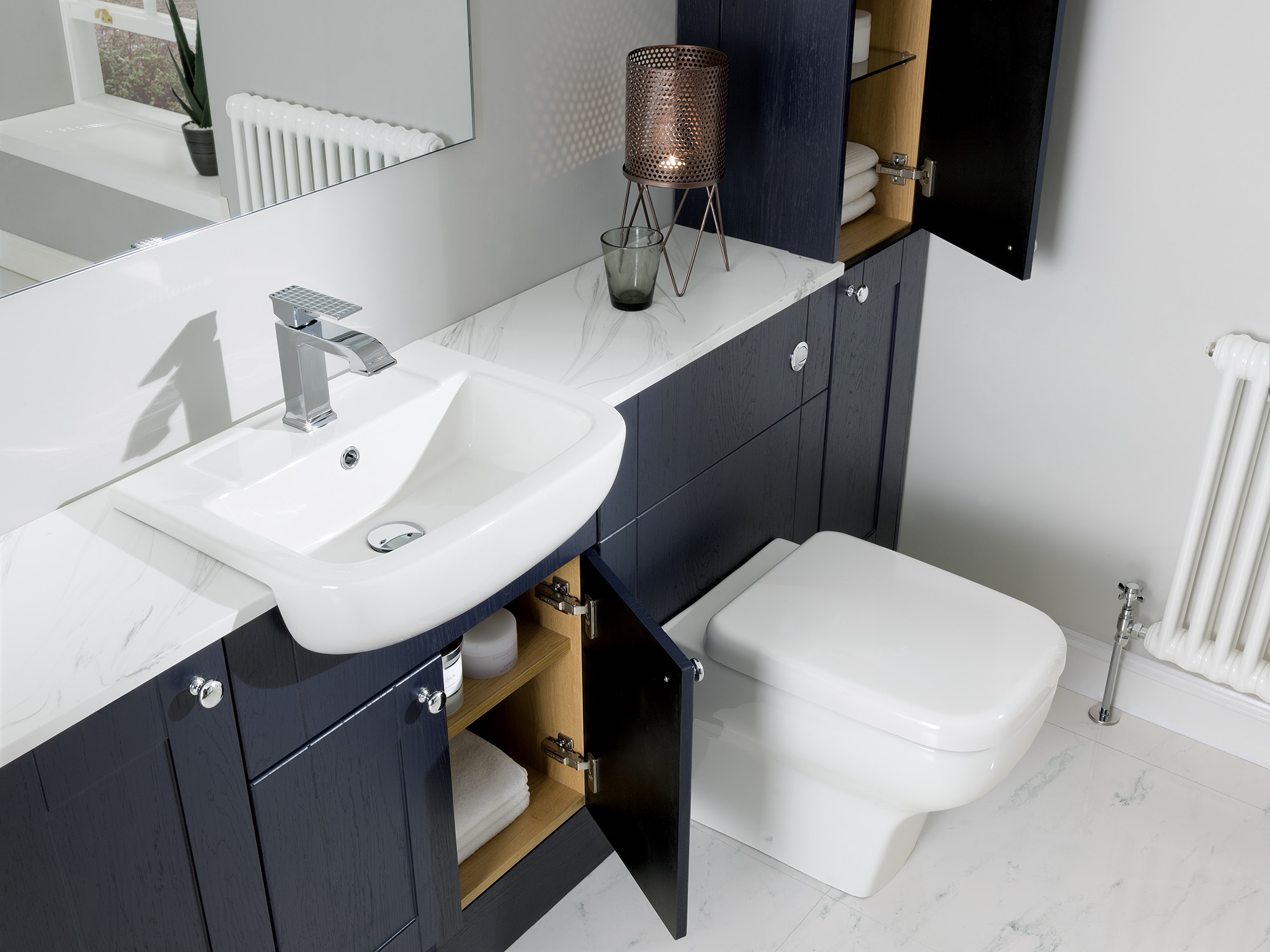 Credit: Calypso Bathrooms
Contrasting Dark Textures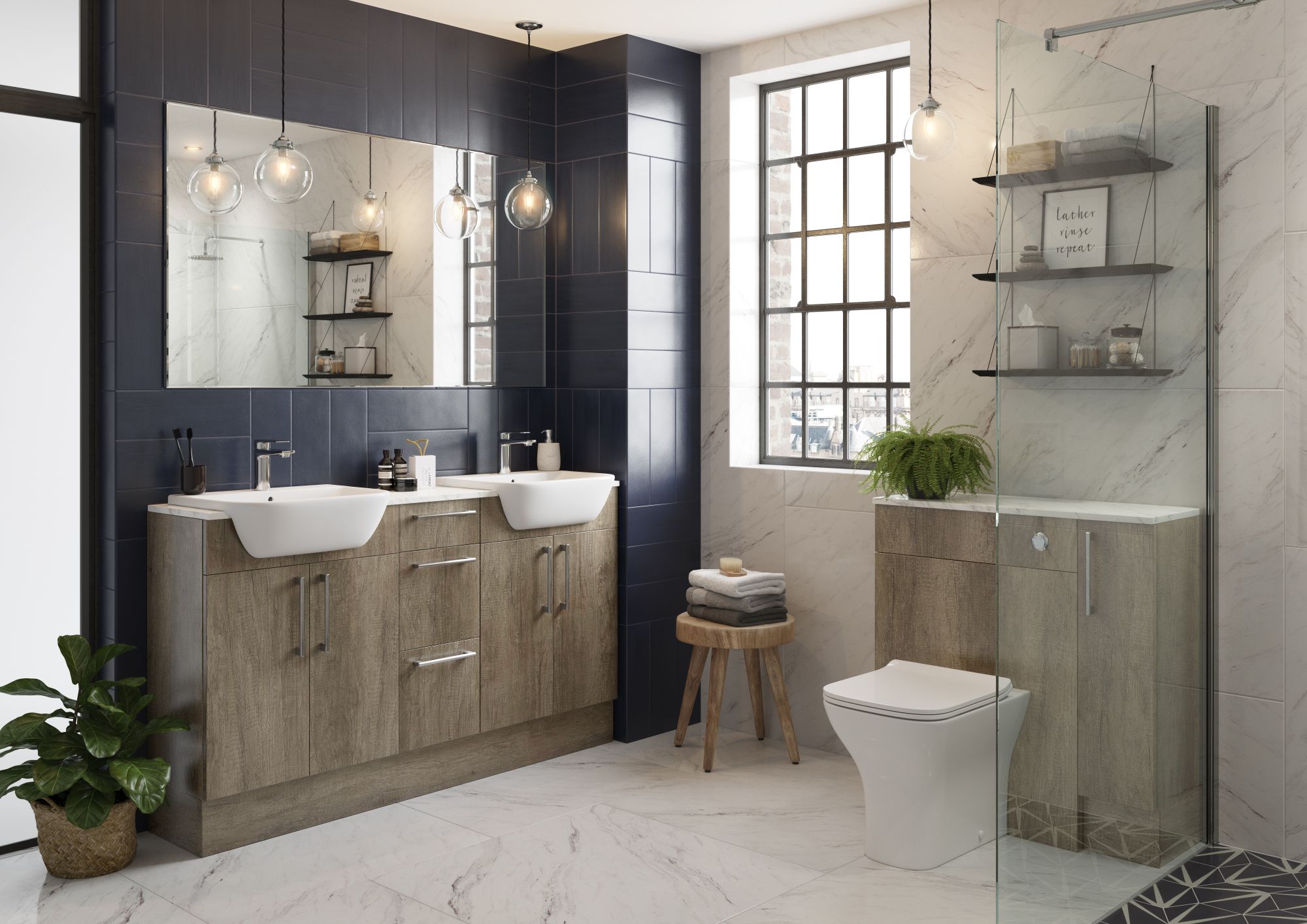 Credit: Bathrooms To Love
Clash dark wall tiles with light stone flooring and other black accents. The patterned, textures will bounce off each other and produce a different feature in their own right without adding lots of colour. Alternatively, clash dark with natural wood.
Complimentary Accessories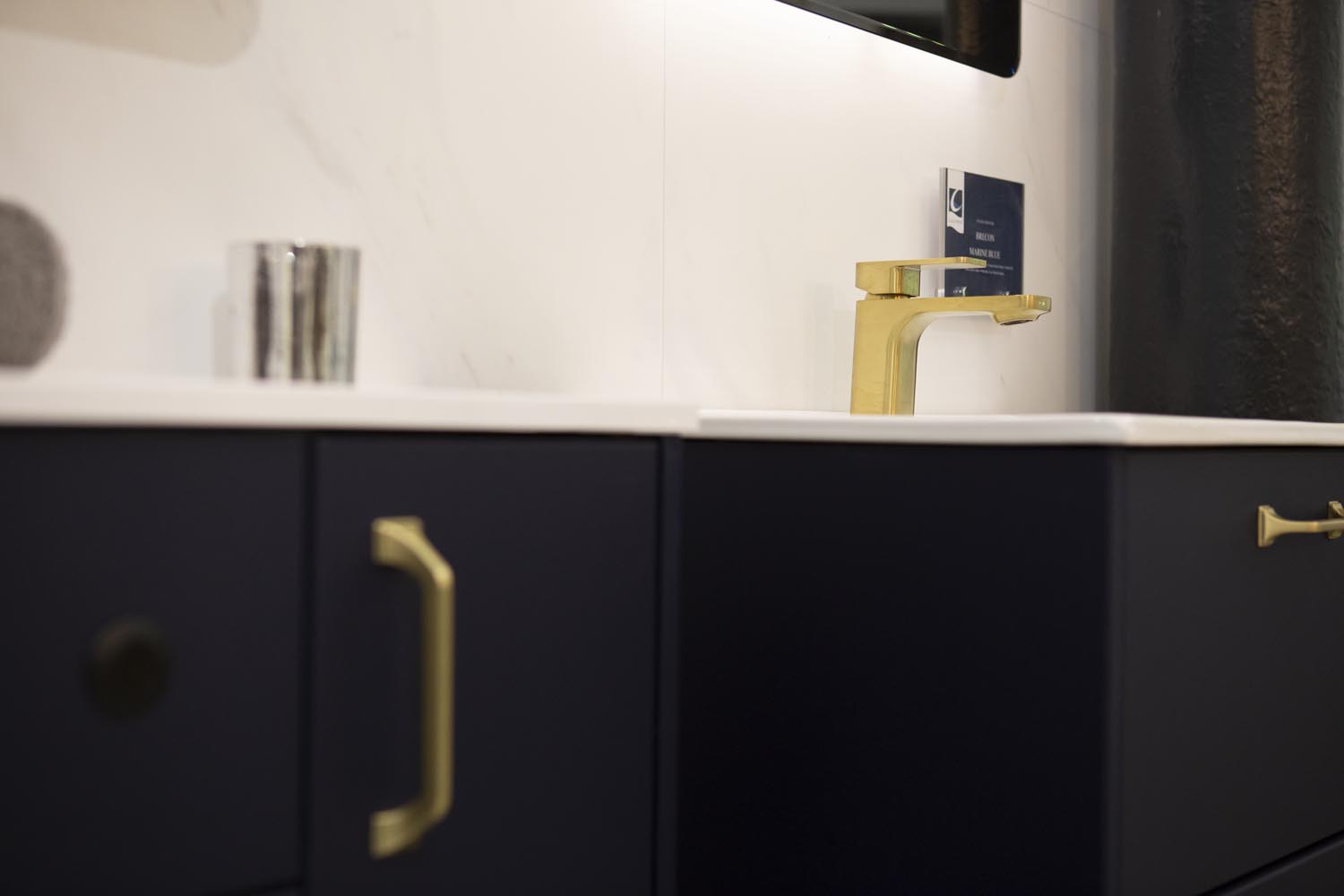 Fuse all the moody darkness together with a few accents. Gold or amber accessories to harmonise dark bathrooms will look fabulous. A large brass mirror or brass taps will maximise the glam (and enhance the space) making it sing even more! Storage baskets and stylish, dark cabinetry will compliment the look. Lastly, leaf it out with greenery adding another rich layer to your dark bathroom with plants. Some plants love the high humidity in bathrooms too.
Light It Up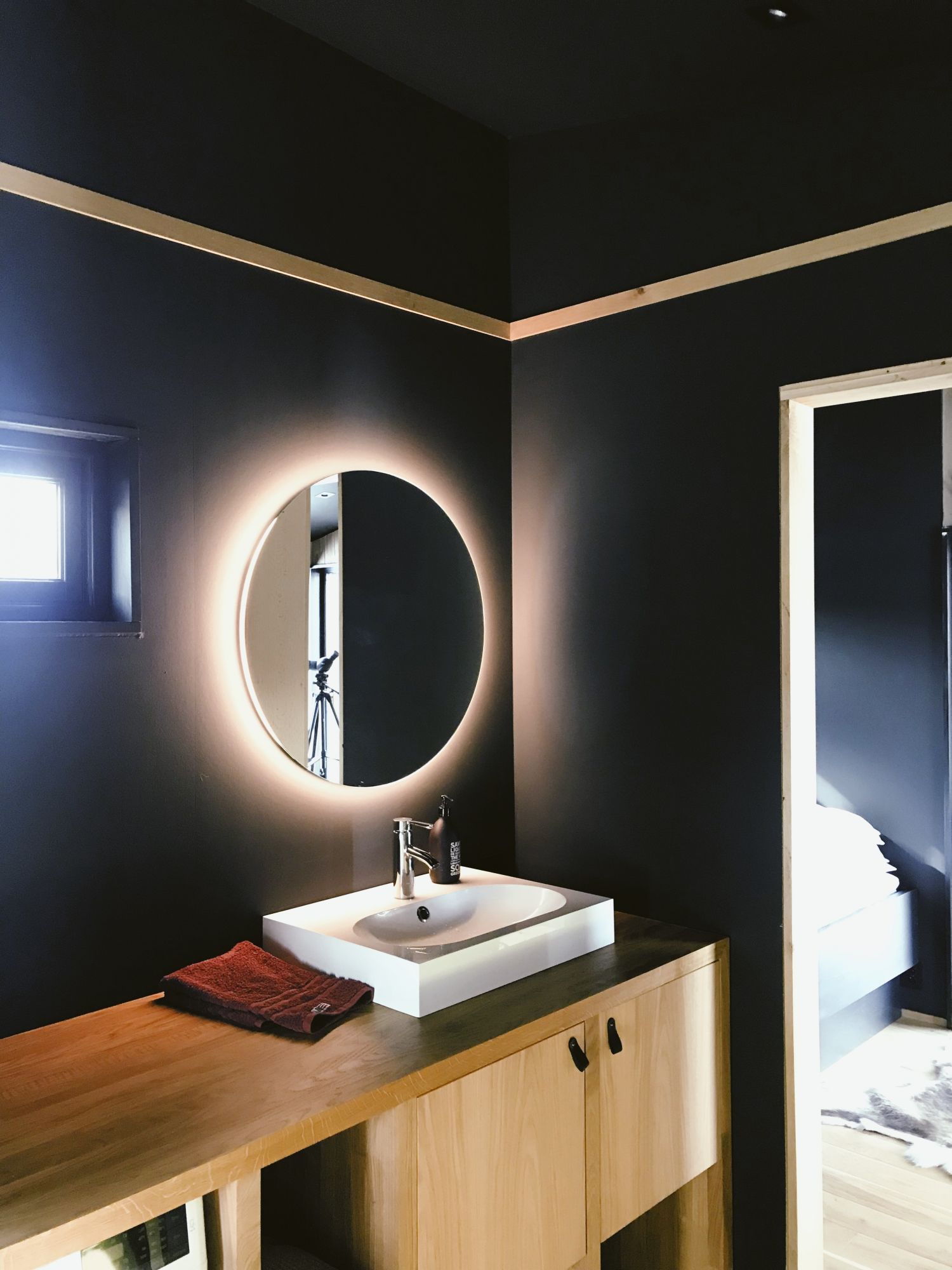 Highlight built in shelves or feature flooring with a warm glow of light. Led spots added to the floor edge or led strips under shelving or above can highlight these features beautifully. Back-lit large mirrors will warm up the dark bathroom and push up the cosy factor.