Growing your own Sunflower is an easy and fun way to get children excited to start gardening. Very popular for growing competitions they usually grow way over 6ft tall! Here's our guide to get started growing your own sunflower today inside your house or greenhouse
Growing Sunflowers
What You Will Need:
A fibre pot, plastic pot or tray to start with. You will need larger if you plant to grow on in containers.
Sunflower Seeds
Compost
Support canes (when the sunflower is well established)
TOP TIP: Fibre pots are ideal as they can just be replanted into a new container or into the ground as they are completely bio degradable.
How to Sow Sunflower Seeds:
Take your seed tray or 9cm pot and fill with compost.
Firm the compost down to ensure there are no air bubbles.
Sow the seeds singly. The seeds are a good size so this is easy to do.
Cover with a thin layer of compost and firm down again.
Keep inside on a warm windowsill or in a greenhouse.
Seedlings will start to appear within 14-21 days.
Keep well watered.
TOP TIP: If you miss a water you may find your sunflower looking very droopy! They can usually be brought back with a good dose of water. The individual leaves will routinely die as well, this is normal.
Growing on your Sunflowers
As they grow you may find your sunflowers need a larger pot. Always wait for the second set of leaves before doing this.
When you are considering moving your sunflower outside to it's final position, check the weather forecast.
Stand outside for a few days, bringing in at night, avoiding frosts to acclimatise to the outdoor conditions.
Support the Sunflower with a garden cane.
Our Results
My son Harry and I grew Sunflowers in our garden in the Summer of 2020. Here's our results: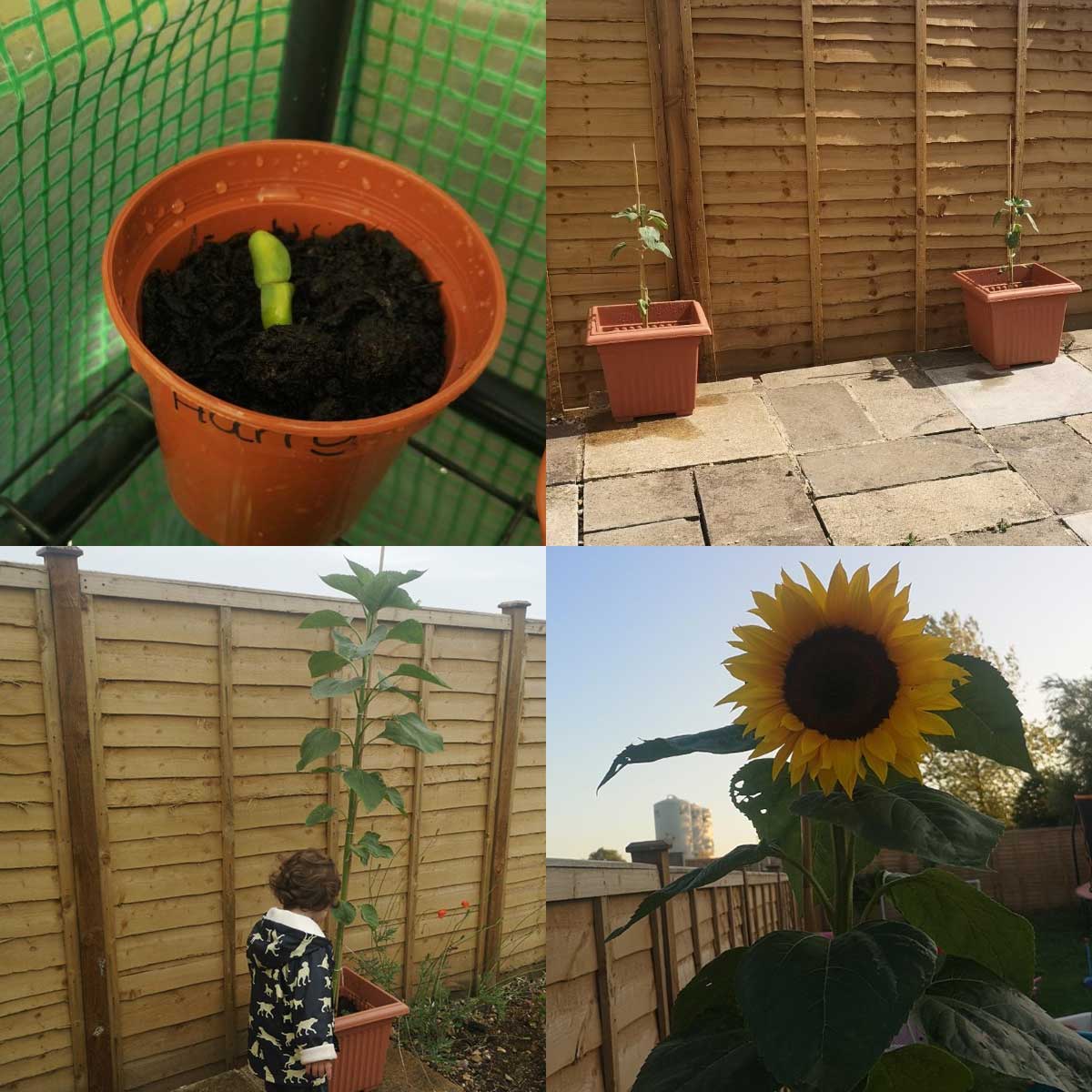 For all your gardening needs visit our Cirencester Store at 68-72 Dyer Street.