Keeping your dog entertained at home when they're generally full of energy and curiosity can be difficult. Particularly during the COVID-19 isolation! I've been working on homemade games and puzzles for my French Bulldog Stitch who's 4 years old but behaves like a 4 month old puppy. I've been using old socks, plastic bottles, egg cartons and other containers to create fun puzzles for him to tear into. Stitch quickly destroys any toy we buy him, even the "tough" ones which are supposed to be indestructible. So recycling things around the house is cheaper and more satisfying to watch him have fun with. Here's some of the homemade puzzles and toys I've made so far:
Plastic Bottle Filled with Treats
This is an easy homemade dog puzzle to start with and see how interested your dog is in these homemade toys. Wash out a plastic drink bottle, fill with your dog's favourite treats and leave the lid off. They'll have fun tossing it around trying to get the treats to spill out of the opening. I had to show Stitch at first that the treats will fall out of the opening and then he was away! If your dog (like Stitch) starts to chew the bottle, then keep a close eye to make sure they don't swallow any bits of plastic.
I've also tried this having cut a square window into the side of the bottle which helped Stitch get a new angle on the treats.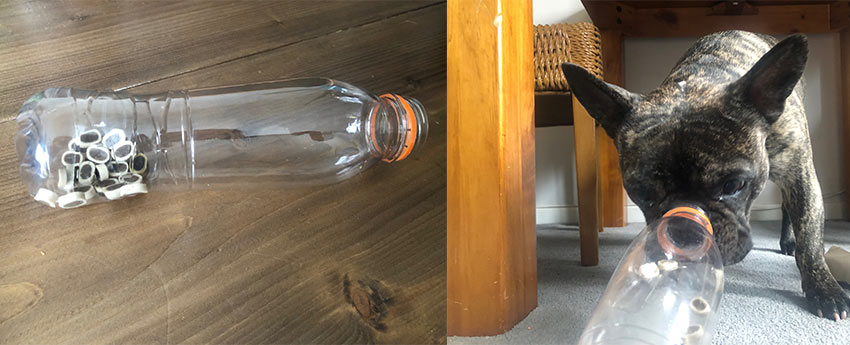 Egg Carton Taped Shut
I was just about to put an empty egg carton in the recycling and I spotted Stitch eye-ing it with a playful look in his eyes, so I thought, here's our second homemade dog puzzle to try! I sprinkled treats in the carton and loosely taped it close. Within seconds of dropping it on the floor he was kicking it around and tearing into the carton. This one didn't last as long as the bottle but Stitch seemed to have lots of fun ripping it apart. Cardboard is also gentler on their teeth.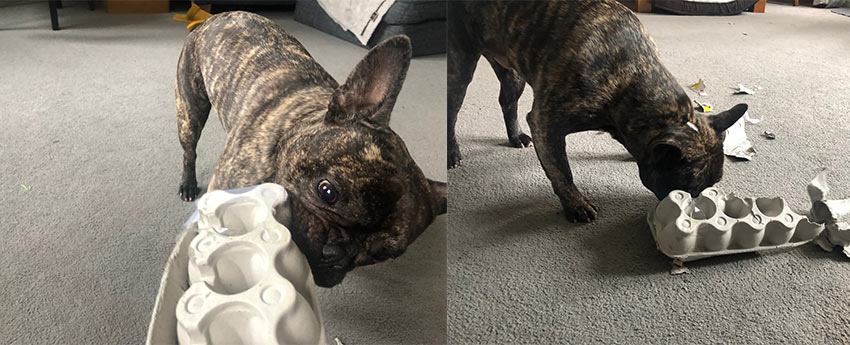 Plastic Bottle Inside of a Sock
This made the plastic bottle game last much longer. I filled a plastic bottle with treats, leaving the lid off, and then put the bottle inside an old sock and tied a knot in the end. Firstly, Stitch had to chew and tear the sock off and then get to work on throwing the bottle around to release the treats. Off all the homemade dog games I've tried so far, this one lasted the longest keeping him busy for about 30 minutes.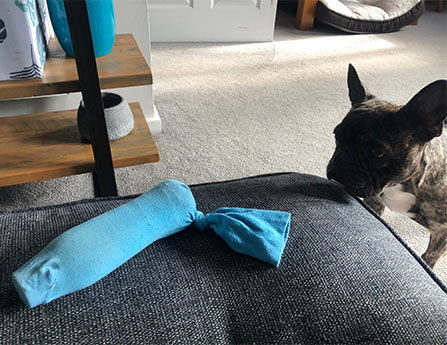 Empty Peanut Butter Jar
Stitch absolutely LOVES peanut butter! When we were finished with a jar of peanut butter I left it on the floor for him with the lid off so he could try to lick the remaining bits of peanut butter from the inside wall of the jar. This kept him busy for ages! It's best to use the no added sugar peanut butter or even better, there's peanut butter just for dogs. Be careful as this may leave bits of peanut butter on the floor so don't use on carpet.
Don't leave your dog unattended with toys as they may pull pieces off which can become a choking hazard. Always supervise them with toys.
---
I'll be adding more homemade dog puzzles to this blog as and when we try them but we would love to hear yours too! Head over to our Cirencester store Facebook page to share photos of your best homemade dog puzzles and toys for us to try. Our Cirencester store sells a range of pet toys so if you don't fancy making your own, head to our store to buy some. You can find the pet section in our outdoor department.