As summer is approaching, the sun is finally starting to make its way through the clouds and we can move into our gardens and enjoy having people over again for gatherings and parties. Whether you're on a budget or not, this blog will give you some inspiration and tips for becoming the perfect summer garden party host.
Prepare For All Weathers
Even though it may be officially summertime, annoyingly here in the UK, we can't always guarantee high levels of sunshine. Remember to check the weather forecast at least a week before the big day. Think smart and prepare ahead by having a gazebo ready. Gazebo's will help to protect yourself and guests if it does rain but also provides shade if the sun does pull through. If you're tight for space in your garden and think that a gazebo may be too big, why not try and fit a parasol as this will also help to create shade but also won't take up the whole garden. If you're on a budget, find a pop-up tent which children and guests can use to relax. If it is set to rain and your event is more formal and you have a bigger budget - why not try a luxury marquee. They offer shelter from the heat and rain and can fit large numbers of guests.
Outdoor Heating is Essential
Even if your summer garden party falls on a boiling hot day, the temperature has the tendency to drop dramatically in the evenings. So if you're planning to have guests staying late, maybe invest in some outdoor heating products such as a patio heater, chimneys and firepit. Ensure you have blankets and fleeces ready for guests and that will help to create a more cosy feel and atmosphere.
Use Music to get Everyone in the Summery Mood
A garden party isn't complete without music which will help to relax and get your guests in the mood for summer. Use a Bluetooth speaker to place in an area of the garden which will be protected against drinks and water being spilt on it. Use applications such as Apple Music or Spotify and find a favourite summer playlist which everyone will enjoy.
Sophisticated Seating
No one wants to have to stand all day, especially when eating. Burger sauce spilt on the white t-shirt isn't anyone's favourite look. Having enough seating for everyone is vital as not enough seating will push for guests to sit inside, away from everyone else. Ensure you have ample seating to cover at least a handful of guests. If you're on a budget make use of deck chairs, camping chair and outdoor cushions which you don't mind being used to for people to sit on the grass. Logs and tree stumps are also ideal. If you have a bigger budget, why not invest a new piece of outdoor garden furniture. Here at Gardiner Haskins, we have a range of high-quality garden furniture pieces which have been built to last while also help to provide the perfect seating for all guests.
Light Up the Room
Good lighting is essential and will help to create an ambient summer garden party. Depending on your garden size, use a variety of lanterns, string lights and tea lights to help create a cosy atmosphere in your garden. Why not look at our solar-powered lights here at Gardiner Haskins, which can help brighten up your party while also decreasing the impact on the environment as they are more environmentally friendly
Top Tip - If you have steps or paths in your garden, line them with solar-powered lights on strakes to help provide guidance. They are hassle-free and stick easily into the ground.

Fun and Games
If you're inviting children, keep aside a set area of the garden which will be used for keeping the children entertained. If the sun's out, why not pump up a paddling pool. Depending on the number of children going; you can purchase paddling pools from a range of sizes and prices. Other toys such as bubble machines blow out hundreds of bubbles which will help to keep all the children entertained for hours.
Decorate Your Garden
Decorating your garden helps to make the garden look more party-ready. Whether you choose to have a party theme or not, having decorations will aid in creating the perfect atmosphere. If you're on a budget make home-made decorations such as paper chains and bunting which you can colour in whatever colours suits you. If you have visions of a casual, free-flowing event, arrange the furniture around the outskirts of your garden with them being connected with the bunting.
Dazzling Drinks
In regards to adults, Pimms is a great favourite summer drink, you can make a huge batch of it to serve large amounts of guests. If you're planning on choosing something a little more fancier, why not try making cocktails or mocktails such as a fruity Pina Colada or Mojito?
Fantastic Food
When the sun's out, there's nothing better than a garden BBQ. Check out our blog post on how to create perfect tasty BBQ. Disposable BBQ's are just as great as regular ones as they are much cheaper than normal BBQ's. However, as they are made for a single use they are ideal for the one-off occasions. You could also use them to cook any meat-free sausages and burgers to help keep them separate.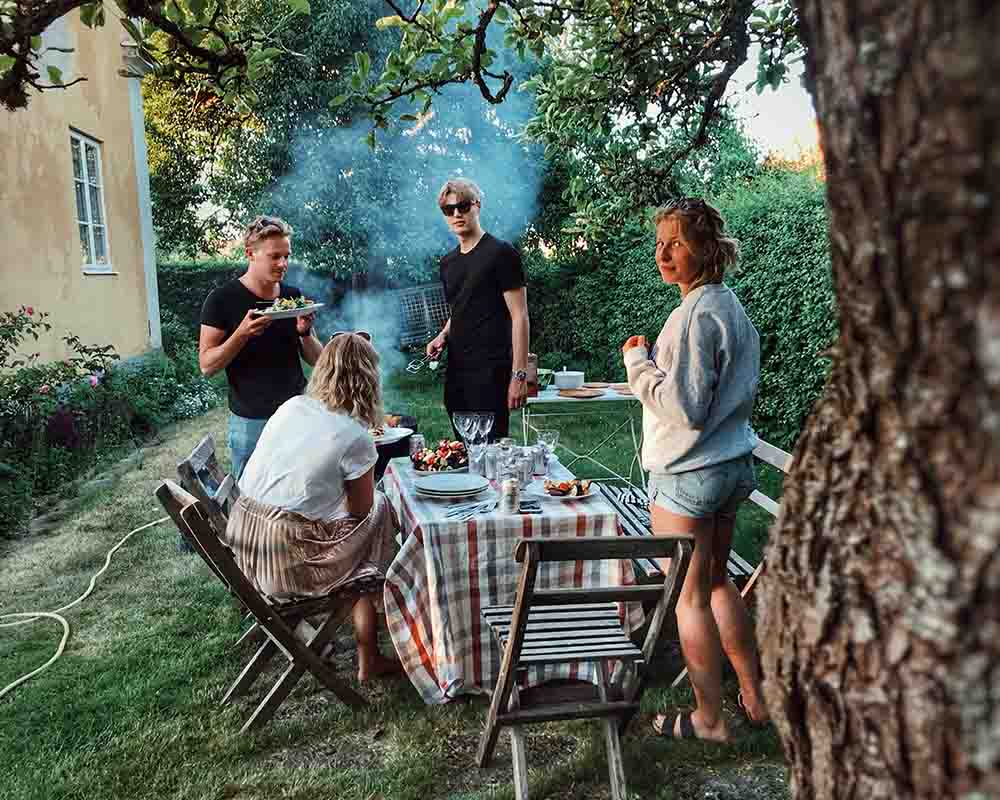 Related Blogs
Beeswax Wraps: What they are and how to use them - 5th June 2019
BBQ Food Ideas and BBQ Party Ideas - 22nd March 2019
6 Way to Keep Cool in a Heatwave - 1st June 2019