When planning your home and especially your kitchen, it is important to tailor your design to suit all that live there. For families with children, especially young children, extra considerations need to be made. Here we give our top tips on how to plan your own child friendly kitchen:
Make it Indestructable and easier.
Children will spill, squash, drop and splatter anything within their reach when they're in the kitchen. If you have small children, it is worth thinking ahead about them when designing your dream kitchen. For example, Quartz and Corian countertops are incredibly durable and easy to wipe down. Just don't forget to round worktop edges to avoid accidents.
Slip covers and seat cushions are a godsend for your kitchen chairs, as when they get dirty you can just throw them in the washing machine and put them back on afterwards. It also means when the kids are grown up you can easily take them off and under it will all be clean and ready to go.
Imagine that you are in your kitchen, can you see the garden? If the answer is no, then consider designing your new kitchen so you can see the kids at all times through a window. This way, you're not just planning a child friendly kitchen but also a child friendly home.
A feature that helps you cook with ease is the Quooker tap, which goes from off to boiling in just seconds. It also has a push and turn child-proof handle much like a medicine bottle and is much safer than pouring a kettle! The water is also in a fine spray rather than a jet, so you have time to get your hands out of the way. Find out more about Kitchen taps
Let them be curious in a safe environment and reduce risks
Part of the process of child-proofing your new kitchen is reducing the number of risks in your space. There are sharp objects and hot surfaces all over the kitchen which you need to be on the lookout for.
Dedicate a drawer or cabinet lower down for the kids with plastic, child friendly plates, bowls, cups, and utensils as well as some of their favourite healthy snack items. This way they won't be tempted to climb, reach up or knock things off. If you're lucky they may even help you lay the table with their cutlery.
Dangerous items such as knives, chemical cleaners and medicines should be kept high up in, preferably, a locked drawer/cabinet or at least use temporary drawer locks. Swap out your toxic cleaners and go eco-friendly. This will help the environment and isn't dangerous to the children.
Kids can easily turn the water on hot enough to scald. Touch-free taps are the solution and can be pre-set to a safe "start temperature" that can be changed once the tap is on and running. Later on, you can easily change the start temperature once they are older.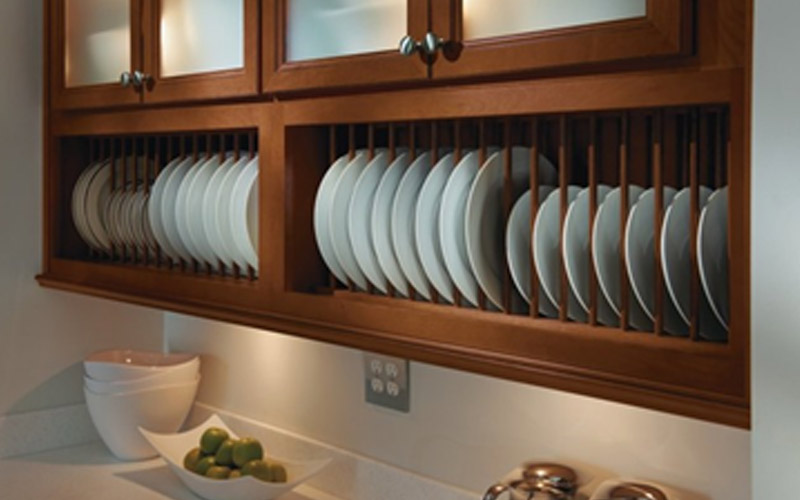 Door stops go a long way to prevent trapped toes and fingers. Also, soft close cabinets drawers and doors help avoid such accidents. Plate racks are a huge help when it comes to not being worried about the plates smashing and they are well out the way of children. They also help your kitchen look ordered and organised. Door slammers also help to avoid trapped fingers and toes.
Having a built-in, eye level oven means that there are no worries of the kids putting their hands in the oven. In terms of safety hobs, the Neff range are superb as they have a child lock system, meaning you cannot turn the heat on if there is nothing on top of the hob.
Create a fun environment
When planning your new child friendly kitchen, it doesn't all have to be about safety features, but it can also be about fun too! Your kitchen is the heart of your home where you cook together, socialise with family and friends and spend time doing arts and crafts with your children. Your new kitchen should reflect you as a family, so add a few child friendly kitchen features.
Add a blackboard on the side of an island and that way if they want to draw on a big canvas then it won't be your walls! You can also write down reminders and to do lists or even jobs for the kids to do. Instead of getting angry at the kids if they leave a mark embrace it! In a couple of years, you can re-paint or even renovate the kitchen to suit you better.
A durable paint, such as a silk emulsion are best suited for painting your kitchen as they are wipe clean (perfect for little handprints) and reflect mouisture and grease build up
Make the kitchen colourful, that way it hides marks and is also more interesting for the children than a white room. Kitchen islands are a perfect place for the kids to do work, watch you cook, do drawing and mean you can keep an eye on them. Bar stools are necessary if you go for high counter tops so the kids can see what is going on but there is the danger of them falling off them. Instead, you could have a lower section of the island which a highchair or child's chair can fit under.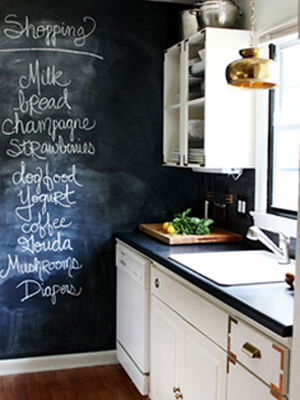 BOOK AN APPOINTMENT HERE WITH OUR DESIGNERS: