Everything you need to know before buying a kitchen worktop
Buying a worktop can be tricky because people are often unaware of just how many options they have. Additionally, there are pros and cons to each worktop. So, make sure you are well informed before you buy to ensure you know what you are taking on. Worktops need to be functional as well as stylish.
Functionality
Before purchasing, think about what you want your kitchen to say or do. Every kitchen has a purpose that isn't necessarily just about preparing meals. Do you need it for dinner parties? You might need a lot of space for serving food. Perhaps you use your kitchen for entertaining and a big glitzy statement piece is what you need for a talking point. Do you need a worktop that will endure regular use? You will need a durable surface to withstand your cooking storm. Or do you need a very functional kitchen for busy family life? Here at Gardiner Haskins Interiors, we have everything you need for all specifications.
Budget
Worktops are versatile when it comes to price; there is a worktop for every budget. If you have a lot to spend, splash out on a luxury looking granite or quartz worktop for that wow-factor. If you still crave luxury but have a smaller budget look at laminate that mimics stone or wood. Laminate is the most popular option for worktops because of its value. Now with state-of-the-art printing technology and a variety of textures available, you can have that wood or stone look and feel for a fraction of the price. There are also many other options like wood and acrylic which are in a mid-price range.
Style
Before purchasing, decide what style of kitchen you want to have. Although all worktops can be tailored to all styles, typically there are certain styles people opt for, to get a particular feel. For example, a modern kitchen requires straight edges and the sleek shiny look of quartz and granite or the sleek matte look of acrylic. For a more traditional, country-style kitchen, you might want to consider a solid wood surface.
Materials: Pros and Cons
Observe these pros and cons before purchasing a worktop…
Solid wood
Wood worktops are a timeless classic. Choose from Bamboo, Brown Ash, Beech, European Oak, Iroko and Walnut wood.
pros

It has a natural beauty that matures with age.
Easy to cut and shape.
Any scratches or stains can be sanded away easily.
Medium price range.
cons
Not heat or scratch resistant.
Must be maintained. Re-oil every 6 months.
If water gets into cracks it can become unhygienic.
Laminate
Laminate combines style with technology. Using top-of-the-range printers and textured materials, our brands can mimic real wood or stone for a fraction of the price.
pros
Popular due to being lower in price.
Largest range of colour, textures, finishes and patterns to choose from compared to other worktops.
Durable – resistant to heat and scratches.
No maintenance required.
cons
If damaged, it's hard to repair.
Difficult to shape, especially curves.
Acrylic
This solid surface is man-made but looks stunning. If you want seamless joins and any design you can imagine, this worktop is for you.
pros
A wide range of colours and designs.
Non-porous so it is hygienic.
Medium price range.
Durable and heat resistance.
Seamless joins.
cons
Scratches do appear and can reduce sheen over time
Granite
Nothing can compare to the impressive look of granite. Naturally formed over thousands of years, each piece is unique. This is a lifetime investment.
pros
Each piece is unique and comes in a vast range of colours.
Hard to scratch and mark and heat resistant.
Natural material.
Low maintenance.
cons
Very heavy – not good for flats.
Can't be repaired easily.
Expensive type of worktop.
Visible joins.
Can be stained.
Quartz
A man-made material. This durable and robust worktop is perfect for that awe-inspiring look.
pros
Non-porous – super hygienic.
Resilient to staining and scratches.
Huge range of colour options.
Quality hand-crafted.
Low maintenance.
Durable and robust against scratches.
cons
On the expensive side.
Not as heat resistant as granite.
Visible joins.
Porcelain
A different, alternative worktop option. Go for something that no one else has as well as being sleek and stylish.
pros
Versatile, huge variety of colours and textures.
Durable and very hard.
Hygienic.
Ultimate heat resistant worktop.
Heat and moisture resistant.
cons
Visible joins.
The most expensive worktop.
Cannot be repaired if chipped.
Edges and Profiles
This factor of the decision process often gets forgotten but can make a massive difference to the feel of the room. The splendour is in the detail and each reflects a different style and feel.
Profiles are the part of the worktop that you can see when you look at it from the side. All profiles are available in every material because of our bespoke worktop service so you can choose exactly what suits you.
Square profile – for a sleek contemporary look.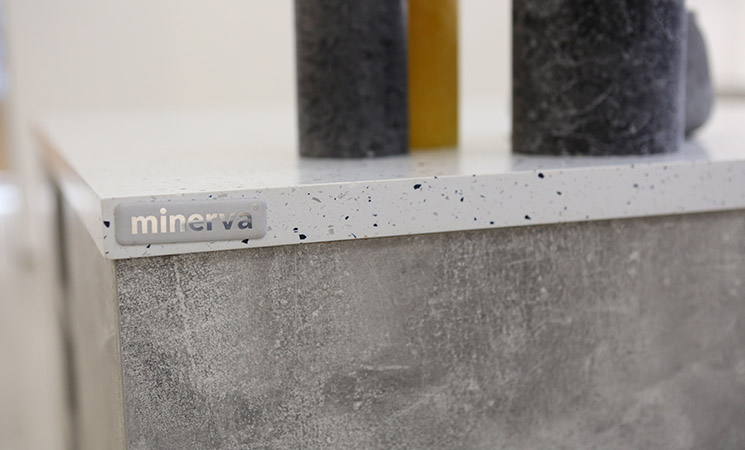 Rounded profile – this gives a traditional and classic look. A comfort and soft feel.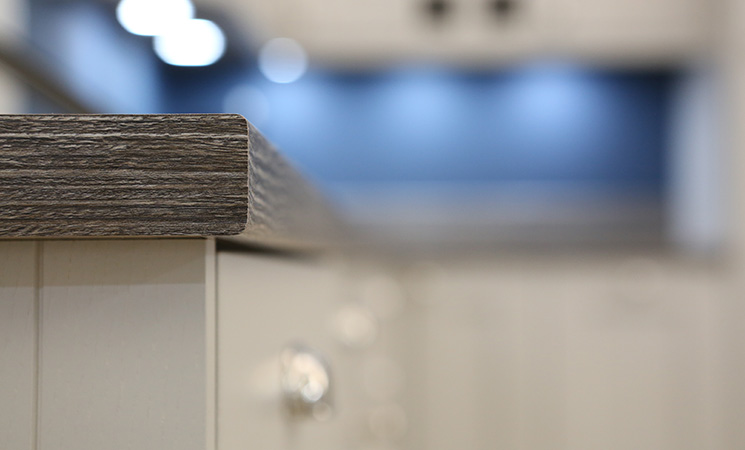 Square or curved corners – Whatever you wish, we can provide. Allow for a curved corner if you have a curved cabinet to match, making a sleek and seamless flow around your kitchen.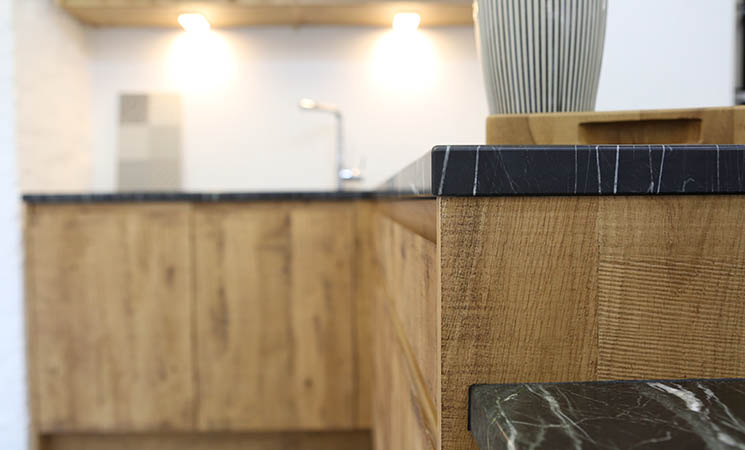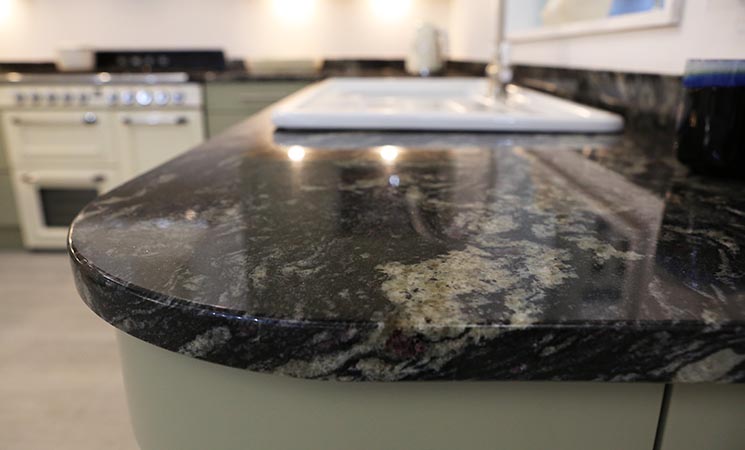 To Learn more about our ranges visit our Kitchen Worktops page, visit our New Kitchen Showroom or contact us.