Our Kitchen Worktops & Surfaces
Worktop Materials
Worktops can be made from a wealth of materials. We supply worktops in…
Laminate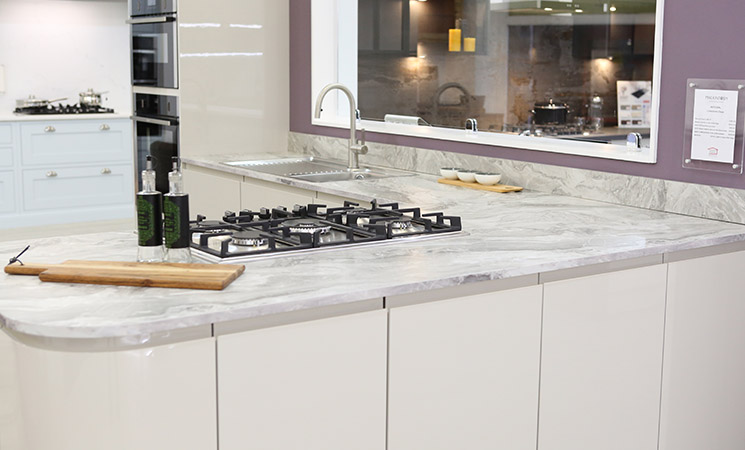 Laminate is practical, attractive and bespoke to your needs. It is the economical option and comes in a vast variety of styles and finishes. Laminate is durable, water-resistant and makes the perfect alternative to granite, stone or other solid materials.
Acrylic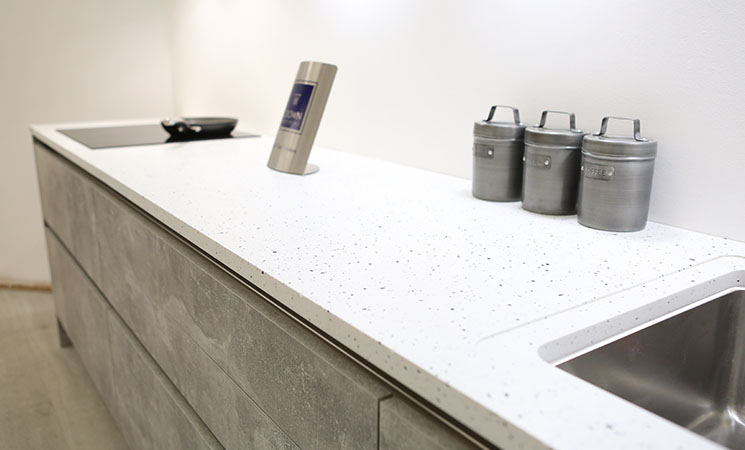 Acrylic has a contemporary, modern silk feel and comes in numerous colours, textures, pattern and styles. It can be cut into any shape or length so there are no joins; it's seamless. Acrylic can come in any colour, pattern or effect you could dream of – able to mimic the look of natural stone, so it can look both modern or traditional. Concerning cost, it is more expensive than laminate but costs than stone. This worktop super-durable and can last between 10-20 years. It's resistant to heat, scratches and cuts, chemical spill and is non-porous. There is little to no maintenance required with an Acrylic worktop as experts can fix significant scratches. Additionally, it makes the kitchen quiet.
Solid Wood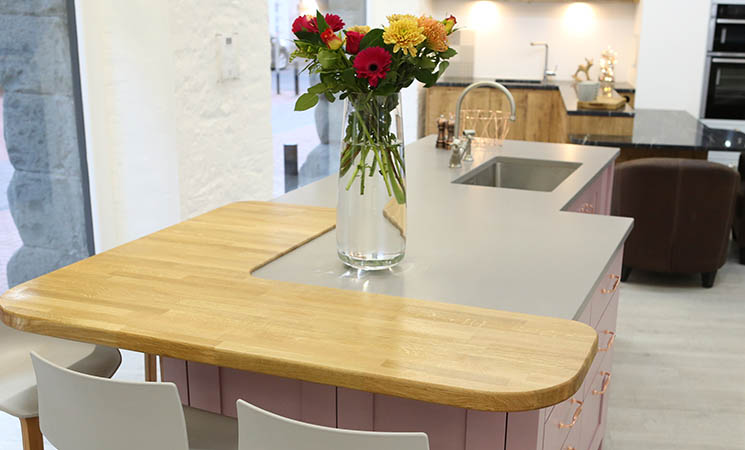 Choose a solid wood worktop for its beauty and hue. We supply worktops in Oak, Bamboo and Walnut. They are completely bespoke and tailored to your needs. Solid wood worktops are a timeless investment in both quality and natural beauty. We supply an extensive choice of colours, species, sizes and thickness. We always use sustainable wood.
Quartz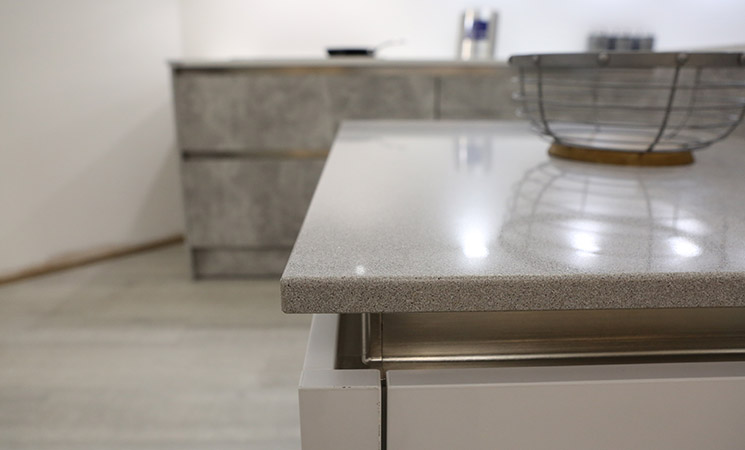 Granite has the ultimate natural magnificence. It is a resilient, natural rock cut in its natural state and is resistant to scratches and temperature. There is a massive range of colours and each piece is unique and different. Because it cannot be joined easily, the fitted Kitchen needs to be planned around the stone.
Porcelain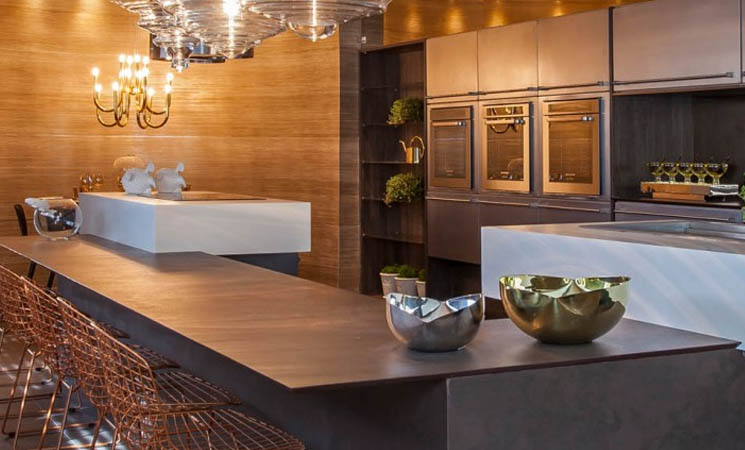 For something different choose porcelain. A solid, dependable and durable option, porcelain is non-porous and is resistant to high heat, stains, scratches and impact. Porcelain is timeless and luxurious with little maintenance required.
Our Worktop Ranges
If you are stuck for inspiration, have a browse through some of the ranges and brochures we supply to help you decide on your dream worktop.
For laminate…
For acrylic…
Maia – Get the appearance of stone without the cost or maintenance. Maia uses the finest materials and the best of technology to create acrylic resin, two third aluminium hydroxide and colour pigments to create the finest, award-winning worktops. Continue browsing and download the brochure.
Minerva – Seamless joins and silky-smooth finishes, Minerva worktops are luxurious and available in a range of colours suitable for every home. Simply functional and beautiful. Download the brochure.
Corian – Corian creates worktops that flow. You get the ultimate freedom of expression and enduring beauty. Because the whole piece is a single solid surface, there is no room for bacteria and they are easy to clean. Download the brochure.
For Solid Wood…
Tuscan – For real wood surfaces where you can have nature at your finger-tips, choose Tuscan Solid Wood worktops. They are an investment of timeless beauty with an extensive choice of colours, species, thicknesses and sizes. Tuscan uses Bamboo, Brown Ash, Beech, European Oak, Iroko and Walnut woods to create the perfect wooden worktop. Browse the brochure here.
For Quartz and Granite…
Silestone – The ideal option for worktops made from traditional materials such as granite or stone. Silestone worktops are extremely durable with endless colours and options to choose from. Look at the range here.
Ceaserstone – They manufacture premium quartz surfaces. Quartz is beautiful and is one of nature's hardest surfaces. Quartz is durable, scratch and stain resistant, easy maintenance, easy to install and you have a wealth of choice in design and colour. See more in the brochure.
Unistone – Durable, anti-bacterial and scratch-resistance quartz worktops. Gorgeous, high-quality quartz in calm, neutral colours and patterns. Browse the brochure.
For Porcelain…
Dekton – Dekton is an ultra-compact surface that consists of a sophisticated blend of raw materials to create the latest glass, porcelain and Quarts worktops. They are extremely durable and resistant to scratches and bacteria. A timeless investment, there is the appeal of a completely uniform surface which fits seamlessly into the kitchen. Ultra-sophisticated, nice to touch and resistant to the daily grind. Turn your kitchen into a showpiece. Have a look at the gallery here.
If you are interested in any of our ranges please contact us or come and visit our new showroom…