Our Cookware and Accessories
Stellar - Part of the Horwoods Brand
Stellar 6000 Range
The ideal range for chef's who want the best. Featuring a hard anodised surface to make it last longer and easier to clean, in fact it is twice as strong as normal steel. The range has excellent heat conduction and even distribution across the base for a consistent cook. Oven safe up to 210 degrees celcius as well as being dishwasher safe. Stellar offer a lifetime guarantee and a 10 year non stick warranty.
The range is huge including saucepans, frypans, saute pans, stock pots, roasting trays and more. If we don't have the item you want in stock we can always order it for you.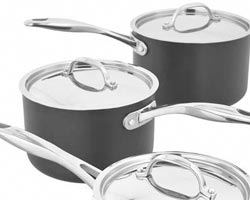 Stellar 7000 Range
Our premium stainless steel range, the Stellar 7000 will certainly add a polished finish to your kitchen. A thick hot-forged base ensures even heat distribution for even cooking. The Stellar 7000 range is suitable for all hob types, dishwasher and oven safe up to 210 degrees celcius. Stellar offer a lifetime guarantee and a 10 year non stick warranty.
The Stellar 7000 range is large including different options for lids, while we unfortunately can't stock the whole range we can order directly from Horwoods for you if we don't have what you need.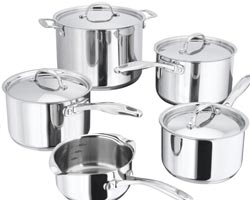 Stellar Rocktanium Range
An essential range of saucepans and frypans, the Stellar Rocktanium is a popular choice for our customers. It has a tough, non stick surface making it perfect for any level of cooking experience. The Stellar Rocktanium range is suitable for all hob types, dishwasher safe and oven safe making it a great choice for a busy lifestyle.
The range includes milkpan, saucepans and frypans and can be purchased in a set also. If we don't have the item or set you require in stock we can order from you directly from Horwoods.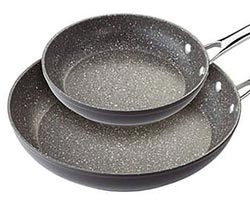 Judge - Part of the Horwoods Brand
Judge Vista Range
The Judge Vista range is our largest stocked range in our Cirencester Cookshop. The Judge Vista comprises of mirror polished stainless steel with easy grip, comfortable phenolic Low Heat Transmission Handles. The saucepans comes with a dual draining lid, making it easy to pour water from potatoes or pasta and less washing up afterwards too. There is also a choice in the saucepan range between stainless steel inners and non stick. The rest of the range includes items such as casserole pans, frying pans, saute pans, egg poachers and even chip pans. All with the same asthetics to ensure your kitchen is well matched throughout. They are also suitable for all hob types.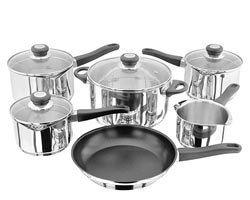 Judge Induction Range
The colourful Induction Range can add a pop of colour to any kitchen with it's wonderful colour range. Our range consists of milkpans, grill pans and frying pans in various sizes and at reasonable prices.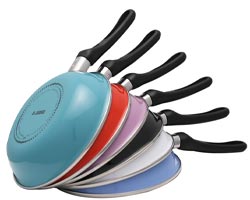 Steamers & Stockpots
Steamer sets are useful in the kitchen especially where space is an issue. Instead of using 3 different hobs you can cook on 1 which is great for energy efficiency. Our range from Judge is made of 18/10 stainless steel which makes it a stunning addition to your hob. The base can also be used on it's own giving another purpose when kitchen space is limited. They are suitable for all hob types including induction and available in various sizes from 16cm to 24cm to get the right fit for your family and hob ring size.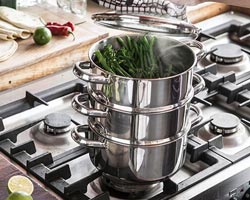 Stockpots are multi-functional in a kitchen. Whether you're making soup, jam or just have a large family their capacity is usually the draw. Our range from Judge includes stockpots in all sizes from 20cm right up to 28cm. They are suitable for any hob type including induction. They come with glass lids so you can keep a close eye on your creation.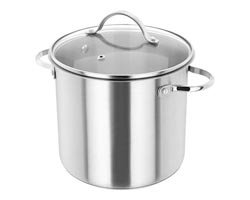 Zyliss
Zyliss Ultimate Non Stick Range
We stock a full range of cookware from Zyliss including saucepans (16cm/18cm/20cm), frying pans (20cm/24cm/28cm), grill pans and saute pans. Featuring a 3-layer coating, they are the ultimate non-stick pans – which Zyliss back up with a 10-Year non-stick guarantee. Zyliss Ultimate Pans are endorsed by the Good Housekeeping Institute who rigourously tested the full range with exceptional results. The entire range is suitable for use with any hob type (including induction).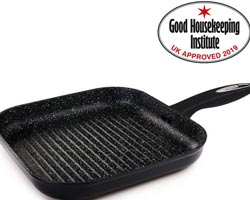 Utensils Ranges
Kitchencraft Colourworks
The Colourworks range from Kitchencraft can add a fun, colourful side to your kitchen. The silicone is safe for all pans including ones with sensitive non-stick qualities. The range covers a wide variety of products including: mashers, tongs, spoons and more in colours such as red, blue, green and purple.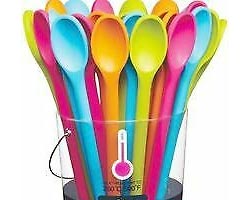 Judge Black Satin
A vast range of utensils and gadgets in a practical finish. Includes everything from spoons, to can openers to mashers. They also feature handy hanging loops for different storage options. Covered by Judge's 25 year guarantee.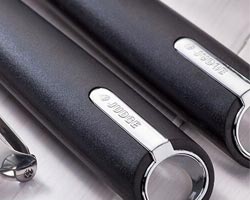 Joseph Joseph
Alongside their impressive range of Kitchen Gadgets Joseph Joseph also have a wide range of utensils. Including improved essentials such as the folding masher, designed so it will never get stuck in your drawer. They also have revolutionary products such as the scoop colander, essentially a smaller shaped colander with a handle - genius! Whether you knew you needed it before you visit or not, Joseph Joseph has it all.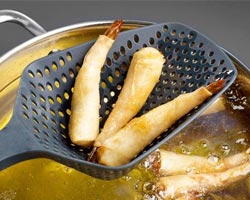 These are just an idea of what we stock in store and don't cover our whole range. To check our stock levels, prices or enquire if we have more available please call the Cirencester store on 01285 657751 to avoid disappointment.