Our Kitchen Cabinets & Door Handles

Kitchen Cabinets
There are three main styles of kitchen door designs, if you don't know what you're looking for they might all look the same. So here are some definitions and key things to look out for…
Traditional
Traditional style kitchen cabinets characteristically have a detailed profile design and a raised panel in the centre of the door. This style fits perfectly in a country styled or traditional kitchen. For a truly traditional feel, leave these doors in plain wood or simply oil them. To update your kitchen, paint your cabinets with earthy or pastel colours.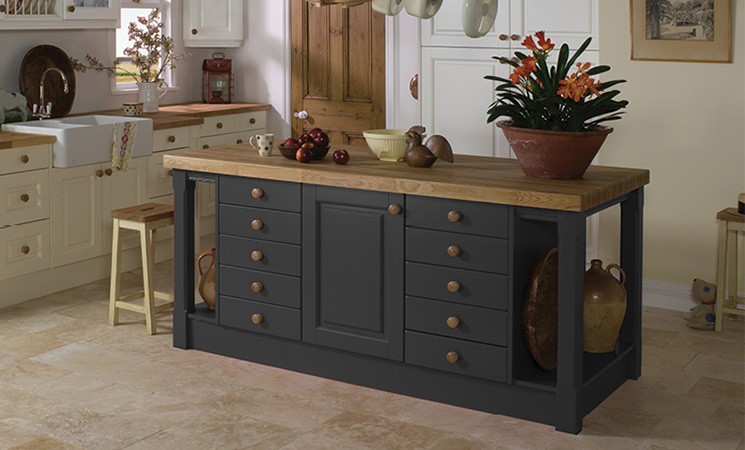 Shaker
You can define a shaker kitchen door by its simplicity and its versatility. Identify a shaker door by the simple square profile in the centre of the door. The shaker cabinet door can be dated back to the min-18th century and it was pioneered by the protestant religious sect the Shakers. The Shakers endeavoured to alleviate lavish and unnecessary excess from every aspect of their lives. They believed that everything should have a purpose and be useful. Therefore, shaker styled cabinets embody the principal of honest utility and simplicity.
Traditionally, the wood and finish were simple and plain, usually using only oil. But the beauty of the modern shaker style is that you can paint your doors to have a traditional/shaker style or a modern/shaker style kitchen.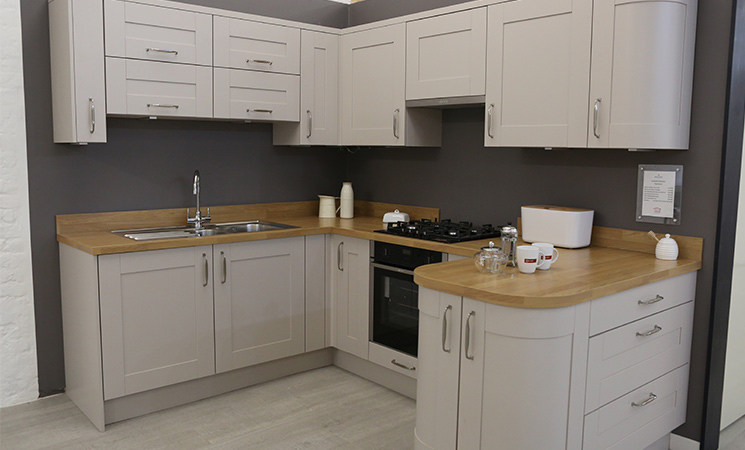 Modern
If you are planning a modern kitchen, you might be looking for sleek and flat cabinet doors, with clean lines and uninterrupted curves. Modern cabinets characteristically have metallic or shiny finishes to match the sleek look. Another way to make your cabinets look modern is to have handleless doors or doors with hidden handles.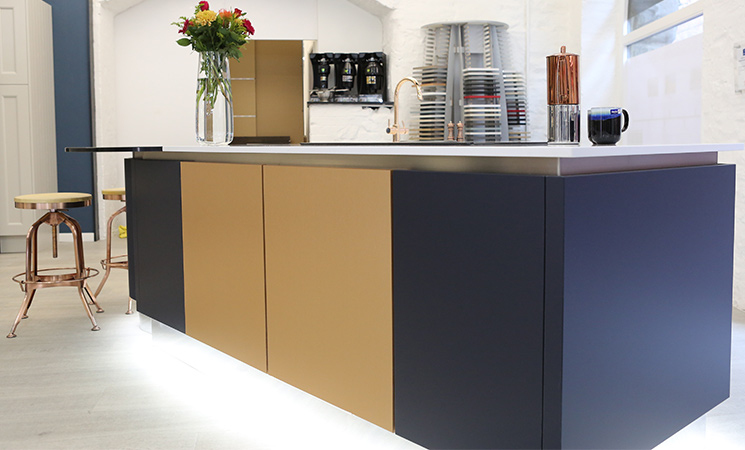 Handles
Deciding what handles or knobs to go with your kitchen is essential. There is a vast range of choice which can often be overwhelming, so we have compiled a list of different styles to help you choose. Also, knowing which handles match each style of kitchen is very useful when designing your kitchen.
Doorknobs
Starting with a more traditional option, the humble doorknob is first on the list. A traditional staple, the doorknob is versatile and functional. It does the job but can also come in a range of materials and finishes that dictate the style and feel of your kitchen. For example, a wooden knob will give a traditional, country styled farmhouse look. Whereas a chrome or nickel finished knob creates a modern or minimalist feel. They can also come in a huge range of shapes and colours.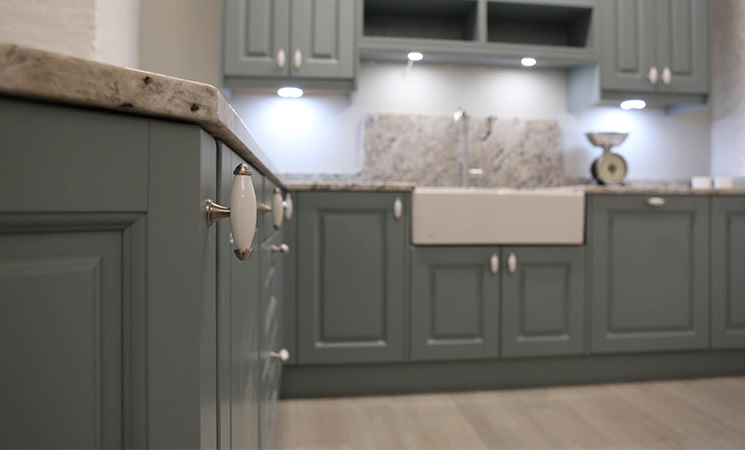 Cup Handles
Like the doorknob, cup handles are functional and traditional. They are sturdy, hardwearing and are perfect for heavy drawers. Cup handles create a vintage look and make cabinets look authentically antique. They can come in a huge range of colours, metals and finishes.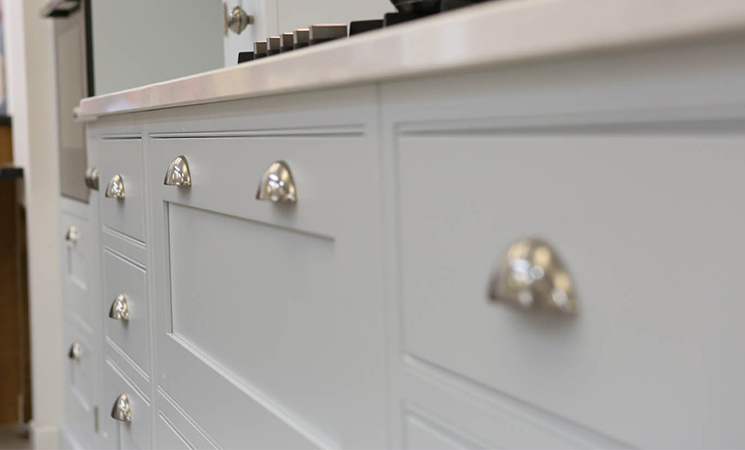 Bow Handles
First designed in the 1930s, these handles are slim lined and modern, often with extra added flair than bar handles. They are curved in a bow shape and often have an elaborate design. They can be bold or subtle and paired with gloss or matte cabinets.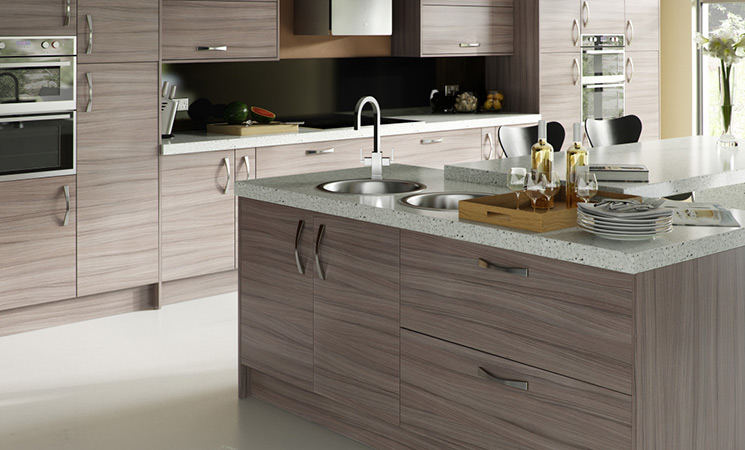 Bar Handles
Bar handles are universal but look best when they are paired in a modern, slim lined kitchen. Their minimalist, streamlined design makes them simplistic and modern.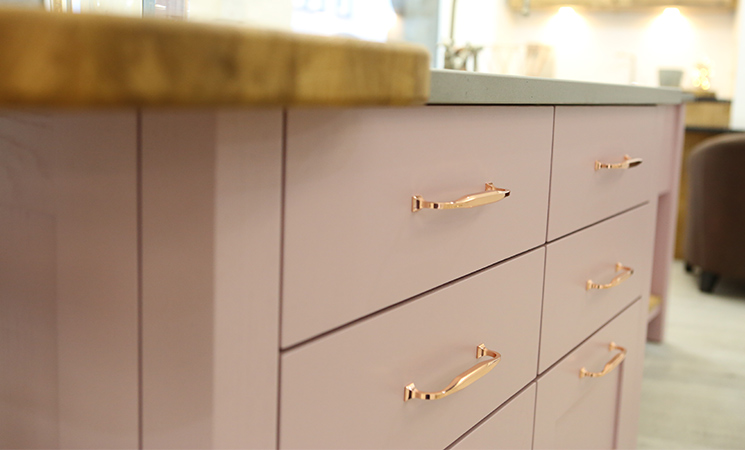 Hidden Pulls
For an even more modern look, go for a hidden pull handle. It's fixed to the opening of a cabinet door or drawer and looks almost invisible. Each handle juts out into a curve to pull with the tips of your fingers.
Integrated Handles
Alternatively, you could do away with handles all together and go for an ultra-sleek, modern look with integrated handles. This is when a curve is moulded into the cabinet door for you to grip and open. This creates a seamless, minimalist effect in your kitchen. What is the opposite of a handle? A recess.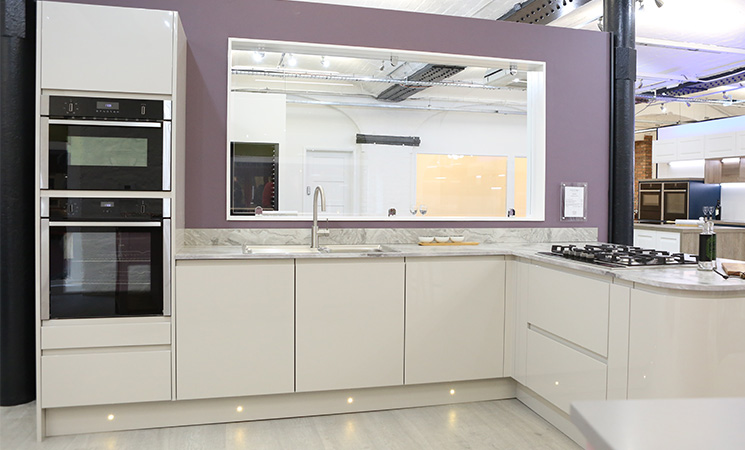 Handleless Push Latch
Handleless cabinets also have the desired modern, minimalist effect. But, instead of pulling you push the door and a mechanic or magnetic mechanism inside the door allows it to spring open.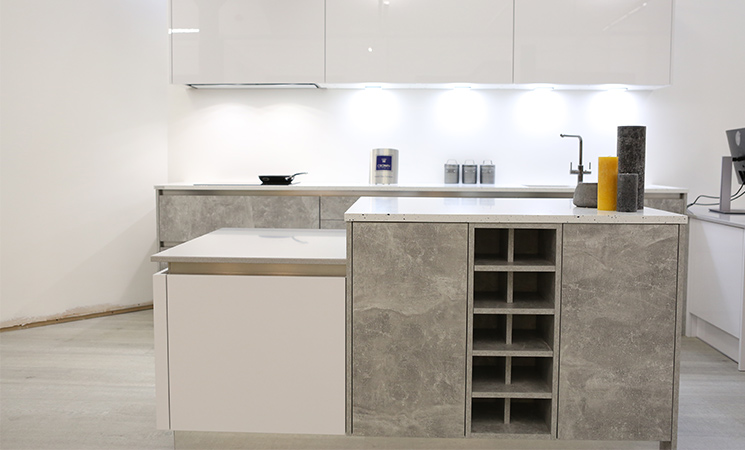 So, whether you want a vintage and rustic kitchen or a modern, minimalist look, here at Gardiner Haskins Interiors we can help you find the design you're looking for. Come and check out the great styles and designs we have on offer in our brand new showroom today.